The Flash Season 4: Mysterious Girl and Her Big Mistake
With the season finale of The Flash behind us and the identity of the mysterious girl now known, we have to ask what exactly was the "big mistake" she was talking about. Did they already give us a hint, even a small one? I think they did in a very subtle way… spoilers ahead if you haven't seen the finale.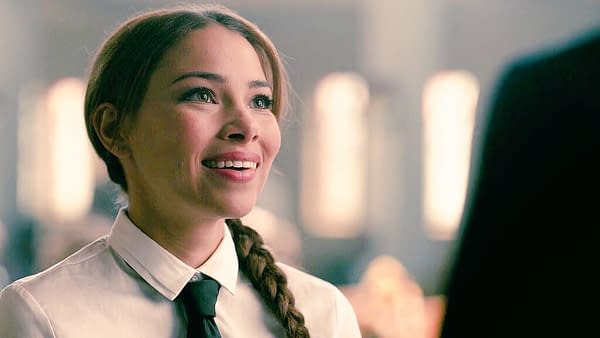 The above is how we first met the mysterious girl played by Jessica Parker Kennedy (Black Sails). She pretended to be a waitress at the wedding of Barry Allen (Grant Gustin) and Iris West (Candice Patton). She approached Barry, offering him water and seeming to be way too familiar and excited to be at the wedding. The internet almost immediately thought she was the daughter of Barry and Iris, Dawn Allen, one of the Tornado Twins. The other thought was she might be Jenny Ognats, aka XS, their granddaughter. Either way, folks assumed she was in the West-Allen bloodline.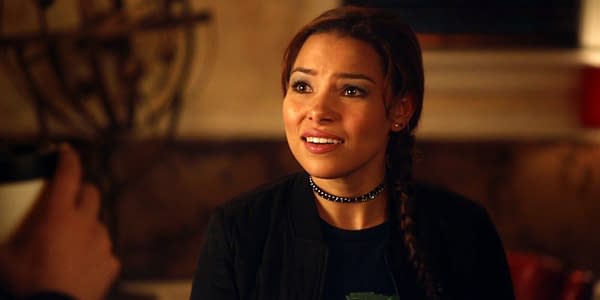 She would pop up three more times in the season — at Jitters, where she interacted with Cisco (Carlos Valdes) and Ralph (Hartley Sawyer) the first time and was very pleasant. Then with Caitlin (Danielle Panabaker) and Harry (Tom Cavanagh) the second time, leaving us with the impression she had a problem with Caitlin. Her fourth appearance was at the door of Barry's loft as she played delivery girl of a gift for Joe (Jesse L. Martin) and Cecile (Danielle Nicolet) during the baby shower. She disappeared before Iris could see her, and we got our first sign she was a speedster.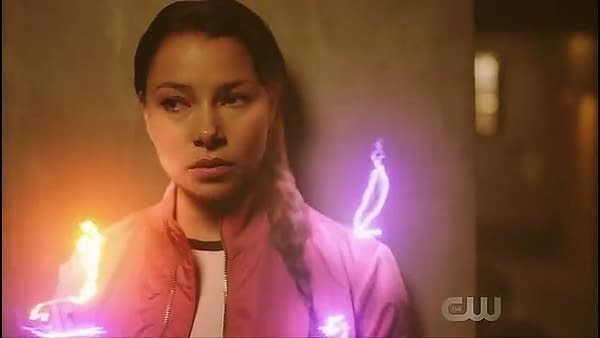 It was revealed at the end of the season finale that the mysterious girl is actually Nora West-Allen, daughter of Barry and Iris. So the internet was mostly right except for the name. Executive producer Todd Helbing addressed the name change with EW.com:
When we first started talking about it, we decided on her name like a year ago, right around this time, after we'd pitched the season to the studio and network. It was to pay homage to Barry's mother. It felt like if Barry and Iris were ever gonna have a child that would be female, that would be one of the names we brought up. It seemed like it didn't matter — the second that we talked to Jessica Parker Kennedy, we knew that people were gonna figure out pretty quickly who she was. So we had to put a little spin to make it a little bit different than what everybody was expecting.
After saying who she was, Nora explains that she thinks she's made a huge mistake. Helbing was asked what he could say about that mistake:
Well, I mean, a lot of it is obviously all about next season. Barry certainly learned his lesson about time travel and the effects that it can have. She comes back for a specific reason, not only to see her parents and meet everybody on the team, which you saw all throughout the season — there's four specific times that she came back, and you're gonna learn about why she chose those four times and how they're gonna play into not only the mistake that she made, but the consequences for somebody like her, a speedster traveling from the future to the past, and what that means for Barry and the team.
And he spoke about how she reacted to the different members of the team and if there are clues in that:
Yeah, she comes from 30 years in the future, so 30 years from now, a lot has happened. She's privy to information that nobody else is, so her experience in the future is certainly different than where everybody is now. A lot of next season too, you're gonna see this relationship between Barry and Iris and Nora, so we just wanted to give the audience a little glimmer into what her reaction is to everybody. If you go back and watch all of the ways that she interacted with everybody, you can get a nice little sense of what her relationship is with everybody in the future.
But the mistake she made may already been hinted at, and it's something that all speedsters have to worry about when they start traveling through time. Here is how she appeared in last night's episode.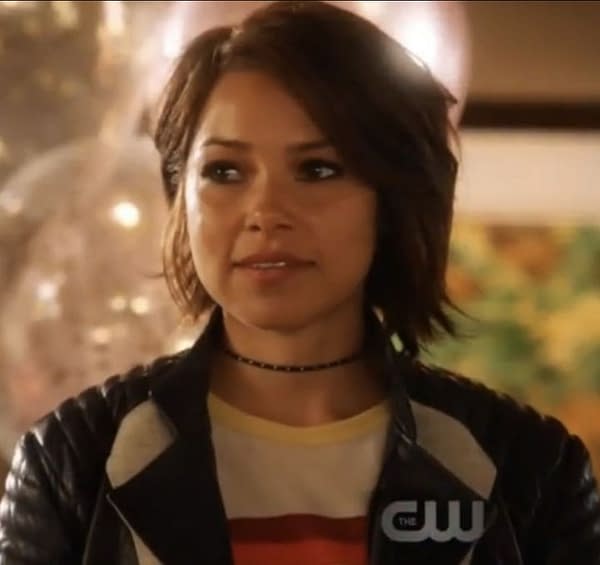 If you look in the three images above, each one has a very prominent braided ponytail hanging down over her left shoulder. Yet when we meet her officially, her hair is very different. You might just blow that off, assuming it's just something that the actress decided to do and it's no big deal. But the fact is that every time we saw her that braided ponytail was in view. I've worn a ponytail for the last 17 years and it's never just stayed in that one place so nicely, especially after she just ran down the hall at super-speed. It should've been behind her. They wanted us to see the ponytail just as they wanted us to see the short hair. Nora has changed something in the timeline, and it has affected her 30 years later. Was Barry supposed to die trying to save Central City? That's the impression we got during the episode… but if Barry was supposed to die, does that mean that Iris is now pregnant?
They may not be doing a speedster villain for season 5, but it looks like time travel will play a role in the new season.