Floor is Lava Review: So Is "Stop Touching Me: The Game Show" Next?
Netflix released a ridiculous obstacle course reality show last weekend, Floor is Lava. As much as I wanted to discount it and tune in to something else, the sheer bizarreness of the competition made me binge the entire season. This show is fun for the entire family, and let me be clear, there should be no high expectations other than watching three teams of three leap, jump, slip, and fall into a red exploding liquid. Hosted by Top Gear's Rugledge Wood, each episode the teams are presented with a room; kitchen, living room, dining room they must get from one end to the other for a chance to win $10,000. The team that has the highest number of members survive and make it to the end is crowned the winner.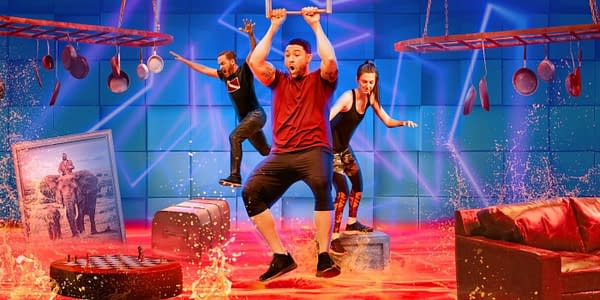 My daughter loved it because it reminded her of Indiana Jones meets YouTube's Ryan's World. An odd pairing that rings true. Contestants must use whatever they can get their hands and feet on to get across. The items are nailed to walls, suspended from ceilings, or floating in lava. From the spectator's standpoint, when entering the room it looks super easy to navigate but clearly not as most of the contestant nose dive into the "hot liquid" (no, it's not actually hot but a great visual) especially when it explodes.
It is hilarious, to say the least, to watch these contestants fear-jumping from one item to the next, egging on their teammates to go first, while they themselves crash into a revolving chair and go flying. Yes, body strength and strategy are important but throughout the season, communication among teammates is what ultimately has them succeed. Unfortunately, most function as every man/woman for themselves. Doctors, nurses, teachers, families all get swallowed by the lava, yet the party animals come together to make their pizza, get the key and supportively make it all the way to the end as a unit.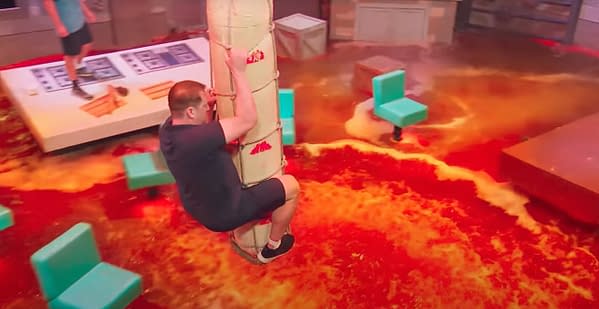 This show will inspire some to rearrange their living rooms into obstacle courses for kids, or possibly as a 2020 drinking game. Many televisions will be broken, couches destroyed, egos crushed, and animals horrified: all while screaming Floor is Lava. Yes, I am speaking from personal experience. That aside, the Netflix offering is a humorous show if anyone is looking for a laid-back brain-cleanser that keeps you laughing without a whole lot of thinking.