The writing team behind the madness that is FOX's Gotham have been working a very long, very patient con with viewers for five seasons now. Speculation about whether Cameron Monaghan's Jerome Valeska would eventually become the Joker has been brewing since the character blew into town with the circus during the first season.
Now, five season of murder, mayhem, and long-lost twins brothers later… we finally have an answer.
Maybe?
Jeremiah Valeska certainly has all of the ingredients required to become the Joker, with his pasty white skin, ruby-red grimace, and green hair. He's clearly off his rocker, too, and possessed of a particular genius. The writers have even established Jeremiah's fixation with Bruce Wayne (David Mazouz), which would transfer over to a certain vigilante rather well.
Now, we have a little bit of clarification, courtesy of a recent GameSpot interview with Gotham executive producer John Stephens:
"We all know the character that some people think he is, some people say he's not–that he's supposed to be a precursor to at the very least. So, when you look at the Joker, and you break down elements of his personality, and you cleave off certain character traits. Some of those character traits we gave to Jerome. Some of those character traits we gave to Jeremiah.

But, there were still some leftover character traits that we said, we haven't used these elements yet. Specifically to me, horror or terror. I feel like there are elements of the Joker, some iterations of him, which he's not just a clown prince of crime, but he's actually a nightmare. And I feel like… some of those remain to be explored."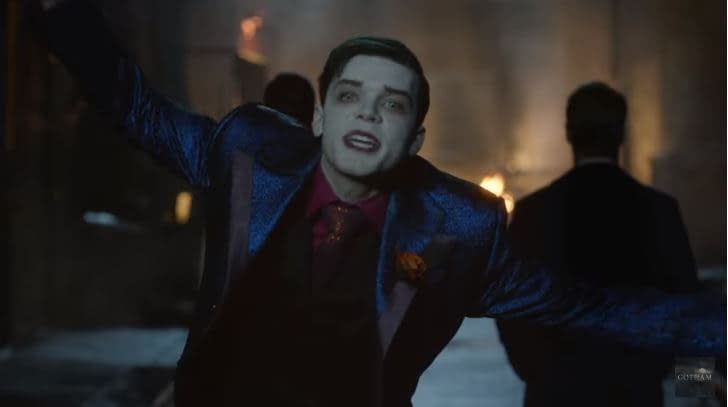 Oh, wow. If Stephens thinks Jerome/Jeremiah hasn't delved into horror yet, we can't imagine what he has in mind! Monaghan was on hand and added the following clarification:
"I think that there's something really interesting about The Joker and reinvention. The idea that that's a character that's chameleonic. He changes depending on the situation. We've seen this character be reinvented so many different times across the show. so we've seen different permutations. And now, the final version of it is kind of it's all crystallized into this final form, I would say. It's not even so much a new person as it is, I think, it's just the distilled version of what we've been doing for five years.
I'm glad to hear that we're not done with "Jokermiah" yet – and with only five episodes left in its series run on FOX, we're sure to see more chaos and madness descend upon the citizens of Gotham City.
The final season of FOX's Gotham airs Thursday nights at 8 p.m.
Enjoyed this article? Share it!