FX has picked up the Sons of Anarchy spinoff series Mayans MC. The 10-episode series will focus on the Mayans motorcycle gang that appeared throughout the show's seven-season run. It's from Sons of Anarchy creators Kurt Sutter and Elgin James and is expected to debut either late this summer or early fall, around the 10th anniversary of SoA's debut back in 2008.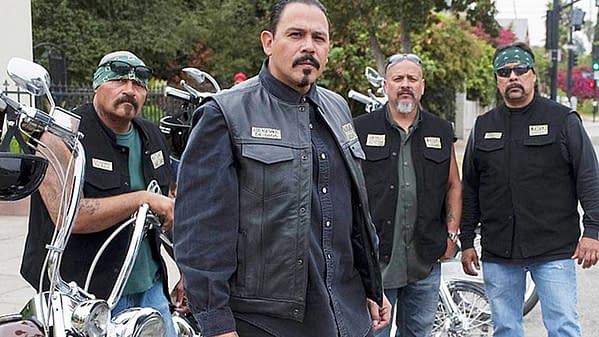 FX's president Nick Grad said in a statement:
Kurt Sutter is a master storyteller and Mayans MC has the raw energy and intensity that are hallmarks of his signature style. Thanks to Kurt, co-creator Elgin James and this amazing cast, Mayans MC builds on the legacy of Sons of Anarchy, taking it in a thrilling new direction that we can't wait for the world to see.
The new series will focus on EZ Reyes (JD Pardo), a parolee who becomes a prospect for the Mayan HC charter down on the California/Mexico border. Prado has previously appeared in The Messengers and Revolution. The series also stars Edward James Olmos, Sarah Bolger, Clayton Cardenas, Richard Cabral, Michael Irby, Raoul Trujillo, Antonio Jaramillo, and Carla Baratta.
With the success of SoA as the networks highest-rated ongoing drama, the spin-off has been highly anticipated since Sutter first teased it at Comic-Con back in 2015. A pilot was greenlit over a year ago but went through some changes and was revamped when director and executive producer Norberto Barba got involved. In the original Sons of Anarchy series, the Mayans were a club that controlled northern California and Nevada. The chapter was run by Marcus Alvarez (Emilio Rivera) and their kutte (battle vest) carried the phrase Los Asesinos de Dios or Assassins of God.
Source: EW.com
Enjoyed this article? Share it!