'Gotham' Bows with Satisfyingly Emotional Curtain Call Finale (SPOILER REVIEW)
It's over. After five seasons and 100 episodes, Gotham has taken its final bow on FOX.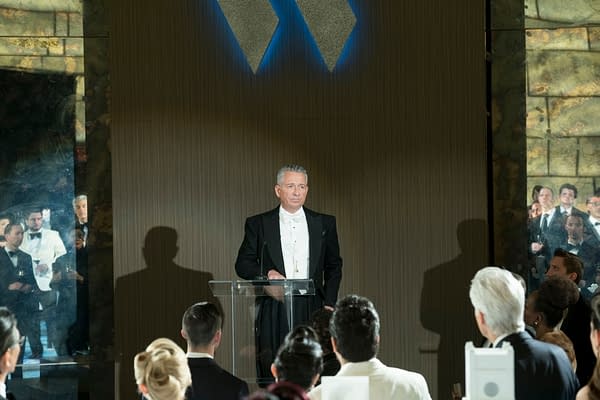 There's a lot to celebrate about "The Beginning", which managed to wrap up the series it capped while coming across as a pilot in its own right.
After 10 years abroad, Bruce Wayne (David Mazouz) is returning to Gotham City. There's a new Wayne Tower to commemorate, and somehow Oswald Cobblepot (Robin Lord Taylor) and Edward Nygma (Cory Michael Smith) both end up getting out of prison to "help" with the festivities.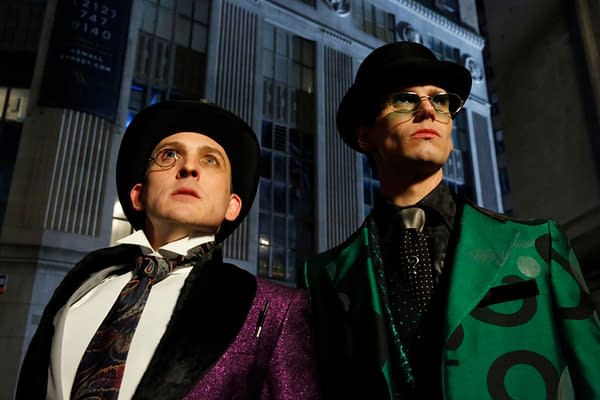 Selina Kyle (Lili Simmons) has become a really proficient cat burglar, but can't get over Bruce leaving her behind without saying goodbye.
Jeremiah Valeska (Cameron Monaghan) has been in a vegetative state since his little splash party at Ace Chemicals, and spends his days drooling away at Arkham Asylum.
Commissioner James Gordon (Ben McKenzie) is thinking about retiring and having a happy life with Lee (Morena Baccarin), but agrees to wait until after the new Wayne Tower is commemorated. He also has a mustache, but decides to doom the city by shaving it off.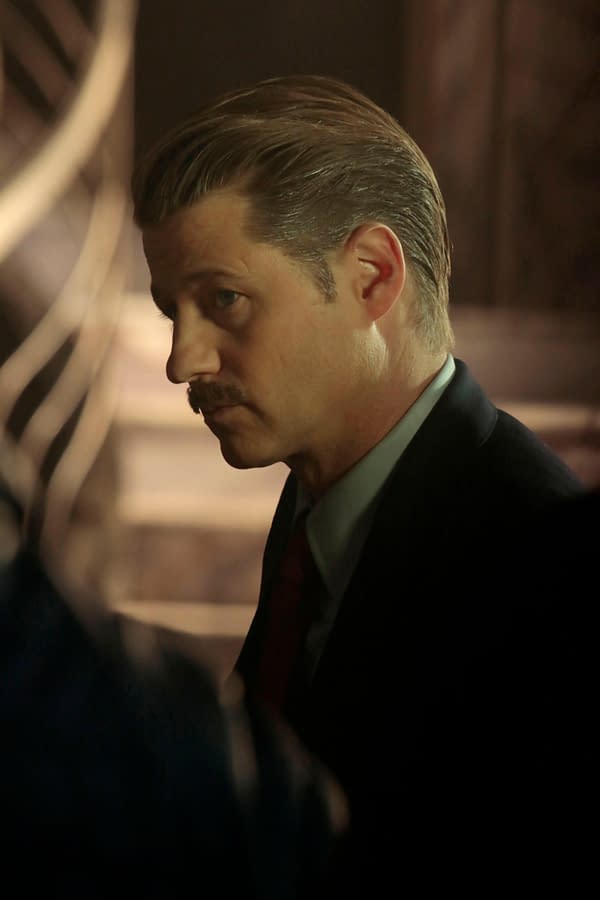 Barbara (Erin Richards) is a legitimate business person now, after buying up a good chunk of Gotham City on the cheap after reunification. She and Jim have a cordial co-custodial arrangement with their daughter, Barbara Lee.
Barbara Lee likes to wear purple and yellow, by the way.
Someone breaks into a warehouse and kills a bunch of gangsters there, which is found by Gordon. He also finds a mysterious, shadowy stranger in the warehouse, someone who warns him against moving the bodies.
They're all rigged with C-4 explosives. Could the shadowy stranger be an ally?
The entire episode is a lot of fun, with everyone involved giving it their all. If you're hoping for a satisfying farewell, you're getting exactly that- plus, a lot of the characters are lined up, ready to enter the Batman mythos as we know them.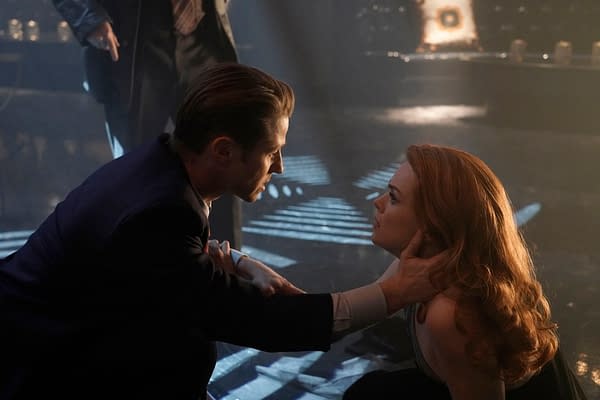 If you've stuck around with Gotham from the beginning, this episode was written for you. It's a big, gift-wrapped present with a gaudy bow on top. If you're not invested in the show, though, you'll probably find it, well, like whatever you think Gotham has been these last five years.
The Penguin is a perfect homage to the comic book incarnation of the character, barrel chested, broader bellied, and sporting a purple tuxedo, top hat, and monocle. The Riddler has a lush, verdant ensemble bedecked with question marks. The costuming, as always, is top notch… but with just a little extra thrown in for good measure.
The cinematography of Gotham has always been something special for broadcast television, and "The Beginning" was no different. Gotham could be a hundred different cities rolled into one, but it's always shot like a gothic prison run amok, with stark lighting and grim, filthy streets.
I was a little annoyed that Selina had been re-cast, since Camren Bicondova had been such a steady presence on the show for so long. But, Simmons did a great job, somehow looks like Bicondova might look in ten years, and it all worked out in the end- I'll get to that in the spoilers.
Let's fire up the spoiler signal!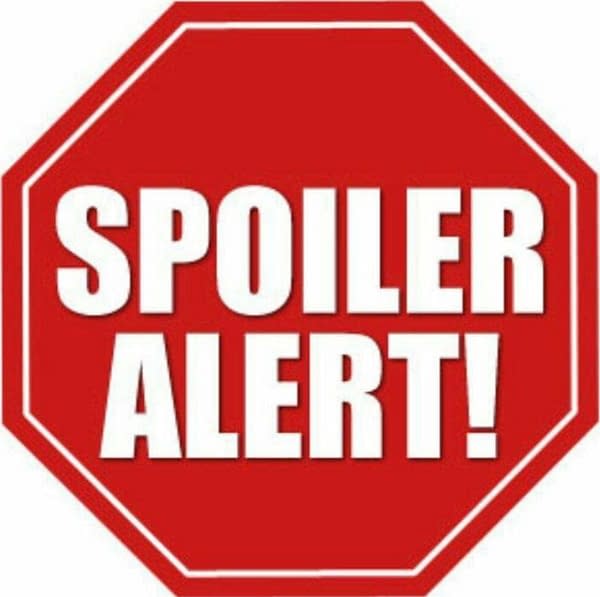 The biggest issue going into this episode was how Selina had been re-cast, and how jarring it would be to have a fully adult looking Selina Kyle facing off against David Mazouz, who will probably look 17 for the rest of his life. I was really worried how that would play out…
…but Bruce Wayne isn't in the episode after the opening segment. You hear about him, and Lucius (Chris Chalk) and Alfred (Sean Pertwee) talk about helping him out with his "plan", but you never actually see Bruce Wayne.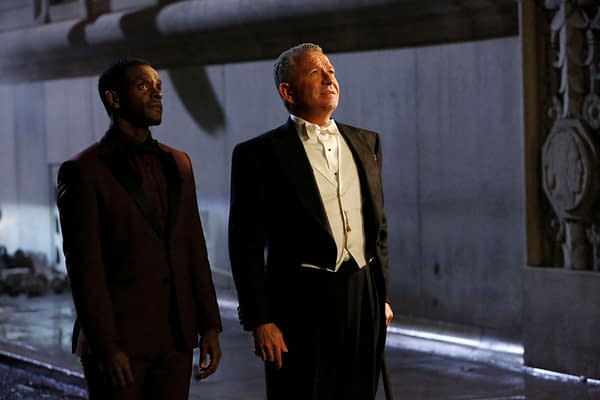 You do get glimpses of the Batman, though, and it's kind of how I always want to have him portrayed. A mysterious, benevolent shadow. A force for good, rarely seen, but often felt. "The Beginning" plays Batman out exactly like that, with the only clear shot of him coming in the last frame of the episode.
He looks cool as hell. At least I think he looked cool as hell, it's hard to say. Everything was pretty dark.
And it's not Mazouz.
The showdown between Jokermiah and Gordon at the Ace Chemicals plant was tense, beautifully shot, and the look on Jeremiah's scarred face when he gets a batarang through the hand was priceless. I'm pretty sure the Joker was actually born in that exact moment, with the realization that his polar opposite was on the scene.
It's almost like he was expecting it.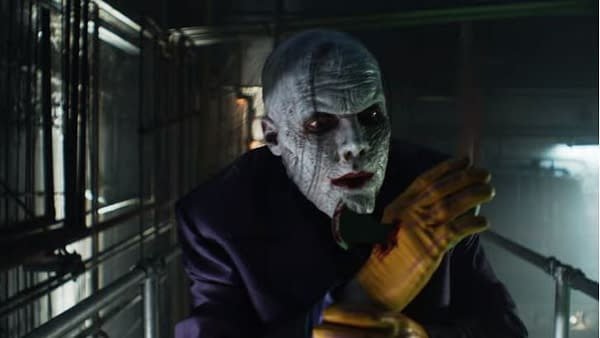 Regardless of what's to come, this is one finale that did exactly what it needed to do- everything is where it needs to be, and somehow the writing team managed to create a prequel show that could work for almost any iteration of Batman that has come before.
I still can't help but feel like this came across like a pitch for something new, but for the life of me I can't see a Batman series getting greenlit any time soon.
But Batgirl? I could see that in a heartbeat. I think I just watched the pilot.