'Gotham' "Pena Dura": Shane West's Eduardo "Bane" Durance to the Rescue! What Could Go Wrong? [PREVIEW]
If you thought FOX's fifth and final season of Gotham has already reached its fever pitch, then you might want to sit down and bucle up – because Bane is about the join the party! Well, maybe not Bane quite yet: Shane West guest stars on the fifth episode "Pena Dura" as Eduardo Durance, a military specialist tasked with helping Captain James Gordon (Ben McKenzie) re-establish some semblance of order to Gotham City. Fans of Batman mythos know Durance becomes Bane at some point – but there's no telling how the Gotham writers room is going to handle that transformation!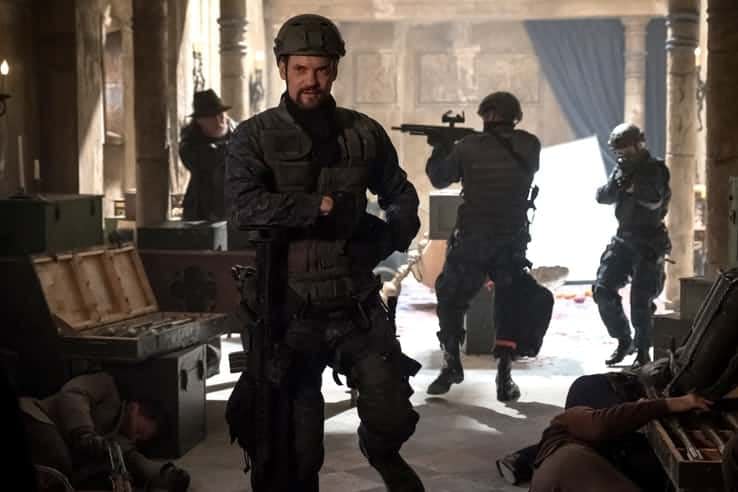 For a little background on the episode's title, Pena Dura is the name of the fictional, war-torn Latin American country that Durance originally hails from. Oh, Jim. We're so sorry. It looks like you've found another brother-in-arms. Those things never turn out so well for you – do they, Jimbo?
Grow the moustache!
It's your only hope… Gotham s05e04 'Pena Dura': A military task force, led by Eduardo Dorrance (guest star Shane West) is called in to provide relief to Gotham. Meanwhile, Nygma looks for answers from Penguin, who leads him back to Hugo Strange (guest star BD Wong). Then, Bruce is concerned about Selina's recent behavior.
One of the ongoing mysteries of season 5 has been the riddle of the Riddler (Cory Michael Smith): he keeps waking up in different places around Gotham City – apparently under the control of his alter-ego of Edward Nygma whenever he falls asleep. Nygma has already tried to start a gang war by killing the leader of the Street Demonz gang and implicating Penguin (Robin Lord Taylor) in the deed.
Now, we have some idea of what's driving Edward – and the person behind that steering wheel is none other than Hugo Strange (B.D. Wong). Wong's Strange is always a delight – and we can't wait to see him in action again!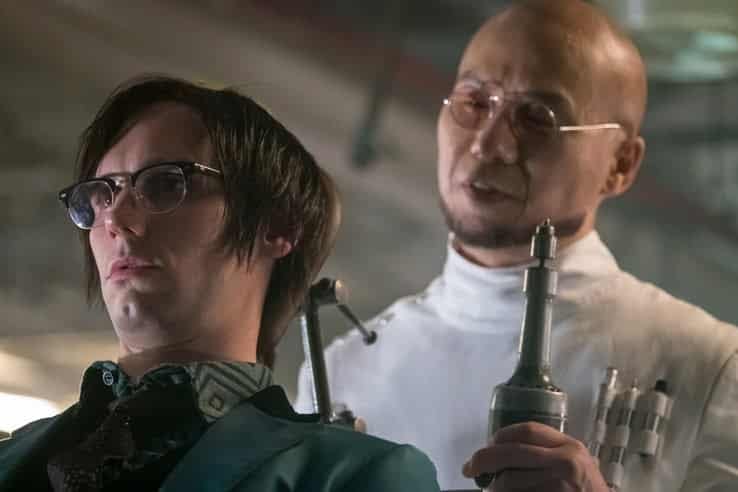 Knowing Gotham, that drill is probably going into Ed's head!
So while we wait for "Pena Dura" to premiere on January 31st, let's not forget the return of Jeremiah Valeska (Cameron Monaghan) in next week's "Ruin" – another reminder of what it's such a great time to be a Gotham fan!
https://youtu.be/fvrCVPmMi9g
Gotham s05e04 'Ruin': Gordon and Penguin are forced to work together and alliances are shaken when Lucius, Nygma and Barbara all have different ideas of the culprit behind recent events at Haven. Meanwhile, Selina continues her quest for revenge against Jeremiah (guest star Cameron Monaghan)

Cast: Ben McKenzie as Detective James Gordon, Donal Logue as Detective Harvey Bullock, Morena Baccarin as Dr. Leslie Thompkins, Sean Pertwee as Alfred Pennyworth, Robin Lord Taylor as Oswald Cobblepot/The Penguin, Erin Richards as Barbara Kean, David Mazouz as Bruce Wayne, Camren Bicondova as Selina Kyle/the future Catwoman, Cory Michael Smith as Edward Nygma/The Riddler, Chris Chalk as Lucius Fox

Guest Cast: Cameron Monaghan as Jeremiah Valeska, Anthony Carrigan as Victor Zsasz, Francesca Root-Dodson as Ecco, JW Cortes as Detective Alvarez, Alex Morf as Sykes, Jamie Murray as Walker