It will be almost three months between episodes when Gotham finally returns on March 1st. The 11th episode of the season airs on December 7th, which is just over halfway through the 20 episode season ordered.
A lot of things happened in the first half of season four, including Bruce (David Mazouz) suiting up and killing Ra's al Ghul (Alexander Siddig). Him firing Alfred (Sean Pertwee), Gordon (Ben McKenzie) taking on Penguin (Oswald Cobblepot), becoming Captain, getting in bed with Sofia Falcone (Cyrstal Reed) and having Harvey Bullock (Donal Logue) quit the GCPD. Riddler (Cory Michael Smith) got defrosted, but was slow-thinking for a while, became friends with Butch Gilzean, who is now Solomon Grundy (Drew Powell), and they hooked up with Lee Thompkins (Morena Baccarin)… and now Penguin is in Arkham with Jerome (Cameron Monaghan). And there was so much more.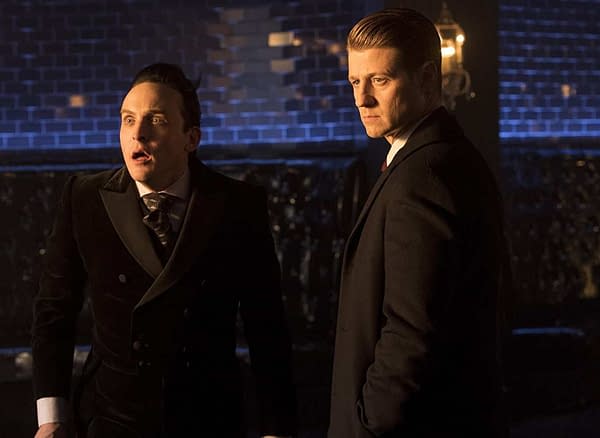 When the show returns, the episode is called 'Pieces of a Broken Mirror' and the synopsis reads:
Gordon is called to the scene when the Toy Maker is hired to assassinate a doctor in Gotham; Lee tries to rebuild the Narrows with Nygma's help; Alfred's new life becomes complicated; Ivy shows Selina her new persona.
Below is a collection of the sneak peeks for the returns that have been released so far. We see that with Bullock gone, Gordon starts working more with Lucius Fox (Chris Chalk).
Gotham returns to Fox on March 1st at 8 p.m. ET.
Enjoyed this article? Share it!