This week's episode of Food Network's Halloween Wars was definitely an improvement from last week. Although the "Small Scare" challenge during "The Swarm" was uneventful, the contestants brought their serious "A-Game" in the "Spine Chiller" round. Host Jonathan Bennett (with judges Shinmin Li and Todd Tucker and guest judge Harley Quinn Smith) were impressed by the execution and delectable tasting elements. My one negative about this episode was that I did not agree with the judge's decisions for winners: found myself excited about the frightening creations, but disappointed with the ruling.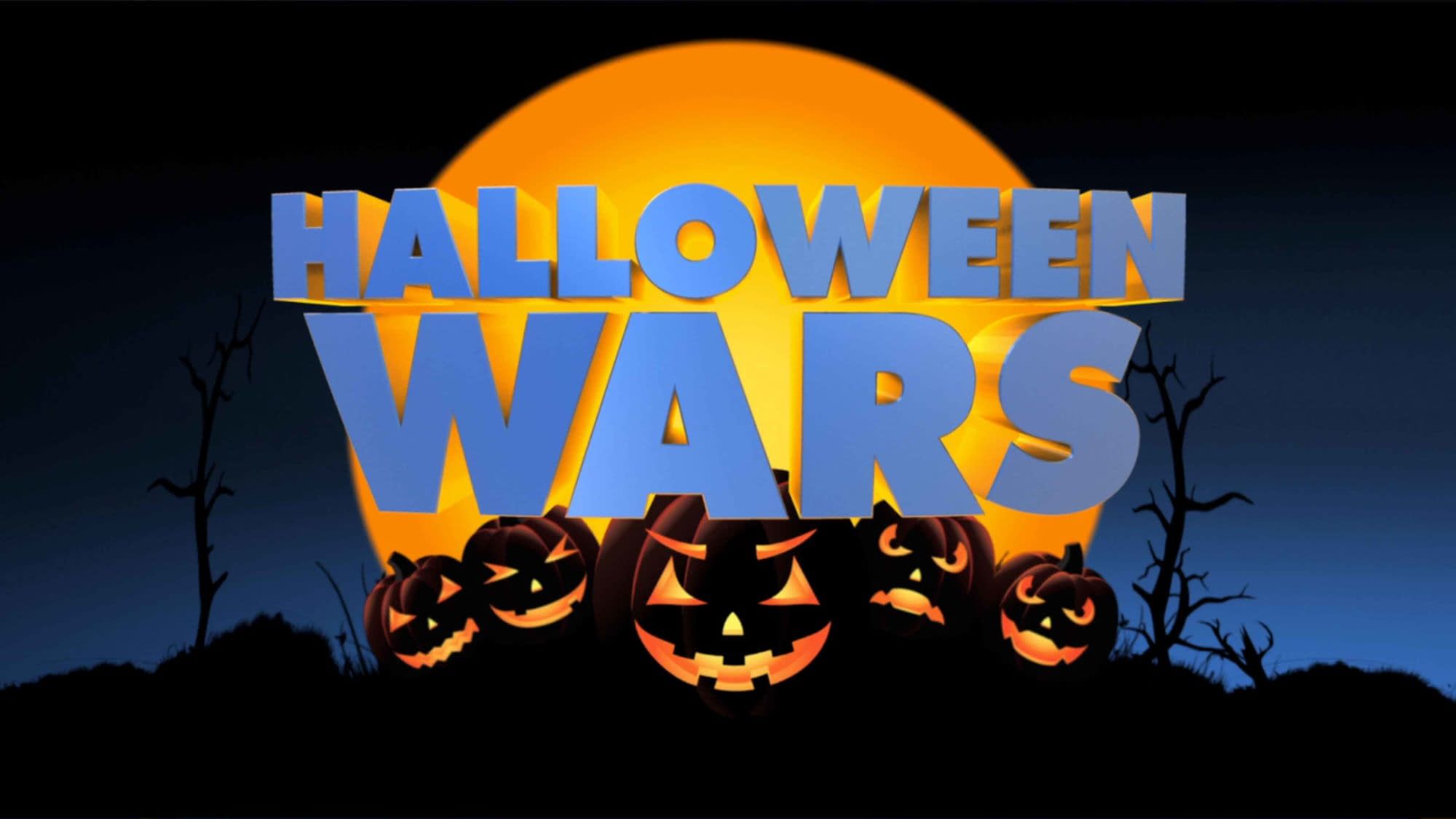 Halloween Wars consists of two rounds:
● Round #1 – Small Scare: Contestants are given an hour to create a small unnerving sculpture out of pumpkin, cake, and sugar
● Round #2 – Spine Chiller: Competitors are given five hours to create a disturbing horror movie like display guaranteed to make us wish for unicorns and rainbows. They must also incorporate a delicious treat into their creation.
At the end of each episode a team is eliminated with the remaining teams competing for a chance to win $50,000
Our remaining 4 teams this season are as follows: Trio of Terror, Burned at the Cake, Buttercream Beasts, and Frosted Freak Show.
Here are some of highlights from episode 3 "The Swarm":
● Round 1 'Dinner's Revenge' contestants had to depict a meal feasting on human flesh. The results were a salad coming to life (just as exciting as it sounds), a 'frightening' scallop (the concept alone made me laugh), a 'killer burger' (seemed plausible) and a 'human pie' (props for innovation)
Burned at the Cake produced what I thought was the best creation: a play on pumpkin pie – but instead the pumpkin was eating the 'human pie'. I loved the concept, and through it was beautifully executed. The judges however did not share my sentiment.
Round 1's win went to Frosted Freakshow and their 'Killer Burger', receiving high praise for scare factor from the judges. To me, it resembled a five year olds Playdoh creation which required a lot of imagination to 'see' the burger.
Buttercream Beasts is worth mentioning because their scallop looked like it swallowed a drunk fish.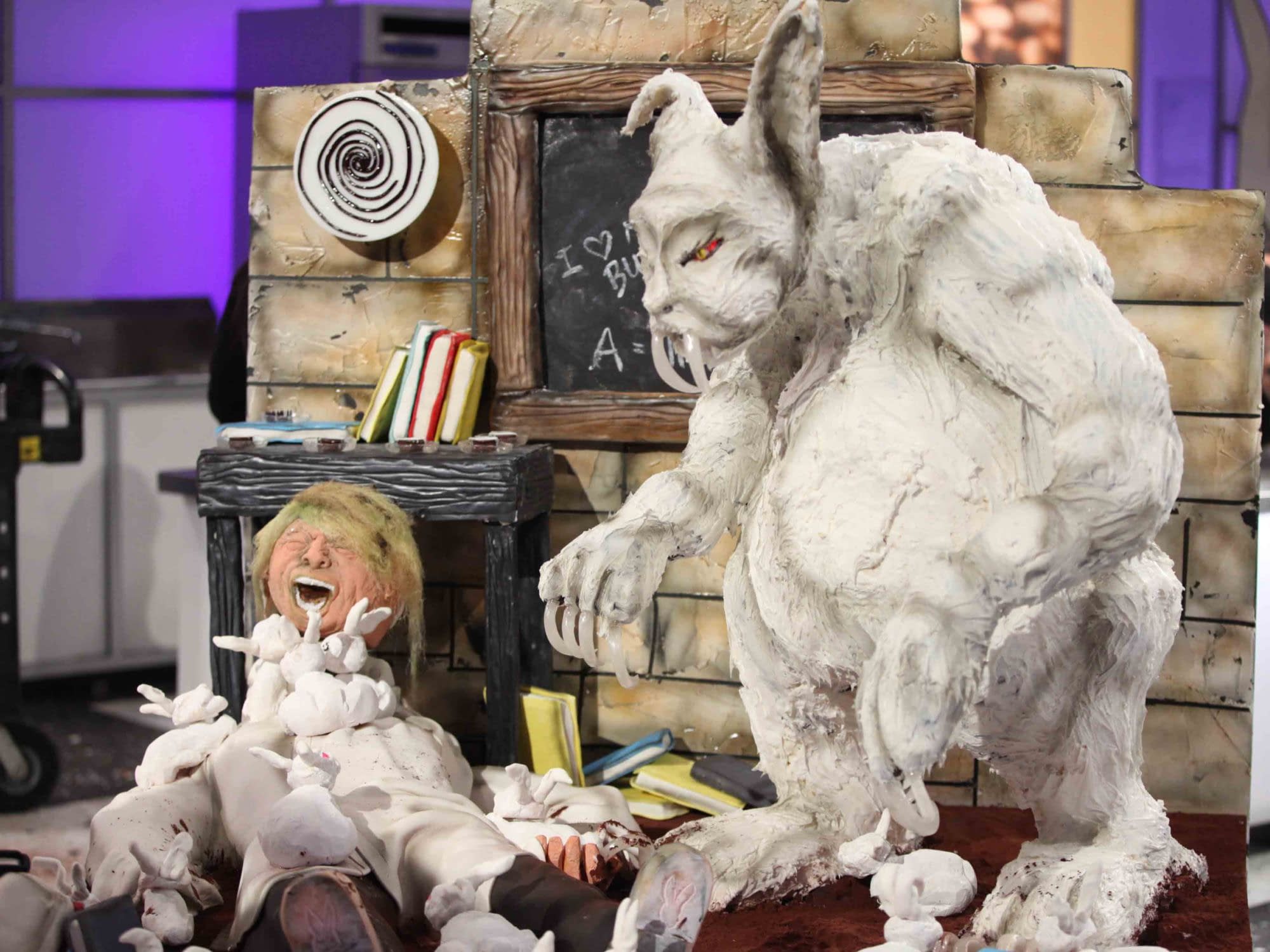 ● Round 2 "Swarm of Monsters" Contestants were asked to terrify us with a set including monster multiplicity. Awesome theme, and automatically made me think of a person being eaten alive by maggots, suffocated by snakes, or feasted on by piranhas.
Trio of Terror delivered on a play from Alfred Hitchcock's 'The Birds', the coolest part of the piece was the functioning fountain.
Burned at the Cake gave the judges a tasty larva snack, but their Alien Mosquitos taking over the world required a lot of explaining and didn't successfully depict the concept. Not surprising, they were sent home
Frosted Freak Show and their radioactive bees and bee hives blew my mind. It swallowed you with the vibrant colors, the spectacular face carvings in the pumpkins, probably some of the best work I've ever seen on the show. Unfortunately the judges felt that their color scheme was too monochromatic.
Buttercream Beasts took home the win with a giant mutant bunny attack. Amazing work: the oversized creepy bunny was the star, with his horrifying clan of little tiny rabbits come to life.
Glad to see Halloween Wars is back on track: quality pieces that demonstrated creativity and skill. With only two episodes left, the teams must bring their scariest, most dreadful creations to life.
My prediction? Frosted Freak Show will be the last ones standing and crowned this season's champions.
Enjoyed this article? Share it!