First and foremost: if you have not watched the most recent episode of HBO's drama series Westworld (season 2, episode 5, 'Akane No Mai'), you will most definitely want to do that before reading what star Evan Rachel Wood has to say about one of the big twists.
Okay — if you're still here, we're going to proceed.
In 'Akane No Mai', viewers were transported (along with Thandie Newton's Maeve and co.) to Shogun World, where they met new allies and encountered new problems. While this was probably the biggest part of the episode's action, there was a pretty big emotional hit back over in Westworld in the town of Sweetwater.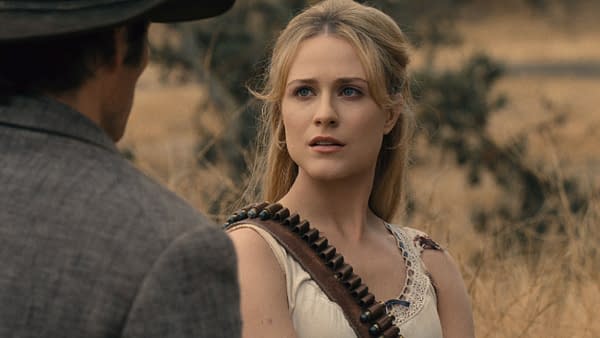 Specifically, after a night spent together in passion, Dolores (Wood) came to a pretty drastic decision about her lover Teddy (James Marsden). She wakes him up in the middle of the night after their lovemaking, leads him into a dark room with a rotting cow's corpse in it, and hands him over to her Delos minions to rewire his systems. She's overwriting his personality code, because as she said earlier in the episode, he's too "nice" — too gentle to survive where she's bound for next.
Evan Rachel Wood spoke to The Hollywood Reporter about the experience:
"It was horrible. I'm not even kidding. I think because we've been doing the show for four years now — if you go back to the pilot, which was shot in 2014 — we're all so attached to these characters. The experience is so immersive, so there's a huge part of you that feels like you're real. There's a space you all occupy with each other between action and cut that is real. When something bad happens to one of the characters, it genuinely upsets us, because we're so in it.

I literally couldn't stop crying. After every take, I had to walk away and start weeping, because I love Teddy. Being with these characters for so long, and then feeling like you're saying goodbye to them in a way? It's devastating for us. Even though he's still there, it's different."
Does this choice paint Dolores more in the way of a human's control of a host though?
"I think that's exactly the question she's going to have to start asking herself," Wood continued. "I think it's what Maeve was trying to tell her as well: 'Everyone can't be free to be under your command.' She's longing for a choice. Anybody with that kind of responsibility and power tries to do the best that they can, but in that moment, she's not giving [Teddy] a choice. She's going to have to examine that, certainly."
Needless to say, the next episode of Westworld will certainly be interesting. It airs on HBO on Sundays.
Enjoyed this article? Share it!