Into the Dark, Hulu and Blumhouse Television's year long holiday-themed anthology series, has aired two good episodes coming into December. The Body was a very solid slasher/chase film, while Flesh and Blood was a bit more uneven but ultimately entertaining. The Christmas entry, Pooka, is now streaming. One of the more anticipated entries since the series trailer debut.
Pooka tells the story of struggling actor Wilson (Nyasha Hatendi), who auditions and becomes Pooka, the mascot for the holiday seasons hottest toys. Wilson loves (?) being the character right from the get-go, however the more time he spends in the suit, his reality begins to fracture. This causes friction with his new girlfriend Melanie (Latarsha Rose) and her young son. As Wilson has more and more violent visions and becomes more erratic, the line between Wilson and Pooka blurs.
Let's get this out of the way right now. This film is not good. Visually there is a lot going on, and it is gorgeous. That has everything to do with director Nacho Vigalondo. Haing previously directed the bonkers Colossal, that is to be expected. The set design is downright jaw-dropping. Oh, and the design of Pooka is great. The big eyes, the soft looking fur. The way Wilson moves in the suit. No, Pooka himself is not the problem here either. The problem is a scatter-brained script full of half scenes and half-baked ideas. While the visuals are fantastic, they are used as a crutch to gloss over the parts of the script that they can't explain without giving away the big twist at the end.
Man, this ending. This is a perfect example of it feeling like the twist was written before the script, and it throws of the tone and execution of the film completely off until the big reveal. There are enough clues strewn about to put it together, but by the time we see the terrible truth, we checked out a long time ago. There is almost nothing worse in a horror film than not caring about where the characters and story end up.
Hatendi is solid as Wilson, and this is his film to carry. He does a great job portraying an insane person, but because we must preserve the twist, there is no explanation for any of his behavior until the very end. We don't feel sorry for him in that moment, because we just got done seeing that he is not in fact insane, he is just an asshole. And then it just ends, acting like a the weirdest afterschool special you may ever watch.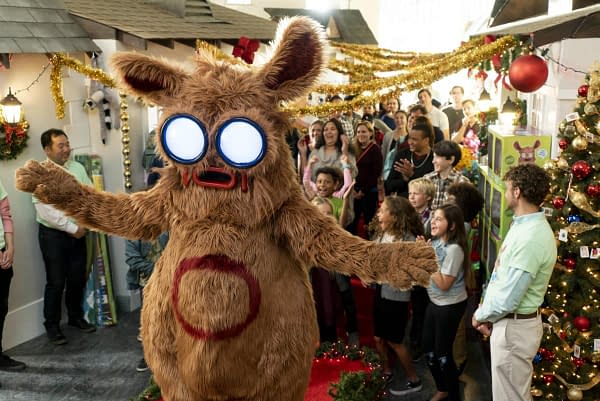 This was a frustrating watch from beginning to end and the payoff was not worth it. While a step up visually, this is going to end up being one of the weaker entries in the series. The nice thing about anthologies though is that there is always the next one.
Enjoyed this article? Share it!