"iZombie" Season 5, Episode 7 "Filleted to Rest" a Satisfying Meal [SPOILER REVIEW]
This week's episode of CW's iZombie "Filleted to Rest" was dedicated to all thing's family. I must admit quite poetic to have this episode air the week of Father's Day. Liv (Rose McIver) is reunited with her dad… but hold off on the happy momentum though: daddy dearest is psycho metal plate cult leader Martin Roberts (Jerry Wasserman), set on destroying humans and any zombie that crosses him. If that wasn't enough, we get to witness an ugly face-to-face between Liv and her mother; Major (Robert Buckley) is betrayed by his friend and right hand Justin (Tongayi Chirisa); Ravi (Rahul Kohli) does a selfish good deed by reuniting CDC doctor Charlie (Quinta Brunson) with her twin sister, and Clive (Malcolm Goodwin) has 2 baby-mama's to care for. Let's not forget an actual murder… which gives Liv the pleasure of consuming angry perfectionist chef brain.
https://youtu.be/RSV5sUCWqTI
"That's a wrap."
Head chef of one of the poshest restaurants in New Seattle is found dead in her office, suffocated by plastic wrap. Clive and Liv discover that 12 brains have also gone missing from the restaurant. Kind of hard to zero in on who killed this one since pretty much anyone who had come in contact with her fantasized about her execution.
Fillmore-Graves suffers a major hit when several of Major's soldiers are ambushed at a warehouse. Problem? The soldiers were not at their usual posts, which smells like an inside job. Major suspects that FG's Peters might have been the traitor and consults Justin – his right hand who had trained him. Justin assures Major that it was highly unlikely, and that Peter's is just not smart enough to be part of such an op. Justin interestingly enough is the only man to survive the ambush aside from Peters, who is missing… until he shows up at Major's house.
"Sorry, Major. You're a good guy… but the wrong guy for bad times"
Peters confesses to Major that unfortunately… Justin is the traitor. After the well-orchestrated massacre Peters sees Justin talking it up with the soldiers who took out the FG team. Major obviously struggles with believing him, and here is where Major wins me over. I've been reporting on a number of occasions that Major's strength is setting up fake scenarios to get people to confess and playing the zombie/human battlefield with the motto of "can't we all just get along." Yes, he's soft – not this week though. Major has his team bring in Peters hurt on a gurney and puts him in a cell to be monitored. Justin is assigned to guard him. Major doesn't seem surprised to watch on camera as Justin tries to suffocate him with a pillow. Justin refuses to go down without a fight and is rewarded with a bullet to the head courtesy of Major – great shot!
Ravi is cut out from the CDC, who are still holding a grudge that he was not transparent with them about the cure being found in Freylinch children. Ravi has been searching for alternatives to making a cure and has zeroed in on trying to locate Beanpole Bob, a Utopium dealer. Charlie from the CDC might be able to help him out there, but asks that he do her a favor and reunite her with her twin sister Laila (currently living in New Seattle). They had a falling out and haven't been on speaking terms, but now their mother has Alzheimer's. Ravi successfully finds Laila and she will be getting smuggled out of New Seattle and into Washington within the next few days: "Reunited, and it feels so good"… at least we hope. The rogue coyote hired by Liv will be accompanying her on the mission – and yet something tells me this would be a pleasant reunion.
While Dale (Jessica Harmon) is on maternity leave, Clive is substituting as Lieutenant and Michelle has been transferred to take over his detective spot. Yep, having the woman you slept with one time who might be carrying your child while you are expecting your first child with your wife – that's not awkward at all. What can make it worse? Oh wait, having Michelle get injured on the job, taken to the hospital, and putting down Clive as both emergency contact and the baby's father!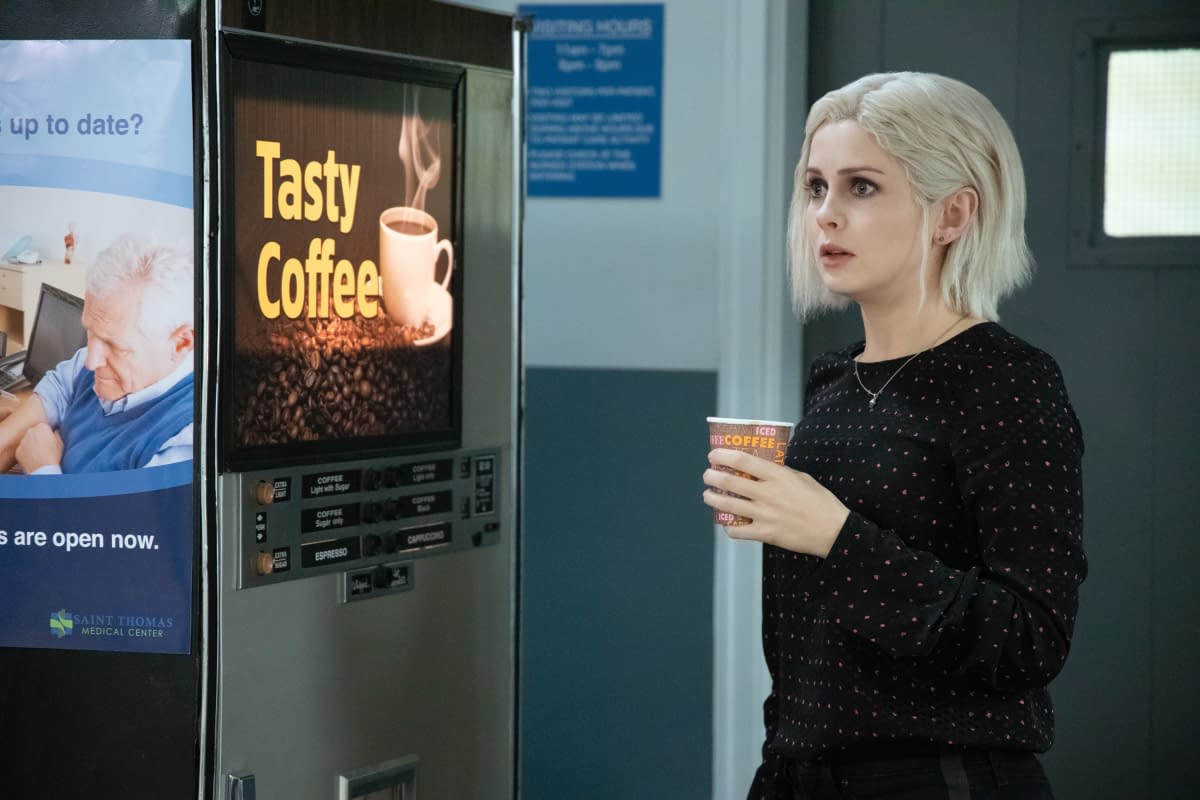 "Dear god, did someone run this coffee through cat litter?!?"
Liv on angry chef brain is interviewing a suspect who conveniently gets hit by a bus and ends up in the hospital and bumps in to her mother – who she hasn't spoken to in a long time after refusing to save her brother and exposing herself as a zombie. The reunion is an unhappy one and her mother wants nothing to do with her. After much persuasion of trying to hold on to family, Liv is told that her real father is 'junky' Martin Roberts – an ex Doctor's Without Boarders employee. Liv's mother recommends she does not try to seek him out as he was last seen begging on the streets of New Seattle.
"Ms. Durkins sees things clearly."
Frenchy is brought back to life by creepy metal plate zombie who we know nothing about. He seems to have a lot of respect for Dolly's (Jennifer Irwin) ambition and action-oriented game plans, just clearly feels she is on the wrong side of the war. Mr. Psycho leaves Frenchy to tend to his zombie friends while he goes upstairs to answer the doorbell where…
Liv introduces herself to Martin Roberts as his daughter!!!
Did not see that one coming, I'm eager to find out next week if Martin knew all along that Liv is his and that not much will change for him… but for her? Will she have to kill the father she just learned she had?
So who killed the chef? The dishwasher did it. He was afraid she would tell his parents he's a zombie and get fired. Clearly, being an unregistered zombie and outed was worth killing for.
The episode ends with many cliffhangers. The general's daughter is kidnapped – the same one turned in to a zombie to keep her father from setting off a bomb on New Seattle. Major and Liv enjoy dinner with the orphan children. The new 'zombie' coyote that's part of Martin's group sets out on her first Renegade mission. Of course, let's not forget Live coming face-to-face with her own father.

Looking forward to see what happens next week on CW's iZombie "Death of a Car Salesman"… and what happened to Blaine and Peyton?
https://www.youtube.com/watch?v=bXVG7ZTaY-c
iZombie season 5, episode 8 "Death of a Car Salesman": LIV AND RAVI CONSUME THE SAME BRAIN — Liv (Rose McIver) and Ravi (Rahul Kohli) each consume the brain of a very dislikable car salesman and inherit his competitive nature. Malcolm Goodwin, Robert Buckley, David Anders, Aly Michalka and Bryce Hodgson also star. Jason Bloom directed the episode written by Christina de Leon
CW's iZombie stars Rose McIver as Olivia "Liv" Moore, Malcolm Goodwin as Clive Babineaux, Rahul Kohli as Dr. Ravi Chakrabarti, Robert Buckley as Major Lilywhite, David Anders as Blaine DeBeers, Aly Michalka as Peyton Charles, and Bryce Hodgson as Don E. Filmed in Vancouver, British Columbia, Rob Thomas, Diane Ruggiero-Wright, Danielle Stokdyk, and Dan Etheridge serve as executive producers. Production is handled by Bonanza Productions Inc., in association with Spondoolie Productions and Warner Bros. Television.
iZombie airs Thursday nights at 8 p.m. ET/PT on the CW.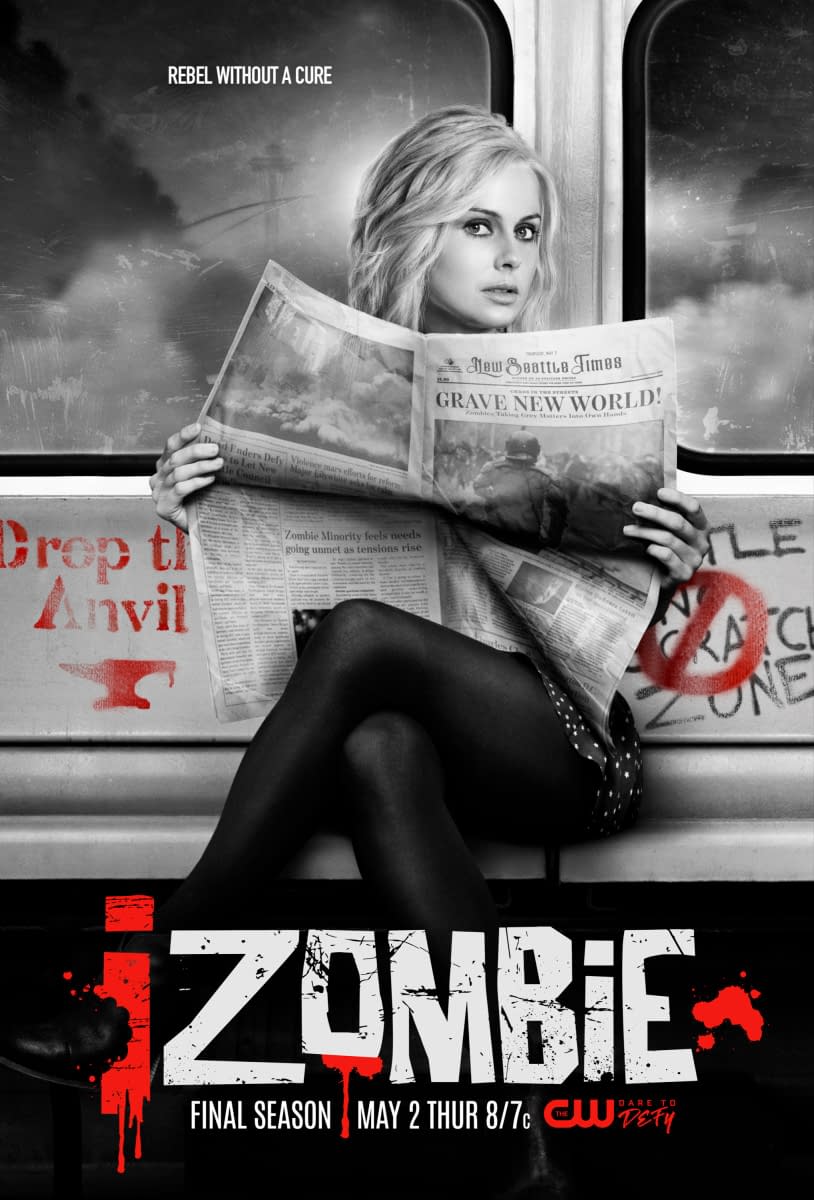 Margo Staten is a Ukrainian born, raised in Brooklyn, organically driven, coffee loving, twice-divorced mother of one baby Einstein. Has a passion for books, yoga in the park and all things 80's and New Orleans.