Jinder Mahal Talks Drew McIntyre's Championship Run, 3MB Prophecy
Drew McIntyre may be the latest member of 3MB to hold the WWE Championship, but he isn't the first. McIntyre is merely following in the footsteps of the Modern Day Maharaja, Jinder Mahal. But the magnanimous Mahal isn't jealous of his friend and former teammate being in the main event on Raw while Mahal is home rehabbing another surgery. Jinder Mahal appeared on WWE talk show The Bump ahead of Sunday's Backlash PPV, and he had nothing but nice things to say about the current WWE Champ, who successfully defended his championship against Bobby Lashley at the PPV.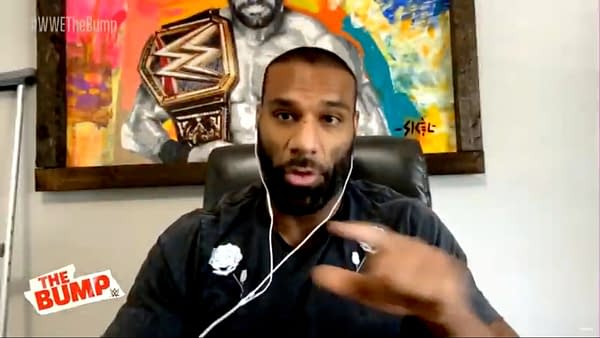 Mahal revealed that he shared some advice with McIntyre after McIntyre first won the WWE Championship. "I told Drew just to enjoy it," said Mahal. "Drew is super focused. Just like myself, we were both released at the same time in 2014, and we both reinvented ourselves. And we were both given a second opportunity. So just like I did, I wasn't gonna take that second opportunity for granted, and that's exactly what Drew's doing. He's gonna make the best out of every opportunity."
According to Mahal, McIntyre, his longtime friend, was the first wrestler to congratulate Jinder when he won his first WWE Championship back in 2017. Mahal defeated Randy Orton in the main event of that year's Backlash PPV, and when he returned backstage, McIntyre came running to congratulate him.
"When I won the WWE Championship, Drew was one of the guys who made it up to Gorilla just to congratulate me," Mahal said. "He gave me a big hug. Because he was a part of NXT during that time, so NXT, actually, when the match ended, they were getting everyone on the bus and getting them out of there, but he quickly ran to Gorilla and congratulated me."
But when McIntyre won his first WWE Championship, Mahal was out with an injury and unable to return the favor. "Unfortunately, I wasn't there when he won the WWE Championship, but I really wish I was there," Mahal said. "But I was just so, so happy for him because I know the struggle that he's been through. It's very similar to my struggle, from being released, from being injured, he had a torn bicep a couple of years ago in NXT. Then coming back to the main roster, having to redevelop yourself and kind of rebuild your confidence in a way too, because when you get released, it takes a big hit on your confidence. But he's as confident as ever. You can see it if you look at Drew when he came to Raw a couple of years ago to where he is now, his confidence is on a-whole-nother level. And that championship has taken his even taken his confidence to another level. He's risen head and shoulders above the old Drew McIntyre which was already a phenomenal WWE Champion."
Besides a friendship, a history, and WWE Championship runs, Mahal and McIntyre share something else in common. Both wrestlers have earned a spot in the history books for being the first in their respective categories to win the WWE Championship. For Mahal, he's the first Indian WWE Champion (The Great Khali had previously held the World Heavyweight Championship in WWE, a different title with a different lineage), and Drew McIntyre is the first person from the UK to win it.
"So I'm just really happy for him," Mahal continued, "and just like I'm the first Indian WWE Champion, he's the first-ever WWE Champion from the UK, so that's a huge honor in itself, history-making. So many superstars came close, everybody from Wade Barrett to someone like William Regal, but nobody has ever captured that WWE Championship. So for Drew to do it, that's awesome. His name is in the history books forever."
And now, there's just one more feat for the former members of 3MB to accomplish. "I'm waiting for Heath Slater to one day make his return to WWE, get in insane shape, reinvent himself, get his confidence back, and also win the WWE Championship, and then the prophecy will come true that all members of the 3MB became WWE Champions," Mahal said.