With less than three weeks to go before BBC America and AMC's Killing Eve makes its April 7th return, viewers are getting another look at Phoebe Waller-Bridge's award-winning ratings juggernaut's second season – but this one doesn't focus on our main players Villanelle (Jodie Comer) or Eve (Sandra Oh). In the following teaser, we get a brief but telling glimpse into the mind of Fiona Shaw's Carolyn Martens, head of the Russia Section at MI6 – and whose choice of moisturizer speaks volumes about her line of work:
BBC America gave Killing Eve an 8 episode, second-season pick-up days before the season 1 premiere. The upcoming season will see the addition of several new cast members, including: Henry Lloyd-Hughes (The InBetweeners, Madame Bovary, Indian Summers), Shannon Tarbet (Beast, Beautiful Darkness, Genius), Nina Sosanya (Strike Back, Love Actually, Five Days), Edward Bluemel (The Commuter, A Discovery of Witches, The Halcyon), and Julian Barratt (The Mighty Boosh, Mindhorn, Sally4Ever).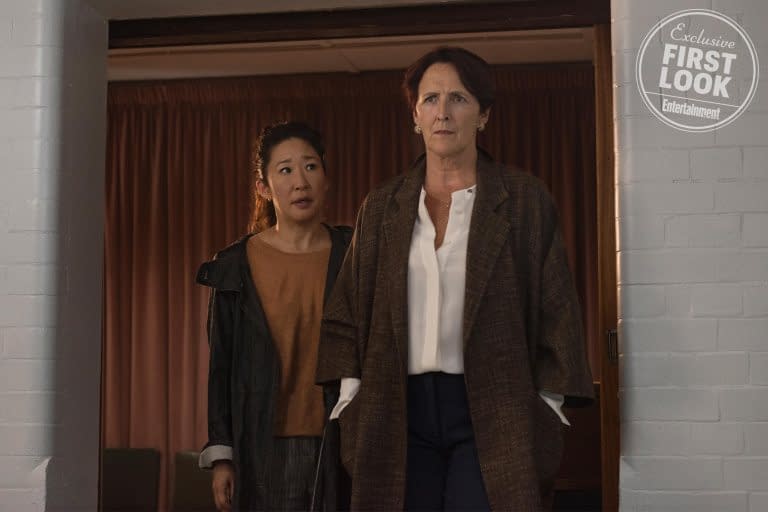 Comer, Oh, and Shaw joined executive producer/writer Emerald Fennell and executive producer Sally Woodward Gentle on stage at this winter's Television Critics Association (TCA) panel. During the session, the award-winning cast and creative reflected on the first season while teasing viewers with what they can expect from season 2 later this year, and you can check out some of the highlights below.
● While discussing the series' first season connections to the #MeToo and TimesUp movements, Oh emphasized that the series' willingness to trust in its female characters was a major positive for her and reflects the times:
"It was amazing to be making a show and doing exactly what TimesUp is trying to do and trying to bring. Our show examining and taking the female psyche seriously."
● When asked a variation of the "how does it feel being part of a show with strong female leads?", Oh pushed back on the assumption that the concept was in play when creative decisions were made:
"I think you're putting a lot of context around creative choices that doesn't go into making those choices…I'm interested in what I am interested in."
https://www.youtube.com/watch?v=KdN4_X850ag
● The beginning of season 2 picks up 30 seconds after the first season finale, which saw Oh's Eve making a "very pointed statement" to Comer's Villanelle (no spoilers). Viewers will see both characters changed from the experience–and vulnerable in ways that will surprise even them:
"You see them vulnerable in different ways. They crossed a line and there's no going back. We have a lot of energy in the beginning of the series…it pushes them to a different place of vulnerability."
● Possibly as a nod to Shaw's turn as Aunt Petunia in the blockbuster film franchise, the panel was asked to comment on the comparison made by some between Eve/Villanelle and Harry Potter/Lord Voldemort: the idea that the two relationships are similar because both function under the premise that "neither can live for the other to survive." When asked how Eve and Villanelle could come to terms with their impossible relationship, Oh's response? "That is what I think we are trying to figure out."
Enjoyed this article? Share it!