In the new Syfy series Krypton, we get to follow the adventures of Superman's grandfather, Seyg-El (Cameron Cuffe). But for those who aren't sure, it's spelled out pretty point blank in this new trailer. Seyg-El is shown a very familiar looking red cape with a yellow House of El emblem, and then explained that it is his grandson's cape and it's up to Seyg-El to save his legacy. No pressure. It appears that he is given the cape by Adam Strange (Shaun Sipos), or at least that's how it seems. It could be by a mysterious hooded figure too…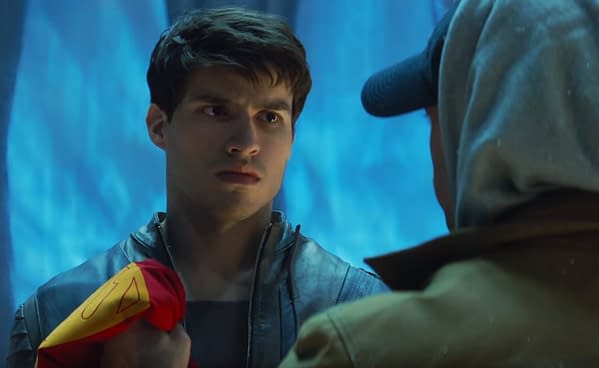 The new series is from David S. Goyer and he's bring a few of his Da Vinci's Demons friends with him as Blake Ritson will be playing Brainiac and Eliot Cowan appears as Daron-Vex. The cape reminds us that this is more than just a history series where we know that Krypton explodes, Kal-El goes to Earth and we get Superman. This is a time-traveling series where a bad guy is coming back in time to stop Superman from every coming to Earth. This means that we don't know the end result and the legacy that Seyg-El is trying to save damns his entire planet. That's kind of deep.
Krypton premiers March 21st on Syfy.
Enjoyed this article? Share it!