Today' DC Comics titles feature a back page ad for the new second series of Krypton TV show on SYFY. And while previous advertising posters and promotional videos gave this season the tagline 'Bad Day To Be A Hero', it looks like that timeframe has switched to 'It's A Bad Year To Be A Hero' – which also nicely continues into DC's Year Of The Villain, also starting today…
Here's the new look.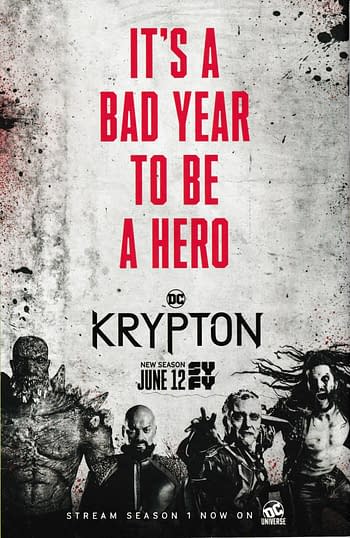 Here's the old look.
Here's the trailer.
Krypton is developed by David S. Goyer for SYFY, set approximately 200 years before the birth of Superman and eventual destruction of the planet. The show focuses on his grandfather, Seg-El played by Cameron Cuffe. The second season is planned to premiere on June 12th, 2019. And, yes, here comes Lobo…
Enjoyed this article? Share it!