I'm not sure if any of the Arroverse series was more directly affected by the Crisis on Earth-X crossover than DC's Legends of Tomorrow, but going right into the mid-season finale and then being off the air for a while could be quite unsettling for fans. Unlike the other series, the return date for Legends is up in the air as the 9 p.m. ET Tuesday time slot will have Black Lightning starting January 16th. The series, which is slated to do only 17 episodes compared to the 23 of the other series, will be back most likely in February or early March, but no date nor time has been set. If you haven't seen the crossover event, there are spoilers below.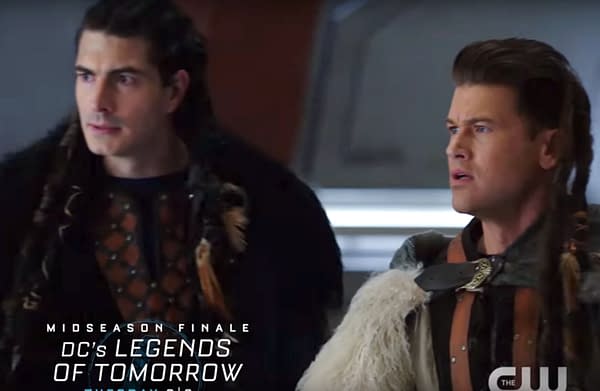 The mid-season finale comes on the heels of the team losing one of their own… and maybe gaining another. It's no surprise that Martin Stein (Victor Garber) was going to leave the Waverider — they've been setting that up for weeks. But how he left was a shock. It leaves Jax (Franz Drameh) status up in the air and the team without what may be their biggest gun. Interesting, though, that the trailer shows the team going back to Viking times to look for an anachronism only to discover young Martin (Graeme McComb). Are the writers bringing in his younger version to be the other half of Firestorm? Whether they do that or not, I think we're supposed to think they will.
Also, there is some talk that we'll see John Constantine (Matt Ryan) appear as part of this episode and of course, there is the Earth-X version of Leonard Snart (Wentworth Miller) running around somewhere.
DC's Legends of Tomorrow mid-season finale airs December 5th at 9 p.m. ET on the CW.
https://youtu.be/8Pe-Wgpbkd8
Enjoyed this article? Share it!