Posted in: Movies, Review, TV | Tagged: ABC, john goodman, roseanne, Roseanne revival, The Connors
---
Let's Talk About ABC's 'Roseanne' Revival, Season 10 Premiere
You knew when ABC announced the return of Roseanne, eventually someone was going to have to review it. Apparently that someone is me, as I've been covering most of the news surrounding the American family sitcom.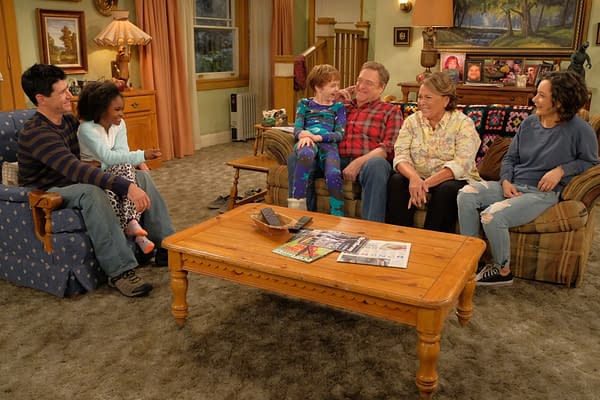 Reuniting the original cast to shoot new episodes (no really the tag line for the show is "Same Cast, New Episodes") seems to be the easiest part of the premise, getting folks to tune in (and stay there) not so much.
Both Roseanne (Roseanne Barr) and Dan Conner (John Goodman) are back, so are Darlene (Sara Gilbert), Jackie (Laurie Metcalf), D.J. Michael (Fishman) and original Becky (Lecy Goranson). We also get to see Darlene and David's daughter Harris (Emma Kenney from Shameless) grown up.
The show picks up after the end of the 1997 original run of the show, and yes, it addresses Dan's death. We're going to be updating live as the episode airs, so keep checking back!
Things that happened in Roseanne s10e1 "20 Years to Life; Dress To Impress":
The opening sequence has Roseanne and Dan in bed together
She wakes him up, "Dan! I thought you were dead."
"Why does everyone keep saying that?"
You can hear the pitter patter of feet from the above floor
Turns out that Darlene has moved back home to take care of her mom, who's having a hard time dealing with her diabetes
Darlene's youngest child Mark comes into the famous kitchen, wearing leggings and a unicorn shirt
This….is painful. I mean we knew what this was going to be coming in, but still.
Turns out Roseanne is driving Uber, and she's mad at Jackie for voting for "the worst person"
Jackie shows up, wearing a pink pussy hat and a Nasty Woman shirt, so obviously we know who she voted for.
Dan heads to the garage to hunt for something, "now that we have kids in the house, gotta figure out where we hid the gun."
I'm trying to find the right words to describe this, because I am in shock this is something that's on the air. Especially on ABC.
Seeing DJ as an adult is the WEIRDEST THING!
Dinner turns into a live fire exercise in several subjects.
Becky shows up, and announces she's going to be a surrogate for a couple, and Dan doesn't react kindly to it, saying Becky is selling off one of their grandkids.
Jackie says it's a "her body her decision" thing, and Roseanne shockingly agrees.
Becky and Darlene are fighting again, shocker.
It strikes me that this is really Showtime's Shameless, but ala Disney for Network.
Jackie pretty much tells Roseanne it's her fault that Trump got elected (not wrong)
OMG TWO BECKYS FACE TO FACE. Turns out new Becky (Sarah Chalke) is the lady that Old Becky is gonna be a surrogate for, and that's just too damn meta.
Personally, I had a hard time watching this show was it was on during its original run, because I see so much of the family I avoid as an adult in the characters. I have an aunt who is pretty much Roseanne, give or take comedic timing and a measure of true conviction. Forcing myself to watch this revival is close to the panic that comes with the very idea of going back for a holiday meal. There is a reason I don't do that to myself, and I don't know if I'll continue watching this series.
I understand that yes, this is satyre-light, but it isn't being presented as cleverly as the producers think they are.
Bruce Helford, showrunner for the series had this to say about the revival to The Hollywood Reporter:
You have to give the show about three episodes to see what it really is. The first episode is definitely not all pro-Trump. We had a lot of things to catch up with. Give it two or three episodes. I think everybody is going to find something that they love and believe in — and that they're going to laugh because it's the funniest cast on TV. Let the show speak for itself. Don't just go with what you hear; go with what you see.
The official twitter for Roseanne posted this lovely thanks to the East Coast viewers.
---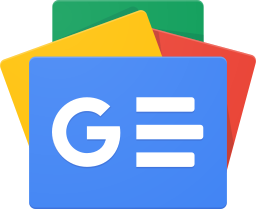 Stay up-to-date and support the site by following Bleeding Cool on Google News today!