FOX series So You Think You Can Dance is back for it's 15th season. The competition show starts with a series of auditions across the country where dancers are chosen to be sent forward to a semi finals in Las Vegas before making the actual top 20 performers.
Continually one of the most enjoyable reality shows (FIGHT ME), contestants often will go on to be featured prominently in national tours (like Lady Gaga) and films like The Greatest Showman.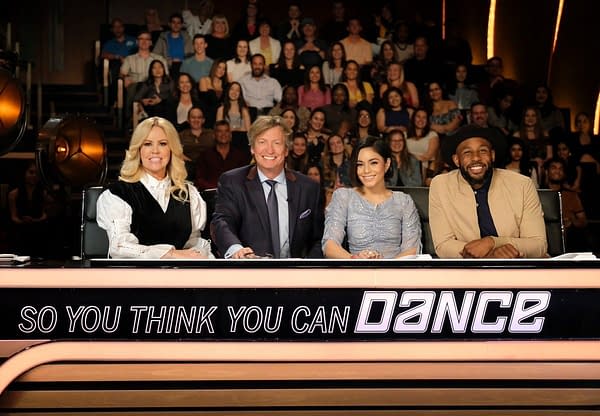 Judges for this part of season 15 are former So You Think You Can Dance contestant Twitch, actress/singer Vanessa Hudgens, ballroom champion and Hot Tamale Train conductor Mary Murphy, and series creator Nigel Lithgow. Longtime series host Cat Deeley is back as well.
If you want to know what happened and who we saw last week, you can catch up here.
This week, the audition phase continues in New York City, and we'll be updating as the episode airs:
*Cat welcomes us to New York City
What's New York got in store on the dancefloor? Tune in NOW to find out, West Coast! #SYTYCD pic.twitter.com/GBykn6Mxp8

— SYTYCD (@DANCEonFOX) June 19, 2018
*Cat mentions that the energy in NYC never disappoints, and she's not wrong.
*Hullo judges Nigel, Mary, Vanessa, and Twitch
*First up is Emily Carr (age 18), a contemporary dancer
*Such good control. She's not rushing anything, all those nerves she had before her music started just kinda melted away. Great foot extension.
*Nigel compliments her form, her feet, her control. Twitch says her power was not just in her movement, but her eyes.
*Emily mentions her sister, and Nigel asks why she isn't auditioning too. They pull her up on the stage, and she embraces her sister when the judges send Emily through to the academy
*Next up is Gabriel Alvarez (28)
*He says dancing is what kept him from turning from the bad things in life
*Gabriel made a career through dance, and got his US citizenship through dance
*His audition includes a large steel hoop (Nigel called it the Sia wheel)
*Fun performance, but it's too much America's Got Talent and not enough dancing
*Twitch comments that he wanted to see more dancing, and Gabriel says drop me a beat then
*They play some house music, and Gabriel does some hip-hop stuff, but it's not anything new, Nigel says.
*Mary: "You just need to be smarter with how you audition."
*Noes across the board
*Next up is tapper Evan DeBenedetto (19)
*OOOOh, good rhythm at the beginning, nice musicality. You can tell he's done contemporary and maybe ballet too, his upper body isn't as stiff as a normal tapper.
*Full standing O from the judges for Evan
*He lost out last season to winner Lex, so. They send him through.
*A montage of those dancers who were close, but were told they needed to work a little bit harder and to come back next year
*Rachel Blanchard (19), does a jazz routine. She needs to watch her facial expressions, but she's good.
*Vanessa calls her adorable, compares her to Flashdance.
*Rachel says everyone calls her baby, and Nigel tells her to go stand in the corner AND SHE STARTS TO DO IT before Vanessa stops her
*Nigel says her pirouettes were great, but her lead in was terrible.
*They send her through to the academy.
*Up next, we meet Kyle (22), a tutter and animator
*He auditioned last year, and made it all the way to the academy, but didn't end up being chosen
*He's got some smooooooth transitions, watching Twitch react to him is pretty great. Kinda wanted more though.
*Twitch yells out "Now THAT was an audition!"
*Unanimously sent through to the academy
*Victoria (18) is a contemporary dancer, and considers herself a farmgirl
*Wow, she's fabulous. A little more control maybe where her limbs end up (her arms really) but just gorgeous
*Nigel says he would have rather seen more dance than gymnastics tricks, but they send her through.
*Next up a pair of Russian twins, Daisy and Gracie both aged 24 who are hip hop dancers
*They….have lots of personality
*They don't make it through.
*Elan (24) and Jordynn (20) siblings, are also salsa dancers who's mom is also a dancer
*Nigel pulls their mom up from the audience to sit with the judges
*Good spins, but that's kind of all they're doing. The lift spin almost goes terribly wrong, but still pretty good.
*Mary compliments Jordynn's feet and ankles, calling them gorgeous
*Mom says, "I've seen better." There's a moment of shock. "I'm kidding!"
*They get yeses across the board, and make it through.
*Looks like next week we get the weird as hell ones next.
***
So You Think You Can Dance airs on FOX on Mondays.
Enjoyed this article? Share it!