Lucifer Season 2 Confessions: He's a Man of Wealth and Taste
The second season of Lucifer just gets more delicious and sultrier, don't get too excited it gets utterly explicit and raunchy when it transitions to Netflix next season. Of course, we are dying to find out if Lucifer (Tom Ellis) and Chloe Decker (Lauren German) strip down their defenses and their clothes. Doesn't quite happen this season and the frustration was real. I still find myself screaming at the TV whenever I rewatch the season, a mere kiss? Come on! The anticipation builds up, we as viewers sit on the edge of our seats and a lot of cool stuff happens… but be careful: MAJOR SPOILERS AHEAD!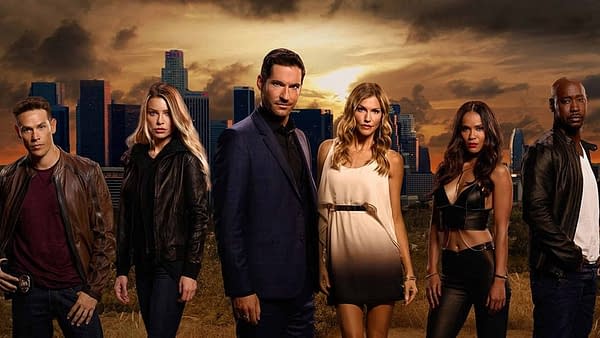 Lucifer gets the pleasure of reconnecting with his mother a powerful bitch lawyer. Amenadiel (D.B. Woodside) loses his powers and becomes human. Lucifer battles and kills his brother, therapy obviously increases a smidge there. Maze (Lesley-Ann Brandt) finds herself and her new profession as a bounty hunter. Most important of all, Lucifer reveals his true identity to Dr. Linda Martin (Rachel Harris), she takes it as well as you might expect when your client shows you his devil face. Here's a look at some of the season's highlights:
Lucifer searchers for his mother in many deceased who miraculously come to life. She instead finds him: meet Charlotte Richards (Tricia Helfer). Probably the most shocking thing of all ends up being Dan Espinoza (Kevin Alejandro) hooking up with her. Granted she only did it to get intel from him. Since we are on the subject of "Detective Douche," he gets reinstated after last season's debauchery but is demoted and pretty much spends the season being Chloe's bitch. He tries to reattach his penis by officially filing for divorce from her.
Chloe has a vile of Lucifer's blood and is dying to have it analyzed in the lab to find out who he really is. In the end, she decides that they are great partners and who cares that he is clearly out of his freaking mind. A dysfunctional family reunion transpires as if Lucifer doesn't have enough therapy couch time with all his daddy issues, now mom has been thrown into the mix. Oh, and another brother is sent from hell to force Lucy to return his mother down under where she belongs. Lucifer kills him – a great battle scene between Maze, Uriel, and Lucifer worth taking a peak (ep: "Weaponizer"). Apparently everyone is trying to kill Chloe and plague Lucifer with despair.
An unlikely roommate situation takes place when Chloe and Maze move in together: probably not the best role model for Trixie (Scarlett Estevez) yet somehow it works and the child melts Maze's heart. Or rather has her reveal her true demon face. Episode Monster is flooded with amazing reveals including Lucifer showing Dr. Martin his true identity, the look on her face? Priceless. Processing that everything Lucifer has ever said has not been a metaphor and he IS the devil and her best friend Maze is a real demon does not sit well with her at first. She does come around, (after all, they can kill her), so if you can't fight them just accept them as narcissistic friends with a flood gate of psychopathology.
There are as usual a number of great cases. Chloe makes a few mistakes when she becomes emotionally involved and reckless on a case involving her father's killer. Doesn't help that Lucifer's mother is representing the man who had something to do with it. The warden gets his punishment with the help of an odd paring Dan and Maze.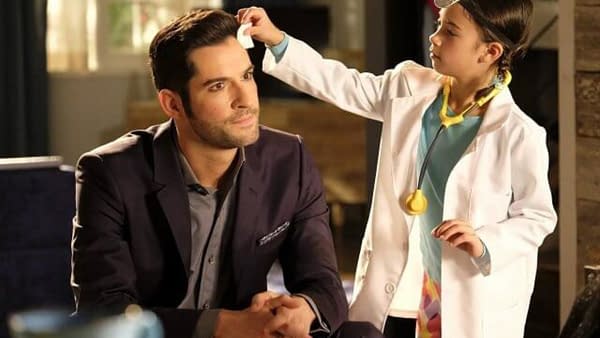 The mystery of Chloe as Lucifer's Achilles heel sort of gets solved and then twisted by his family to make him believe that his love for her and hers for him is all just a sick twisted game orchestrated by God. Luckily for Lucifer, his therapy with Dr. Linda resumes. Charlotte's human form is weakening and she literally starts to break through her skin. Lucifer has no choice but to send his mother with the help of The Flaming Sword not to heaven as she planned but to another dimension.
Probably one of the most depressing episodes is when Lucifer runs off to Vegas to get married while Chloe is on the verge of being honest with her love for him. They finally kiss and all we get to show for it is his new bride Candy. A thousand daggers went through my own heart. To make matters worse for the season finale, Lucifer finally agrees to tell Chloe who he really is, as he ventures to the hospital where she almost lost her life and he risked his yet again to save her, he never makes it: instead, waking up in the middle of the desert with his angel wings back. Heart-wrenching!
An amazing season. If someone didn't vibe with it from the start, season two there is just no way to not fall in love with their characters, the family dynamic, the sheer intensity and insanity of the emotional rollercoaster that at least I went through. That is the epitome of what we expect from a good show. You want to feel for the characters, experience emotions, even if it's frustration and Lucifer delivers on all counts.