Legendary British actor Miriam Margolyes appeared this morning on ITV's political programme Peston On Sunday talking with Robert Peston about her work but also the current #metoo campaign. And wanting to draw a line between what she called "a hand on the knee" twenty years about and rape or serious sexual assault.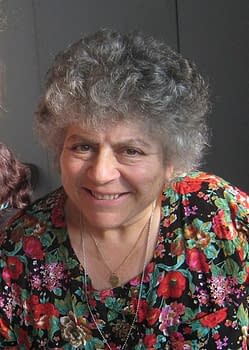 Best known today for appearing in the Harry Potter films and in Blackadder, she has a long body of work as an actor including the recent sitcom Bucket. Miriam has a reputation for saying relatively outrageous things on live television and she didn't hold back just because it was a Sunday morning, she said "I have never been groped, unfortunately, because I'm not attractive enough" before talking about issues like the gender pay gap
She talked also about auditioning for the 1981 film Reds and bring told she had to meet Warren Beatty in his trailer. She asked Robert Peston if she could say a bad word, he said yes – though he probably didn't expect this one.
On entering his trailer, she recalled the conversation with Warren Beatty beginning, asking "do you f–k?" "Yes but not you." "Why not?" "Because I'm a lesbian." "Can I watch?" "Just pull yourself together and let's get on with the interview."
She got the part.
With Robert Peston sputtering that he may well be sacked, the show came to a speedy end.
Enjoyed this article? Share it!