Miz & Mankind Spotlighted in WWE Network/Peacock Streaming Schedule
A Miz documentary and a Best of Mankind collection are amongst the new content streaming on Peacock and the WWE Network this week. This Miz will be the subject of the latest WWE 24, looking back at his career. Mick Foley will also be featured in a Best of Mankind collection that highlights Foley's Attitude Era matches as the character.
From WWE.com, here's what WWE 24: The Miz is all about:
In the latest episode of WWE's tentpole docuseries, The Miz explores his unbelievable ascent from reality show standout to one of the most decorated Superstars of all time. The A-Lister recounts his WrestleMania main event, juggling his success both in the ring and on his hit reality show, Miz & Mrs., and becoming the man the WWE Universe loves to loathe. The Miz also addresses his tumultuous early years in sports-entertainment, including his struggle to earn the respect of veterans in the locker roo
Also featured this week:
If you're in the mood for some Attitude Era, check out Best of Mankind, premiering Tuesday, which celebrates many of the greatest brawls featuring Mick Foley's leather-masked alter-ego.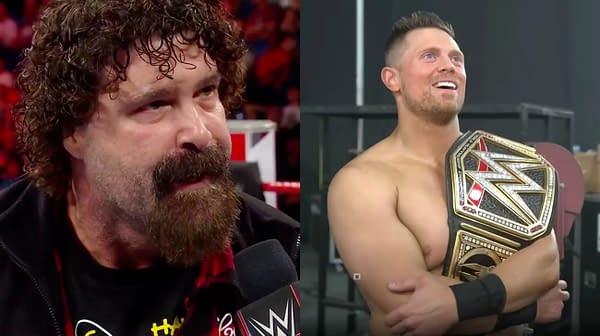 Plus, new episodes of Raw Talk, The Bump, NXT UK, This Week in WWE, 205 Live, Main Event, and Talking Smack, plus the arrival of ICW Fight Club 168 and PROGRESS Chapter 109: Dreaming in 3D. Here's the full schedule for WWE on Peacock and the WWE Network this week:
This Week's Schedule
** = available on the Free Version of WWE Network

Monday, April 19
10 classic episodes of Superstars
Raw Talk** – 11:05 p.m. ET

Tuesday, April 20
The Best of WWE: Best of Mankind**

Wednesday, April 21
Monday Night Raw (3/22/21)**
WWE's The Bump** – 10 a.m. ET
WWE NXT (4/20/21)

Thursday, April 22
NXT UK
This Week in WWE

Friday, April 23
205 Live – 10 p.m. ET

Saturday, April 24
WWE Main Event (4/8/21)
Talking Smack**
ICW Fight Club 168
PROGRESS Chapter 109: Dreaming in 3D

Sunday, April 25
Friday Night SmackDown (3/26/21)**
WWE 24: The Miz