Motherland: Fort Salem Season 2 Teasers, Ep Overviews Offer Clues
With Season two premiering around the corner, previews of the first two upcoming episodes of Freeform's Motherland: Fort Salem have been released. The first season showed us our heroes going up again The Spree. In this upcoming season, Raelle (Taylor Hickson), Tally (Jessica Sutton), and Abigail (Ashley Nicole Williams) will be facing a more dangerous enemy, the Camarilla, which will come along with much higher risks and much more dangerous magic.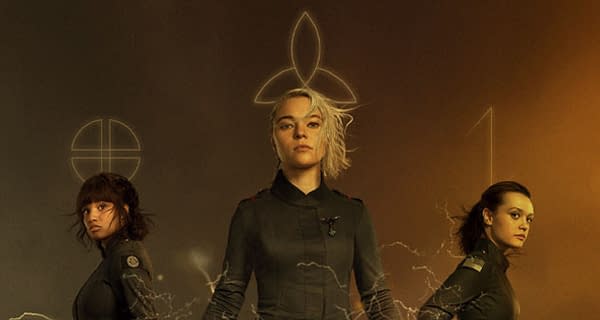 It seems it will be such a threat it might force the witches and the Spree to join forces against them. War College will also be starting which will push the withes to their limit both physically and emotionally.
Motherland: Fort Salem Season 2, Episode 1 "Of the Blood". The description reads Despite the threat of the Camarilla, the discovery of new witches gives Alder hope. Tally struggles with her role as a Biddy, and Raelle and Abigail return to Fort Salem with their mysterious new abilities. Written by Eliot Laurence.
The preview did not show us much, however, the description goes over a few things that might be helpful from last year. It seems General Adler is not quite giving up on Camarilla's threat, there might be hope within the witches they found. I am assuming it is regarding the girl they saved last season and her village. Also, spoiler alert: Raelle and Abigail are alive and will be getting back to Fort Salem sooner than expected. I kind of expected that to take about half of season two. I cannot wait to see what the new powers they mentioned there are, Tally is apparently not going to be handling being a Biddy well– what a surprise!
Motherland: Fort Salem Season 2, Episode 2 "Abomination": The Unit begins War College, introducing them to their Coven and new challenges. Anacostia and Scylla find themselves unlikely partners in a dangerous mission. Tally mentors a new recruit. Written by Brian Studler.
This preview gave us a little bit more meat to work with. We see General Alder going through a procedure that looked a lot like the Pensieve from Harry Potter; Raelle faints, and they tease the witch-hunt begins. Regarding the description though: if the unit goes to War College, does that mean Tally is relieved from her Biddy position? Even more so if she will be mentoring a new recruit… ahem… Though it seems Scylla will be back from The Spree lair and now teaming up with Anacostia? I wonder what twists will come our way for that to happen. I mean, apart from the big bomb at the end that rhymes with Raelle's nom?
And since you're here…
Bleeding Cool TV on Instagram: For all of the stuff too random and bizarre to make the site, make sure to follow us on Instagram (with an official launch on June 19): Bleeding Cool TV (@bleedingcooltv).
BCTV Daily Dispatch: For a look at what's going on across the television and streaming landscape, sign up for Bleeding Cool's daily email round-up of the news you need to know here.