"Mr. Robot" Season 4 "403 Forbidden": Heartwarming, Heartbreaking & Powerful [SPOILER REVIEW]
As the Christmas Day deadline for Zhang's shipment to the Congo is among us, so is … China in the 1980s? All this and more will be explained, but be wary – it's an invariable minefield of spoilers for this week's episode of USA Network's Mr. Robot – as well as a heavy emotional topic.
MAJOR SPOILERS ahead…
We get a flashback to 1980s China. We see a young Zhang and his assistant: a time-obsessed peer desperate to leave China for the USA, where he and his boyfriend Zhang can finally be themselves. Side note: they're like the actual cutest. #Adorable
Zhang makes the big reveal that life is more comfortable as a woman – and gets nothing but support and love from the boyfriend. Aww!
Sadly, everything takes a left turn when his boyfriend is forced into an arranged marriage and can't take the thought of living a lie…and kills himself, leaving Zhang devastated most of all.
Yes, this is the origin of Whiterose – time complex and all. It's just an acquired tick of a past love – a devestating memento of a life that could have been if only he had the patience and fortitude in the moment to see past the present.
It explains so very much about the Whiterose as we know her.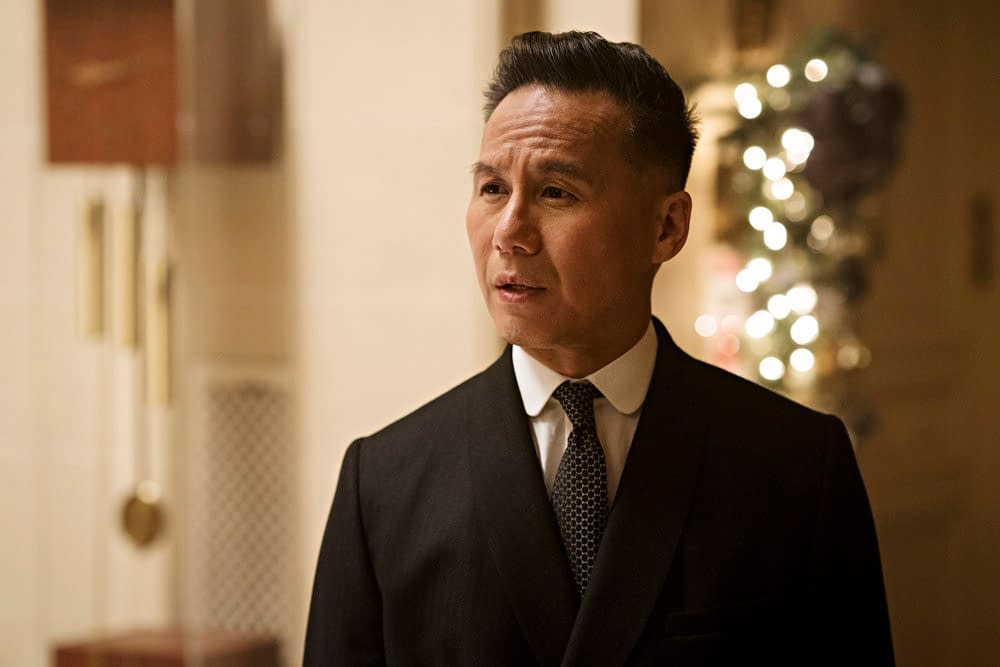 Speaking of Christmas Eve love stories (but hopefully less tragic), Elliot does some research and finds a way into Cypress National Bank – you know, his plan to take all of the Dark Army's money and effectively stop all of Whiterose's plans for mayhem in its tracks. Turns out it's through a human – Olivia, and she's at a bar waiting on a date who's standing her up.
Enter Elliot, looking for a physical security key that's on her person. However…to get to this, his best chance is to woo her – according to Mr. Robot. As expected, he starts to crash and burn when he actually has to talk to a woman… until Mr. Robot steps in and saves his ass. Thank God somebody in Elliot's brain knows how to flirt.
In a series of positively adorable scenes, Elliot and Olivia hit it off surprisingly well – could she actually help him open up about his Mother's death and start to unpack all the emotional baggage he has? Possibly – but for now, they hook up and he jacks the security key. Mission accomplished!
Then she catches him… almost.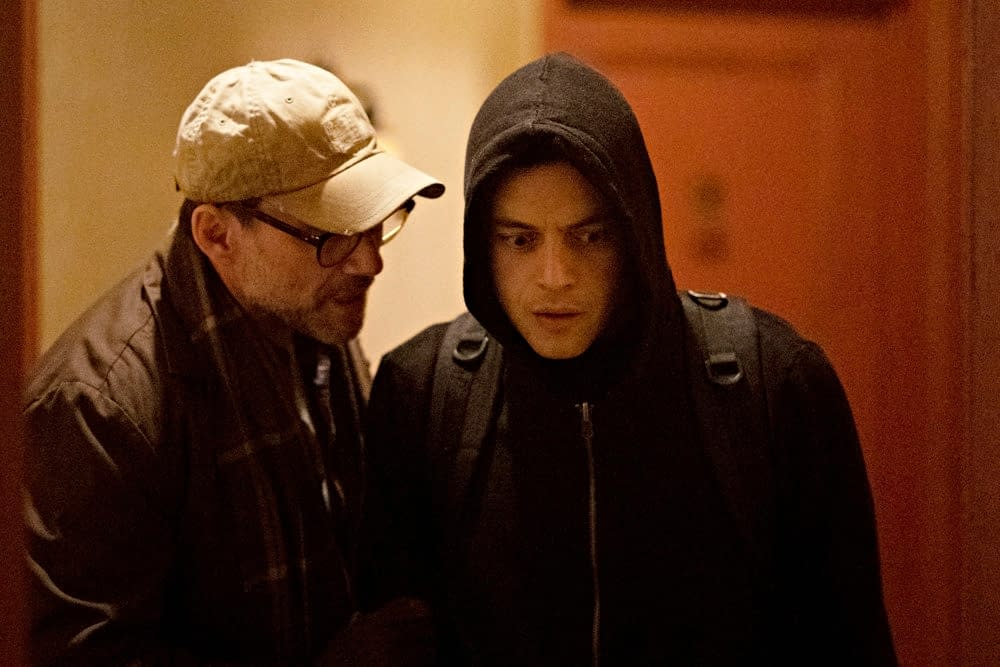 The scene turns into an incredibly emotional and touching heart-to-heart moment (man, there's a lot of those this hour), with Olivia opening up about her drug addiction and how that (and Life) brought her to an all-time low. Elliot shares these same exact feelings of instability and self-hate – could they be really good for each other? Will this end well for them?
Unlikely! Actually, it will probably end in nothing but more misery, pain, and grief for Elliot – but it's still absolutely adorable for now and feels like a win.
Vera is back and stuffing Christmas turkeys with love, care… and drugs. He's also getting info on Elliot, and makes some heavy assumptions about a photo of Elliot and Krista, his old therapist. She wants nothing to do with him, but Vera sees her as a lady of interest. Uh-oh…
This episode was a heartwarming change-of-pace for Mr. Robot's Christmas Eve episode, but I loved it. Perhaps because it did show a softer side to our main characters who we see caught up in violence and orchestrating terrible plots week after week. I'm not quite sure, but I enjoyed the emotional whiplash feeling of being flipped between two very different sides of the same characters.
At any rate, Whiterose is a strong independent woman who don't need no man, because her heart was absolutely devestated by the loss of her love during her formative years. She brings the world to its knees – but just because she's in pain doesn't mean she should make the entire world bleed.
And Elliot – our dear, sweet Elliot: please – for the love of whatever you hold close – just listen to Mr. Robot sometimes and feel emotion. Maybe Olivia will be good for you and help you heal, because dude – your brain is practically bleeding from constantly keeping your emotions at bay. Sometimes, you have to feel to heal, and it hurts like hell, but you will come out the other side a slightly better adjusted person. Maybe more balanced mentally, too.

One final note on the episode: if you are in emotional distress or suicidal crisis, you are not alone. Call the National Suicide Prevention Lifeline at 1-800-273-8255 to speak to a trained counselor. It's free, confidential, and available 24/7.