"Nailed It!" Holiday Spinoff "Sleighed It!": Kiernan Shipka & "Let It Snow" Cast's Gingerbread House Should Be Condemned [REVIEW]
This week on a disastrous, hedonistic new episode of online holiday spinoff Sleighed It!, Netflix's Nailed It! host-comedian Nicole Byer and co-host Jacques Torres invited Let It Snow stars Kiernan Shipka, Isabela Merced, and Jacob Batalon to obliterate the Nailed It! kitchen and give the judges their "best" gingerbread waffle houses.
Don't believe me? Check it out for yourselves below – we'll meet you back on the other side with our thoughts.
"Sleighed It!" Episode 2: The cast of Let It Snow (Kiernan Shipka, Isabela Merced, and Jacob Batalon) make a gingerbread waffle house in the second episode of Sleighed It!, the Christmas treat where Netflix stars test their baking skills in the Nailed It! test kitchen.
With love and comradery in the air, the cast is asked to work as a team and collective produce this house. Kiernan is deemed team captain for her previous win on Nailed It! and delegates Jacob and Isabela with the task of creating the grounds and sides. Isabela immediately gets to work on creating butter cream using way too much milk and requiring Torres to come in and save her; after a minor explosion, the team is back on track.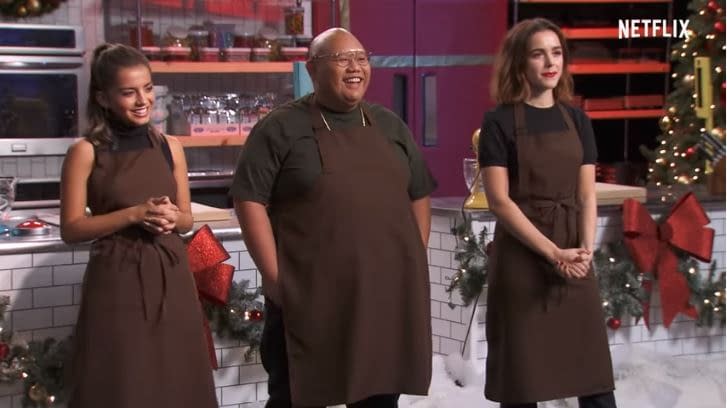 Jacob produces a river of brown goo, while Kiernan transforms the ginger bread house in to a glittery strip club. The little figurines are naked with their heads falling off, and the house is ready for Byers and Torres to taste and marvel at.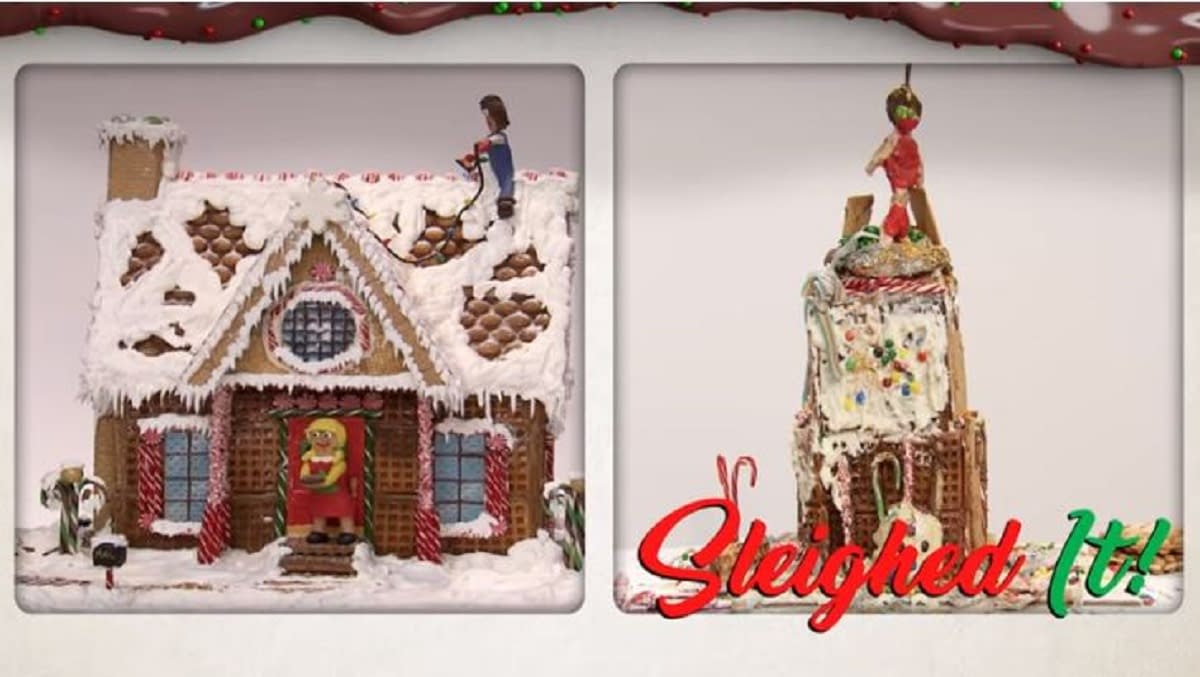 So what can be said about tasting a foreclosure ginger bread house crowned with an S&M gagged little man on top? It tasted chewy! With the judges being torn about who to crown the winner for just such "exceptional" work, the tinfoil trophy is awarded to the entire team, definitely the only win they will ever receive in a kitchen.
Nailed It! Holiday! Season 2 is now available on Netflix – and make sure to check out our review here.