"Nailed It!" Lets James Corden's Staff Show Him How They REALLY See Him [VIDEO]
Netflix's Nailed It host Nicole Byer took a break from her partner-in-bad-baking-judging chef Jacques Torres to make a guest appearance on The Late Late Show with James Corden earlier this week to recreate the catastrophe-fueled baking competition where three amateur bakers compete to replicate masterpieces and well… let's just say the show's title is meant to be "ironic."
The Challenge: Produce a beautiful, magnificent, and majestic James Corden face cake.
The Competitors: Corden's staff: two writers and a music associate producer (yep, this was expected to go well…)
The Prize: The original Corden cake… on borrowed time for 48 hours.
Now if that's not motivation, I don't' know what is. Oh wait, probably keeping their jobs, too…
The brave contestants were given an hour. Laurence (contestant #2) said "I just don't think I have what it takes to make it on Hell's Kitchen", Olivia (contestant #3) – with pride – informed the audience that she has "made cookies one time in the past, and with her mother's assistance" and an all-too-terrified Jenna (contestant #1) was in fear for her life of getting fired.
Michael Douglas (yes, that Michael Douglas) served as an additional guest judge alongside Corden and Byer – and here is what they got: Jenna's cake was actually pretty good: she may have shaved a couple of years off his face and his chin fell off, but overall not bad. Laurence's cake looked like the CDC should be called and the cake quarantined as soon as humanly possible.
Olivia's cake… umm… had no face.
Clearly, she was not interested in keeping her job… as her cake resembled a bad horror movie on a bad day.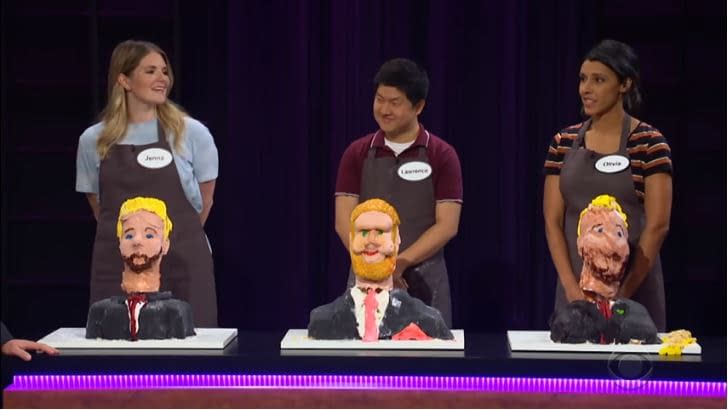 Jenna won… and the other two got fired (we're guessing?). Comedy-filled and very enjoyable, made me seriously wantin' the fourth season of "Nailed It."

For a look back at Bleeding Cool's thoughts on the first three seasons of Netflix's Nailed It! as well as the holiday special, check out our reviews/recaps here, here, here, and here.