Nailed It! Season 2: Cobra Cakes, Humpty Dumpty 'Roid Rage and More! (BC REWIND)
After a season one start that had me hooked from the jump, comedian Nicole Byer and co-host Jacques Torres are back with a second season of Netflix's Nailed It!–and this season can only be described as what one expects to find working the grave yard shift at the cemetery or possibly moonlighting at the morgue. The butchered masterpieces, the sheer massacre like designs, and oh the bloodbaths had me laughing so hard I couldn't hold down my cider.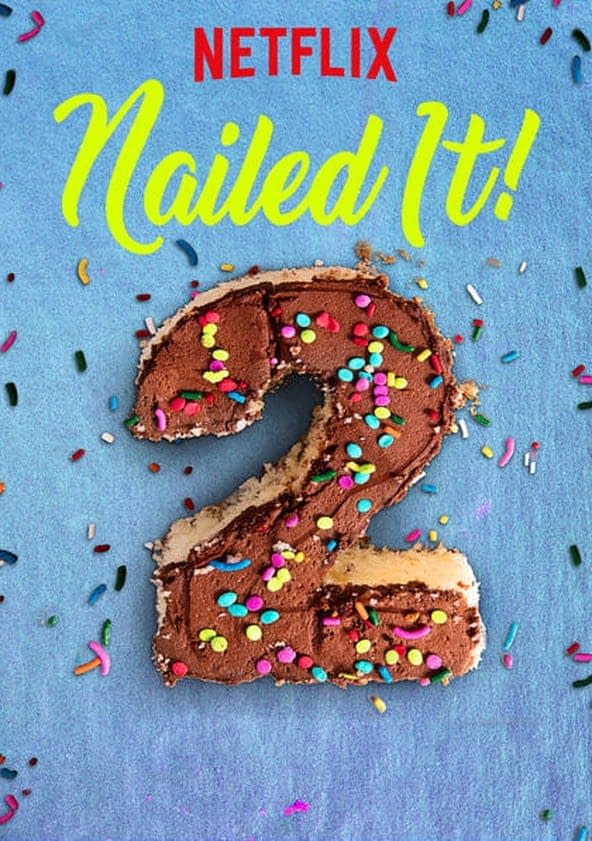 Nailed It! consists of two rounds:
● Round #1 – Baker's Choice
Contestants are given 30 to 60 minutes to recreate a small cake-like sculpture and with instructions in hand – though why bother since it looks to me like it was written in hieroglyphics for them. The survivor of the first-round wins (wait for it… wait for it)… a gold, glittery, diva-tastic chef's hat!
● Round #2 – Nail It or Fail It
Competitors must recreate a beautiful cake in two hours. Each competitor is given a "Panic Button" which allows them to seek guidance from one of the judges for a total of "three whole minutes."
And then…
● The Results!
By the time the flour settles, whoever's "gem of perfection imperfection" is left standing (literally) walks away with $10,000–and possibly a blender.
Now here's a look back at some of the funniest moments from the second season:
Episode 1 "High Society"
In the first round, contestants were expected to recreate late-night pancake art (pizza, burgers fries): "Go Get the Munchies." Probably the funniest moment was the look on one contestant's face: I swear the man was visibly on the verge of hyperventilating, hands shaking while holding the plate…. it's just pancakes, man!
Now for round 2, in all honesty if I was on this show I would have taken off my apron and walked off the set. Contestants had to create a "High Tea Antigravity Cake," – what amateur baker can make that?!? What followed was total and utter catastrophe: flour explosions, batter everywhere, "I'm a Teapot" gone oh so wrong, and finished products that looked more like crime scene evidence than dessert.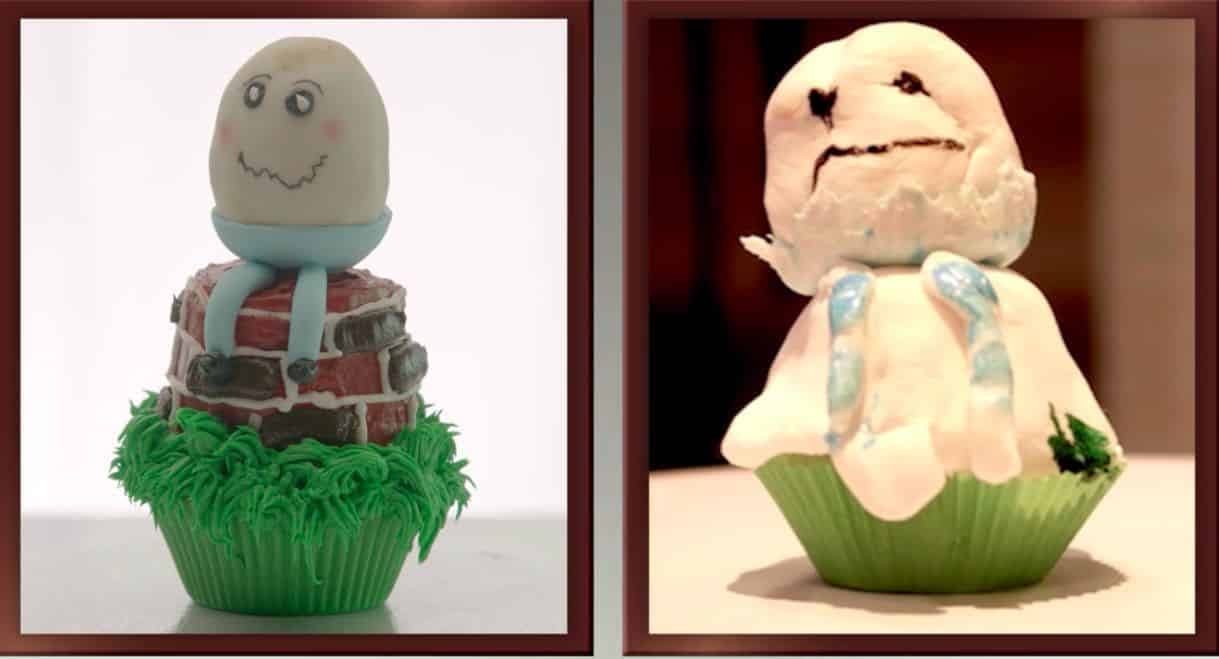 Episode 2 "Fictitious and Delicious"
A special treat, since it featured one of my favorite guest judges: the bizarre and utterly delightful Ron Ben Israel (host of Sweet Genius). Fairytale cupcakes included a horror version of "Little Red Riding Hood," with bleeding red lips and a hood made out of Twizzlers; a "Humpty Dumpty" that resembled a jacked-up Casper on steroids; and a "Jack and the Beanstalk" that should bring to mind pleasant memories – and not bring to mind a pile of vomit.
The second round is also deserving of attention for its delightful "Unicorn Cake" – or rather a mythical flesh colored creature with a carrot for a horn.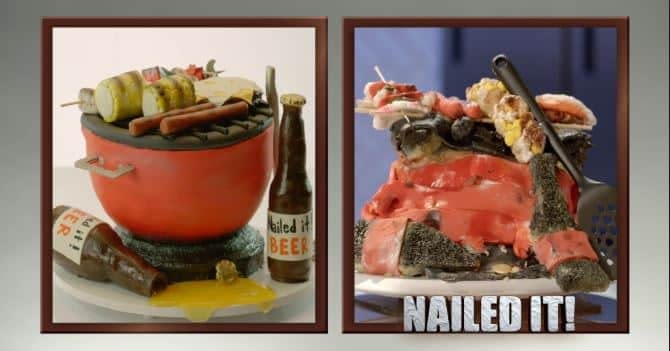 Episode 3 "Tailgate, Failgate"
Featuring the first–and I'm really hoping last–savory challenge: hot dogs, guacamole, salsa, chips, dip, etc. This episode was clearly dedicated to an identity crisis . This is a baking competition still, right? And beofre I forget…how do you mess up Pigs in a Blanket?!? Having to recreate a "BBQ Grill Cake," one of the contestants got so carried away getting her frustration out on a pan that she broke a spatula.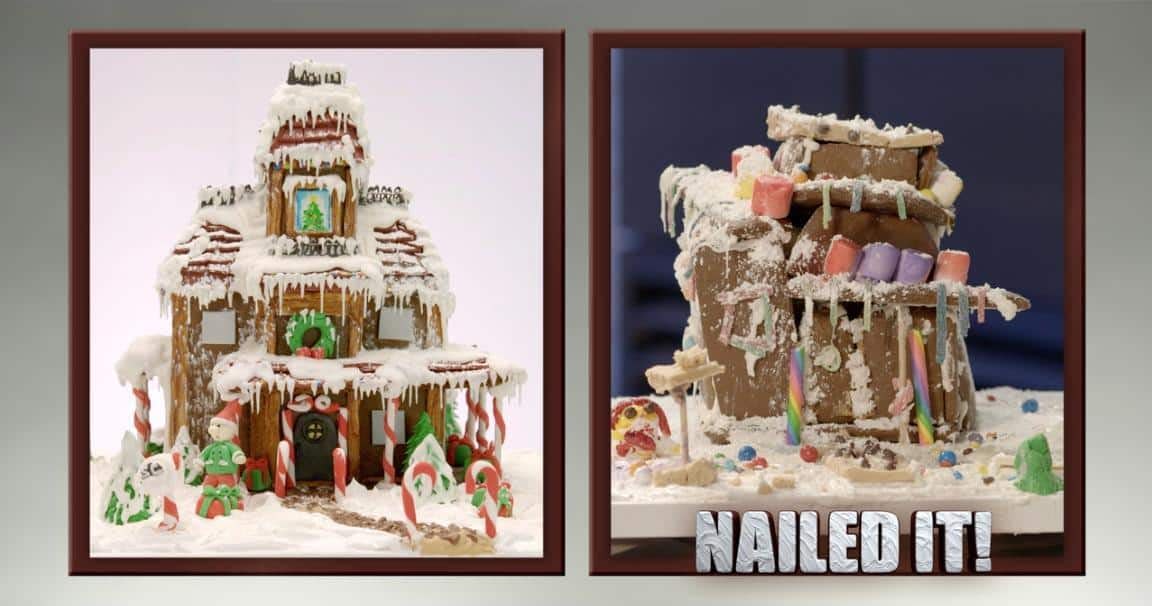 Episode 4 "Holi-daze"
Everything you need to know is in this line: "I'm icing the heads, while I wait for the bodies to cool."
Contestants got to design our favorite holiday cookies: turkey, a pot of gold, and (my personal favorite) the ugly sweater. The Gingerbread House was up next in round two. The "bakers" couldn't' recreate a cookie – can you just imagine what happened when they had to build a 3-floor mansion? Spoiler? We end up with what looks like a bunker where bodies are kept.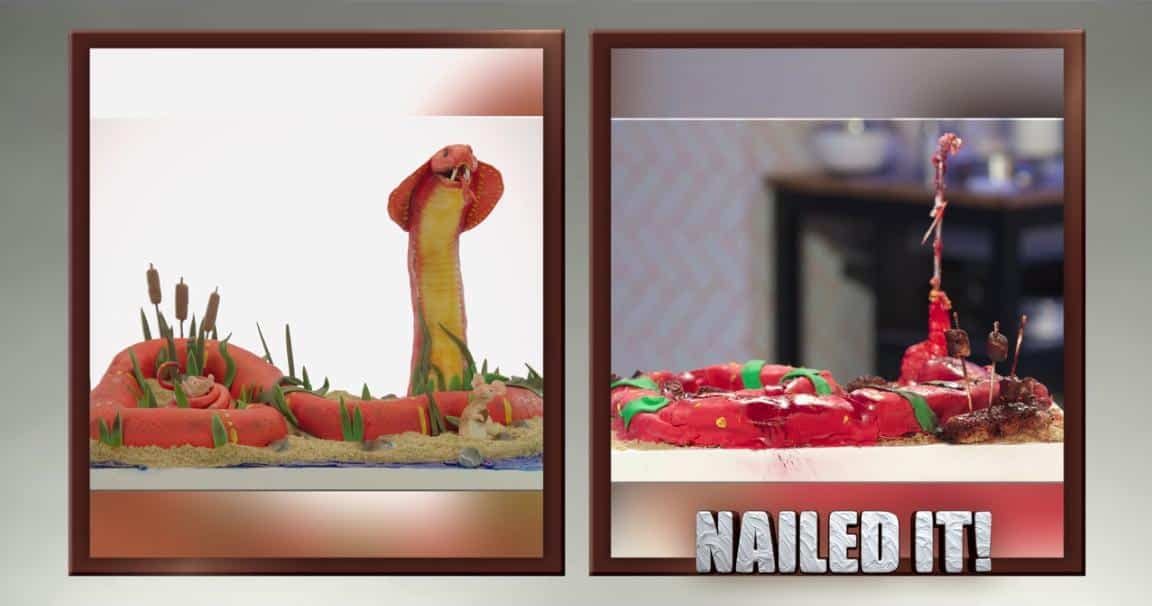 Episode 5 "Zoo You Bake?"
This episode had a Psycho/Norman Bates thing going for it: contestants were given a set of knives and carving tools to shape up a watermelon to resemble fancy fruit animals. Nothing more hilarious than the "Cobra Cakes" of the second round: headless snakes, snake remains, and snake feces. Yum…?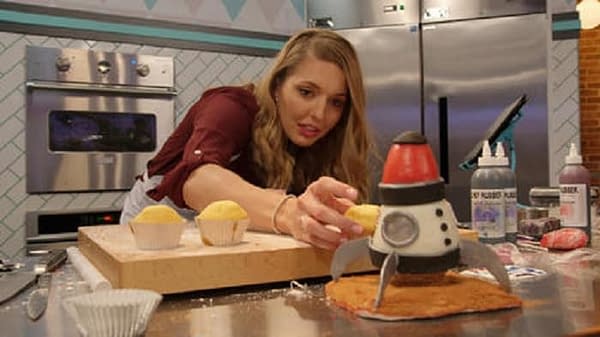 Episode 6 "Out of This World"
I'm sorry to say this was a snoozefest. If there is one episode to skip, this one is it. My beloved hosts just did not have their "we want to be here" faces on. The "Cosmic Cupcakes" and solar system recreations were blah, and one contestant acted as if she was auditioning for her own uninspiring cooking show.
Episode 7 "Bonus 3… 2… 1, Ya Not Done!"
A bonus episode that served as a crossover with the "Fab Five" of Netflix's Queer Eye series–and lasted all of 12 minutes. Nicole and Jacques were back to drinking again, probably hoping that the alcohol would magically transform the "make themselves cupcakes" into something magically delicious.
Margo Staten is a Ukrainian born, raised in Brooklyn, organically driven, coffee loving, twice-divorced mother of one baby Einstein. Has a passion for books, yoga in the park and all things 80's and New Orleans.