Nathan Fillion Loves His Lightsabers; Excited For 'Unfortunate Events'
Nathan Fillion loves his lightsabers- no really, he does. He's also really excited about being in A Series of Unfortunate Events on Netflix with his (as he calls him) pal Neil Patrick Harris.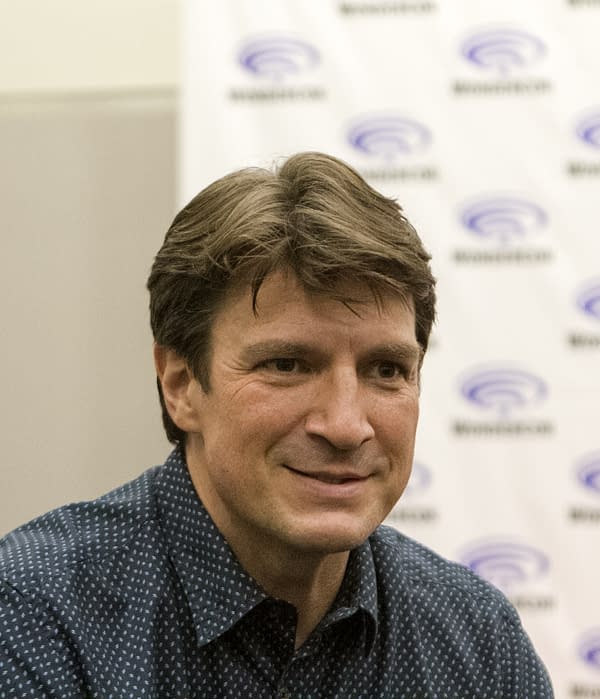 We were lucky enough to get a few minutes of Nathan's time during WonderCon 2018 when the actor appeared in a Netflix pressroom. It was actually the same room/time as Lost In Space, which we also covered, so stay tuned for that.
Lost in Space The most recent best show I'm not watching on Netflix, I don't know how to keep up. The last thing that really got me going on Netflix was Black Mirror, and before that, Stranger Things. I haven't watched the last season of Black Mirror, because I never have time. And my brother is always telling me about these new shows, these Swedish shows, subtitles and you're going to love it- but I don't have time."
When asked if he was enjoying his day so far at the con, if he was going to walk the floor at all, Nathan responded:
"I confess- I buy the occasional lightsaber, just for home security. I feel like if someone was breaking into my house, the two sounds you wouldn't want to hear are a shotgun ratcheting or a lightsaber turning on like *wzooooosh* Like remember the ending of Rogue One, when they made Darth Vader look like a badass, finally, when he's in the dark and you hear his breathing and then suddenly that red lightsaber illuminates- that's going to be me in the middle of home invasion.

This is a true story- I had a little party at my house, and I was walking the last guest to their car, I look down the street and there's somebody playing with a lightsaber in their front yard. This is late in the evening, I said 'good night' to my guest, went back in to grab my lightsaber and put on a hoodie, and strolled down the block. Just two people standing there on the block having a chat, with a 20 something year old kid whipping a lightsaber around, he sees me and he's kind of embarrassed, just like 'hey what's up', and I say "I've been looking for you". *wzooooosh* and I light the thing up.

And he goes, 'oh was that like, Anakins?' And I mean I walked the whole block to this guy, and at least the folks on the block had a good laugh."
Being the good guy he is, Nathan also gives everyone at my table a rundown of his involvement in season 2 of Netflix's Series of Unfortunate Events-
"Ok so, it's set up like an oral history. Lemony Snicket is telling us this terrible story about the Baudelaire children. I play Lemony Snicket's younger more handsome, talented, maybe more employable, brother Jacques. [the table falls into peels of laughter] I always wonder how these jokes are going to turn up in print. He hasn't been through as many of the unfortunate events as Lemony has, he's still rooting for the secret society of do gooders. It's a dark world, a really dark world. At first I watched it because my friend Neil is in it, but cinematically, it looks like the movies. The world they've invented, it's not our own. It's horrifying and beautiful at the same time.

What I also love is while they cater to a younger audience, they don't pander to children. It's a smart story, they use big words, no one baby talks to kids. I hate not giving credit to kids, for being smart. I hate it when people baby talk to kids.

It's a great script, it's a character that's fun to play, and you get to go to work with your friends. It takes the risk out, there's no risk. You can get a great job, and hope no one's a jerk there, sometimes there's a sour grape, but when you're walking into a situation where it's Neil Patrick Harris, you know you're in good hands.

I mean, he spends hours in that makeup chair, just hours. And here's the thing about him- there's one thing Neil isn't afraid of- it's hard work. I don't know when he's not working hard, and being a dad and a husband, he's doing everything. There are some people who are comfortable with that kind of pace, and he's one of those."
When asked about the Broadway show version of the 2007 film Waitress:
"What a treat! I've seen it three times, Sarah Berrelis did such a great job with the music. It's such a cute story, it'll make you cry. It makes me cry everytime, and the music adds such a beautiful element to it. I sure do have fond memories of that movie. The director described it as being an odd little movie, but Carrie and I would look at eachother and kind of say 'Okay….if that's how you want us to do this'. Please go see it, it's wonderful."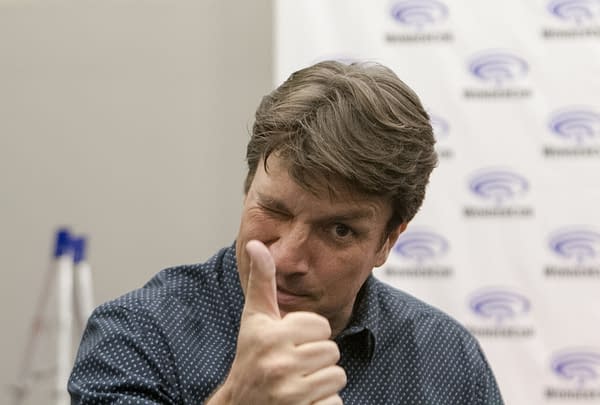 A Series of Unfortunate Events seasons 1 and 2 are currently on Netflix now.