Ever find yourself laying on the couch, debating whether the next episode of Chilling Adventures of Sabrina is worth putting off yet another basic everyday responsibility – like grocery shopping or bathing? We have – and in those moments, we also wonder if anyone is actually watching everything that makes it onto Netflix's "The Endless Scroll" (we're on to you, Netflix)? The streaming service has been a little stingy in the past when it came to releasing numbers, or – as some accuse them of – cherry-picking what they release to control the narrative.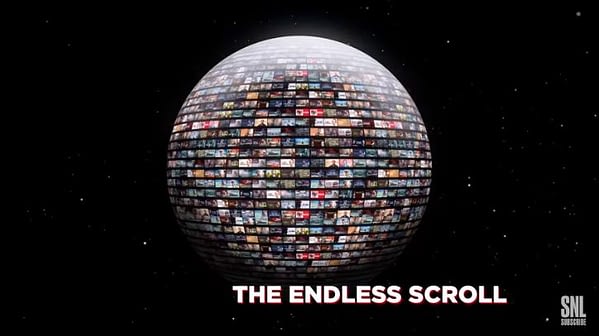 Buck up, little bingers! Just because it's Netflix world and we're just allowed to live in it doesn't mean the streaming service hasn't seen the light – and possibly the need to start being a little more transparent now that everybody and their mother's second cousin will have a streaming service in play by the end of 2020. So this week, Netflix released some viewing data for some recent big-name titles from the streamer.
Still pretty much tuning up their horn and tooting away? Sure. But baby steps, people! Baby steps…
● First off, it looks like a lot of people were interested in learning more about the Hargreeves, with the service's adaptation of Gerard Way and Gabriel Bá's comic book series The Umbrella Academy watched by 45 million households.
● Kevin Costner and Woody Harrelson's The Highwaymen was another success story, with the "Bonnie and Clyde" crime drama based on real events watched by 40 million households during its first month.
● Ben Affleck and director J.C. Chandor's Triple Frontier also proved a programming powerhouse, with the action-thriller watched by 52 million households during its first month.
● Netflix success wasn't just in the scripted world: their documentaries impressed in huge ways: music doc Fyre: The Greatest Party That Never Happened was watched by over 20 million households during its first month; while April's nature doc Our Planet is projected to break the 25 million mark by the end of the month.
Note: Netflix defines a "view" if at least one episode or a singular program has been watched a minimum of 70% of the way through.