Orange Is the New Black: Kimiko Glenn Discusses Groundbreaking Series
Kimiko Glenn (Kiff) reflects on her time on the Netflix hit prison dramedy series "Orange is the New Black" and its lasting legacy.
---
Kimiko Glenn is establishing herself as an animation superstar thanks to her turn in 2018's Voltron: Legendary Defender and the Sony animated feature Spider-Man: Into the Spider-Verse. The actress, who got her start on live-action, still takes the occasional series with her upcoming work on Hulu's History of the World: Part II and ABC's The Goldbergs. While promoting her upcoming Disney Channel animated series Kiff, Glenn spoke to Bleeding Cool about her turn as Brook Soso, a half-Japanese, half-Scottish inmate at Litchfield Penitentiary, introduced in the second season of the Netflix prison dramedy series Orange is the New Black.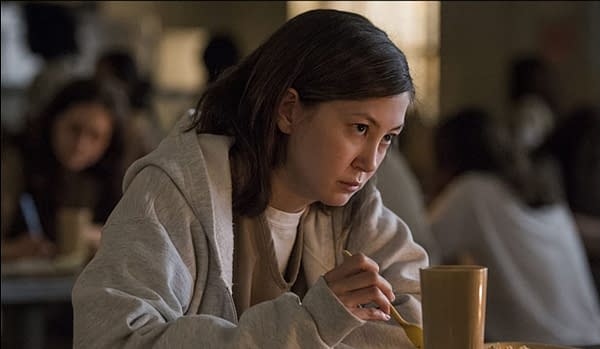 How the Legacy of 'Orange Is the New Black' Stayed with Glenn
"[Orange Is the New Black] was such a substantial part of my life. It was like the first television gig I had in the public eye," Glenn said. "I had done pilots [laughs] and stuff like that. It was such a pop culture phenomenon, and it was so meaningful for so many marginalized groups. The whole thing was entirely a learning experience because I went in, and I was like, 'What do all these TV terms mean?' I was coming in season two, and so I was highly intimidated and moving forward through that, like learning how to be confident in myself, learning my voice, and everything. That whole experience, I wouldn't trade it for the world. It was so monumental to my growth as a person and the people I still talk to.
Glenn remained on the series until its seventh and final season in 2019. "When you've done a show for five years, it's hard to name like one particular experience that was like that sticks out," she said. "It's so obviously different than what I'm doing now. I find myself gearing a little toward comedy now because that was a very challenging show in terms of, like… you have to stay in a 'something bad is happening' [mindset], and you have to maintain a lower vibration all day. When I was on comedy sets, I'd feel happier in general. That helped me learn what that experience is like versus a comedy set, for instance. It was such a meaningful show to me and to the world."
Netflix's Orange Is the New Black featured an ensemble cast also starring Taylor Schilling, Danielle Brooks, Taryn Manning, Kate Mulgrew, Uzo Aduba, Dascha Polanco, Selenis Leyva, Nick Sandow, Yael Stone, Adrienne C. Moore, Laura Prepon, Natasha Lyonne, and Jessica Pimentel. It focused on the daily lives of the female inmates and prison staff at Litchfield Penitentiary. Kiff premieres on March 10 on the Disney Channel and streams afterward on Disney+.