Posted in: Preview, Showtime, streaming, Trailer, TV, YouTube | Tagged: action, Adam Rodriguez, Adriana Barraza, Amy Madigan, Brent Spiner, city of angels, Daniel Zovatto, Dominic Sherwood, drama, episode 5, Ethan Peck, horror, Jessica Garza, john logan, Johnathan Nieves, Kerry Bishe, Lin Shaye, Lorenza Izzo, magda, Michael Gladis, Michener, molly, natalie dormer, Nathan Lane, penny dreadful, preview, rory kinnear, santa muerte, Season 1, sebastian chacon, showtime, Supernatural, teaser, thomas kretschmann, thriller, tiago, trailer
---
Penny Dreadful: City of Angels Preview Has Tiago Confronting Mateo
Heading into this week's episode of Showtime's Penny Dreadful: City of Angels, it feels like it's now become a matter of when everything is heading straight to Hell and not if it will. We should've known by the opening presence of Santa Muerte (Lorenza Izzo), but we definitely resigned ourselves to the strong possibility by the time Tiago (Daniel Zovatto) was handed that plate by Molly (Kerry Bishé). Tiago's run-in with Reilly (Rod McLachlan) would end up being a foreshadowing of the horrific events to follow, as the Vega family finds itself being torn further and further apart. Mateo (Johnathan Nieves) and his gang murdering Reilly as retaliation for sexually assaulting Josefina (Jessica Garza) and dumping his body in full public view will only throw more gasoline on an already-raging fire – at home and throughout the city.
Meanwhile, Michener (Nathan Lane) learns why mobster Benny Berman resisted joining his Nazi hunt and gave Michener a chance at some direct (and permanent) revenge. And while all of that is going on, Magda's (Natalie Dormer) other personas are growing their influence within the city council, the Nazi movement, and Mateo's gang. Which brings us to this week's episode "Children of the Royal Sun", as the following promo and preview images show us that there will be serious ramifications from Mateo's actions as Tiago and Molly's worlds collide in ways neither wanted nor expected.
Penny Dreadful: City of Angels season 1, episode 5 "Children of the Royal Sun": Mateo grapples with the aftermath of his actions. Josefina confides in Sister Molly, who's shocked to discover Josefina is Tiago's sister. Tiago and Lewis's investigation takes them from the Sonoratown slums to the Vega House. Dottie befriends Brian as Alex lectures Townsend about his personal life. Peter receives an alarming phone call from Elsa and Tiago confronts Mateo. Directed by Roxann Dawson, and written by José Rivera.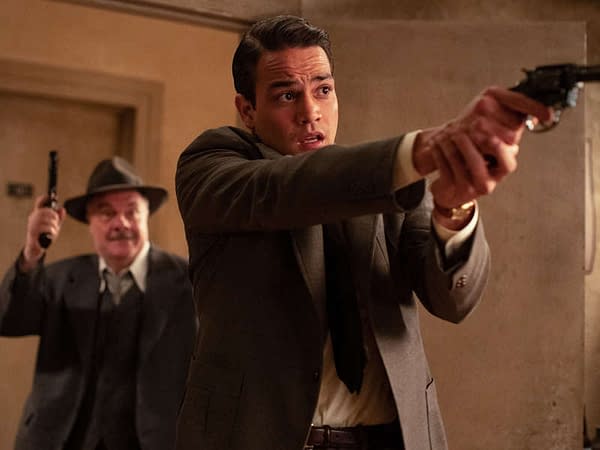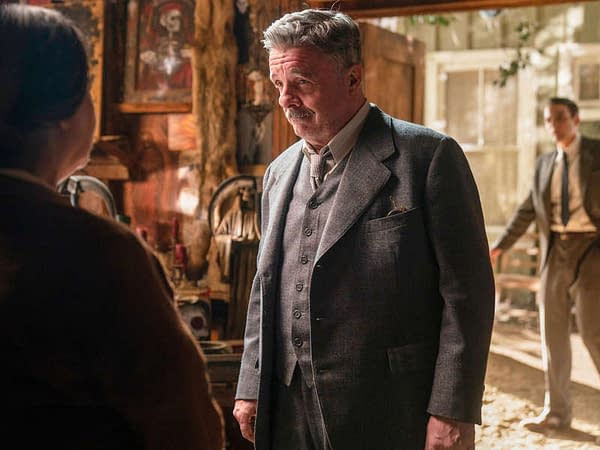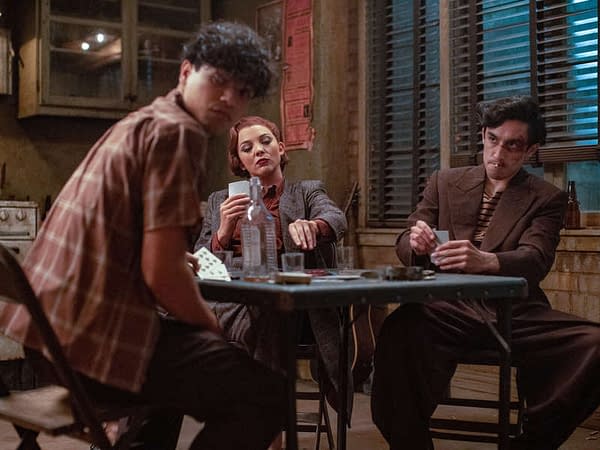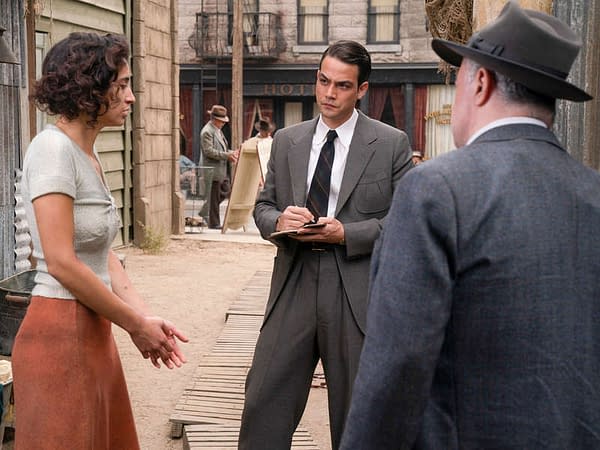 Showtime's Penny Dreadful: City of Angels stars Daniel Zovatto, Nathan Lane, Natalie Dormer, Lorenza Izzo, Jessica Garza, Johnathan Nieves, Adriana Barraza, Michael Gladis, Rory Kinnear, Kerry Bishé, Brent Spiner, Amy Madigan, John Logan, Adam Rodriguez, Thomas Kretschmann, Dominic Sherwood, Ethan Peck, Sebastian Chacon, and Lin Shaye. Original series creator John Logan and Michael Aguilar (Kidding) serve as executive producers, along with the Neal Street Productions' Sam Mendes and Pippa Harris, the original series' executive producers. James Bagley will serve as co-executive producer, with Logan's Desert Wolf Productions producing. Paco Cabezas (American Gods, Deadly Class) is on board to direct the series premiere and possibly additional episodes.
---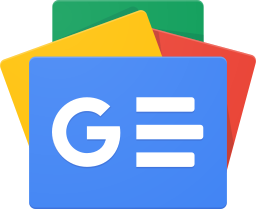 Stay up-to-date and support the site by following Bleeding Cool on Google News today!