President Barack Obama on Staying in the Pocket and No Karate Kicks
David Letterman returns to interviewing guests starting Friday in the new Netflix series, My Next Guest Needs No Introduction with David Letterman. The long time late night host pulled a pretty good guest for his debut, the 44th President of the United States, Barack Obama.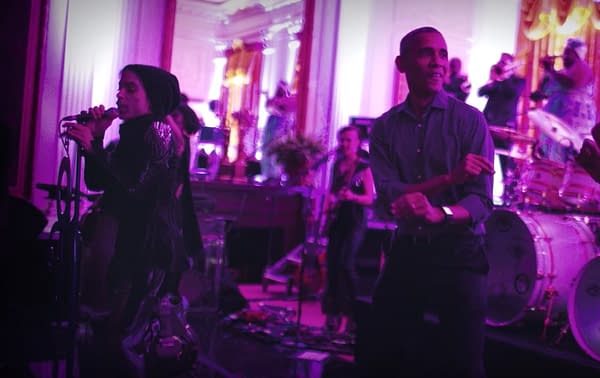 The former commander-in-chief responds to a photo of himself and his daughter Sasha on stage dance with the late musical legend, Prince. Obama describes how the singer called Sasha up on stage and she pulled the president with her, which surprised him since she always gives him grief about his dancing. He refers to what he does as 'dad moves' and explains that the key is to 'stay in the pocket.' He explains that the problem a lot of dads do is they try to add things like karate kicks when they dance, and that's just wrong. Since this took place while Obama was still in the White House, this could make him the dancer-in-chief… groover-in-chief? I'll have to work on that one.
The actual format for the new series has yet to be revealed, but it's believed the series will feature one guest per episode — meaning this will be a sizable interview with the former chief executive.
My Next Guest Needs No Introduction with David Letterman premiers January 12th on Netflix.