Reservation Dogs Season 2 Previews Offer Words of Wisdom & More
FX and Hulu's Reservation Dogs is returning for its second season on August 3rd, bringing some words of wisdom along with it in a recent teaser released in support of the previously-released official trailer. The series's impressively amazing cast includes D'Pharaoh Woon-A-Tai, Devery Jacobs, Paulina Alexis, Lane Factor, Zahn McClarnon, and Elva Guerra. So join us as we take a look at the world of FX's Reservation Dogs, Season 2…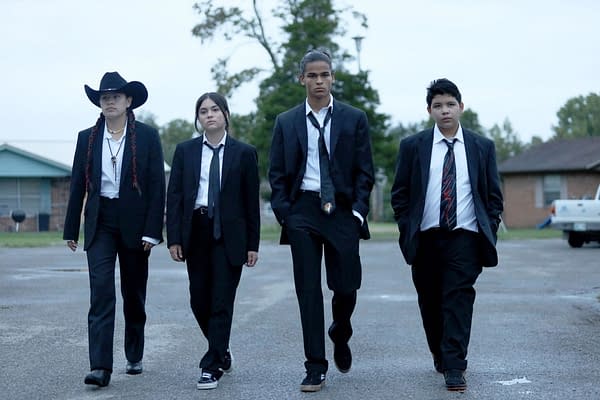 From Co-Creators and Executive Producers Sterlin Harjo and Taika Waititi, Reservation Dogs is a half-hour comedy that follows the exploits of four Indigenous teenagers in rural Oklahoma who steal, rob, and save in order to get to the exotic, mysterious, and faraway land of… California.
Reservation Dogs has Native rappers, catfish, Indigenous superstitions and spirits (both hilarious and terrifying) laughter, tears, unexpected grandmothers, decent people, terrible people, and a cavalcade of supporting characters who color and shade this already vibrant world. Filmed on location in Okmulgee, Oklahoma, Reservation Dogs is a breakthrough in Indigenous representation on television, both in front of and behind the camera. Every writer, director, and series regular on the show is Indigenous. This first-of-its-kind creative team tells a story that resonates with them and their lived experiences – and invites audiences into a surprisingly familiar and funny world.
In its first season, Reservation Dogs landed on over 80 critics' year-end best lists, won The Gotham Award for "Breakthrough Series – Short Form," won two Independent Spirit Awards, was honored as one of AFI's Television Programs of the Year, and won a Peabody Award. The show is also among seven programs recognized in 2022 by the Television Academy as part of its 15th Television Academy Honors, showcasing exceptional television programs and their producers who have leveraged the power of television to fuel social change.
Reservation Dogs is executive produced by Harjo (11/8/16, Barking Water, Four Sheets to the Wind), Waititi (What We Do in the Shadows, Jojo Rabbit, Thor: Ragnarok), and Garrett Basch (What We Do in the Shadows, The Night Of) and produced by FX Productions. "Each a stitch in the great loincloth of the people." An all-new season of FX's Reservation Dogs premieres on August 3rd, only on Hulu.