After a historic career spanning three decades, WWE Superstar Rey Mysterio is set to announce his retirement on next week's episode of WWE Monday Night Raw. Mysterio was last seen on WWE programming two weeks ago during a match between himself and Aleister Black vs. Seth Rollins and Buddy Murphy. Rollins, who was near-catatonic for most of the match, either due to losing to Drew McIntyre at Money in the Bank the night before or because Becky Lynch had just announced her pregnancy, or maybe both, attacked Mysterio, gouging his eyeball into the corner of the steel ring steps until it bled.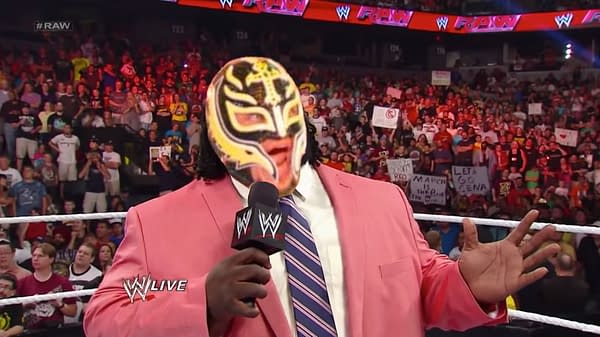 After the match, a screaming Mysterio was carted off on a stretcher and was too injured to return to Raw the next week or the week after, which really highlights how serious Rollins' attack was. After all, the night before, Mysterio had literally been thrown off a seven-story building during the Money in the Bank ladder match and was perfectly fine. However, Mysterio's injury did rejuvenate Rollins, who said on last night's Raw that Mysterio had sacrificed himself for the greater good.
Soon after that segment, WWE announced that a Rey Mysterio retirement ceremony will happen on next week's Raw, though they're kind of giving away the game by flat out stating it like that. Whenever a wrestler actually retires, WWE usually announces it the day of Raw with something like, "So and so will make an important announcement about their career to the WWE Universe." By saying that Rey Mysterio will announce his retirement a week in advance, WWE has all but assured viewers that Rey will do just about anything other than actually retire. Most likely, he'll set up a match between himself and Rollins for Backlash. Perhaps Rey's large adult son, Dominic Mysterio, will get involved in the angle in some way like the last time Rey Mysterio teased a retirement… *checks notes*… last year.
Soon after that, WWE announced that Seth Rollins himself will host the retirement ceremony, making shenanigans even more certain than before. Either way, we know something special will happen, but it will be anything, but Mysterio is actually retiring. That's a good thing because Mysterio retiring in front of a wooden NXT Performance center crowd of WWE trainees instructed on exactly when to clap and cheer would be a travesty o justice even worse than retiring in front of an empty building. WWE Monday Night Raw airs at 8 PM on the USA Network.
Enjoyed this article? Share it!