Ric Flair may consider himself WWE for life — or at least while his daughter works there — but that doesn't mean The Nature Boy doesn't want other wrestling companies to succeed. In a recent interview with Wrestling Inc., Flair discussed the prospect of Cody Rhodes restarting the Four Horsemen in AEW, and Flair had no issues with it.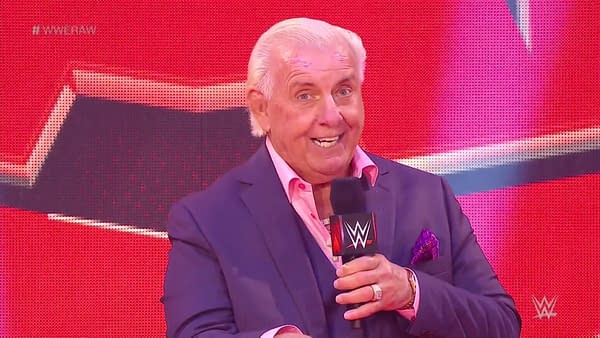 "I'd be for it," Flair said. "No matter who does it or how it's done, it's attributed to us. To this day, I'll see Arn, and we'll do a signing now and then, and the whole joint walks around with their four fingers up, to this day. If we're together for a signing, and even if we're on different sides of the world, the people that come back and forth to get a signature or picture, they're all doing the same thing."
Yes, Ric Flair, if you didn't know, has a certain fondness for his own glory days. Though, that doesn't stop him from saying that the modern WWE could have done a better job with even the classic Horsemen.
"I tell him, just imagine if we had been in the era of marketing? Or if we had been working with WWE, who knew and knows how to market?" Flair continued. "The marketing, in some cases, can make you bigger and better than you are. I don't like to see that, but it does exist. But I'm happy for all the money that everybody makes because they earn it. They're earning it right now despite the health issues. So, I'm happy to see them all making money for the Four Horsemen or whatever. Guys like Arn and, I hope, myself and Tully and Barry will always have a place. And of course, the infamous JJ Dillon [laughs]."
Though he's also friends with Tony Khan, Flair admits he doesn't watch AEW much. "To be honest with you, I have not watched it that much," Flair said in the interview. "Only because my relationship with Tony is great and all that, but it's better for me not to talk wrestling. I am happy as hell they brought Arn in, and I did see the replay of the stuff with Arn and Jake [Roberts], which I thought was interesting. I'm happy any time that the legends get a second a TV. So, without getting into it because I don't watch it – I did at the beginning obviously just to see how they were gonna do – but I'm happy that Arn has got a spot and I couldn't speak more of a person than I do of Cody."
Ric Flair has just one true loyalty when it comes to watching wrestling: whatever show his daughter is on. "I gotta stay true to the brand; you know what I mean?" Flair said of watching NXT. "When Charlotte was there, I was really watching it hard. But, this is what I read, they might be having more SmackDown and Raw people appear there so now I'll be watching it even more. That's so I can keep up with it, so if someone asks me a question, I've got the go-to answer [laughs]." Read the full interview here.
Enjoyed this article? Share it!