"Rick and Morty" Season 4: Jessica REALLY Needs Better Selfie Moments [VIDEO]
Fans of Adult Swim's Rick and Morty are counting down the final few days until Dan Harmon and Justin Roiland's animated mayhem returns to their screens once more (with five episode airing in 2019, beginning Sunday, November 10, at 11:30 p.m).
But while Rick and Morty were busy making deals with HBO Max and UK's Channel 4 and partnering with All Elite Wrestling (AEW) as "hype men" tag team Best Friends, Harmon, Roiland, and the rest of the writing team were wrapping up the fourth season – and giving Adult Swim the greenlight to release a new, Jerry-focused preview image as well as include a preview clip in the middle of the Halloween edition of Adult Swim's Development Meeting.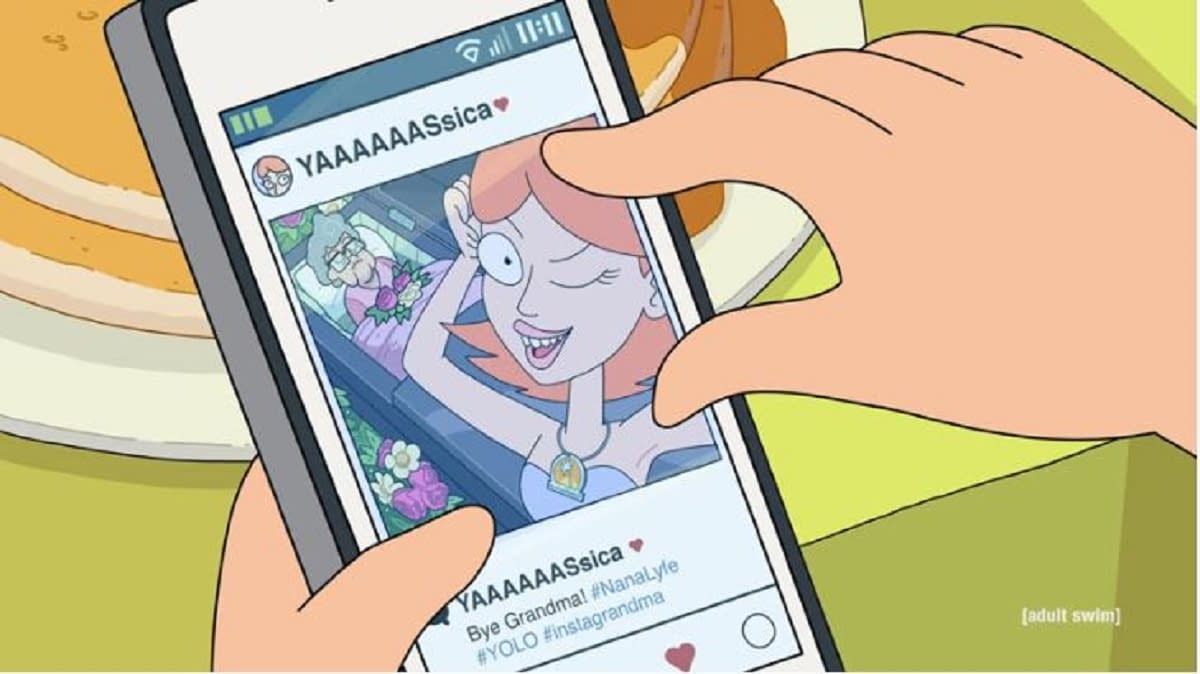 But now there we're down to only two days now, Adult Swim's released a new clip from the upcoming season. Our biggest takeaways? That breakfast looks great, the family's oddly "normal-ish" arounf the table (even Rick???), Jimmy Buffet really is making a killing off of all that Margaritaville crap, and Jessica has the worst sense of timing when it comes to a selfie:
Buckle in for disappointment because there's no way these episodes will be good enough for how long you waited. But maybe they will be? It's season four! It's sexy and smooth. Buckle in! Did I already say that? Definitely stay buckled in.

Rick and Morty is the Emmy-award-winning half-hour animated hit comedy series on Adult Swim that follows a sociopathic genius scientist who drags his inherently timid grandson on insanely dangerous adventures across the universe. Rick Sanchez is living with his daughter Beth's family and constantly bringing her, his son-in-law Jerry, granddaughter Summer, and grandson Morty into intergalactic escapades.

Rick and Morty stars Justin Roiland (Adventure Time), Sarah Chalke (Scrubs), Chris Parnell (Saturday Night Live), and Spencer Grammer (Greek). The series is created by Dan Harmon (Community) and Roiland, who also serve as executive producers.
Yesterday, Adult Swim unveiled the new opening credits sequence for the fourth season – which offers us a ton to unpack. Following the clip, we included some of takeaways that caught our eyeballs: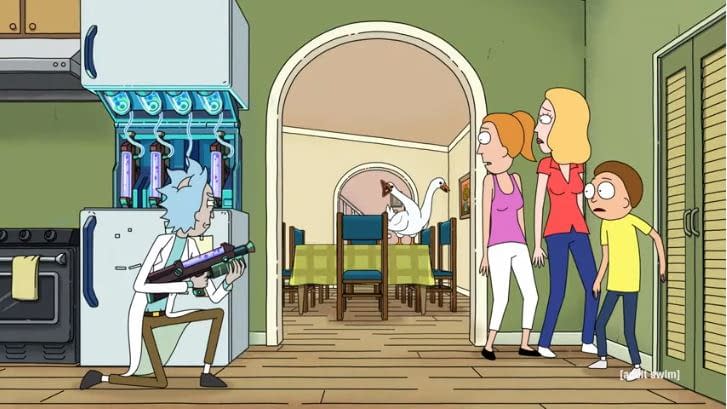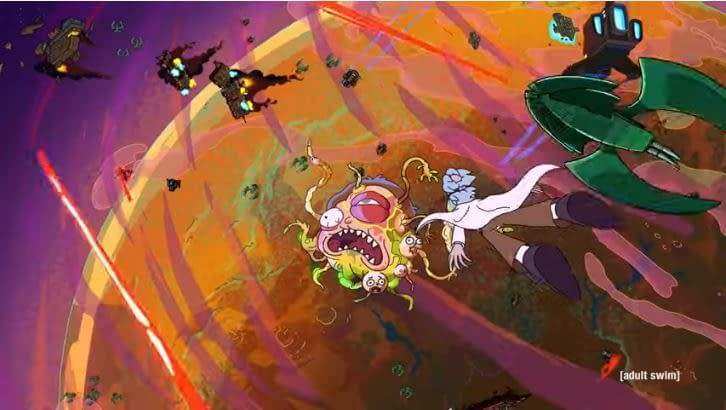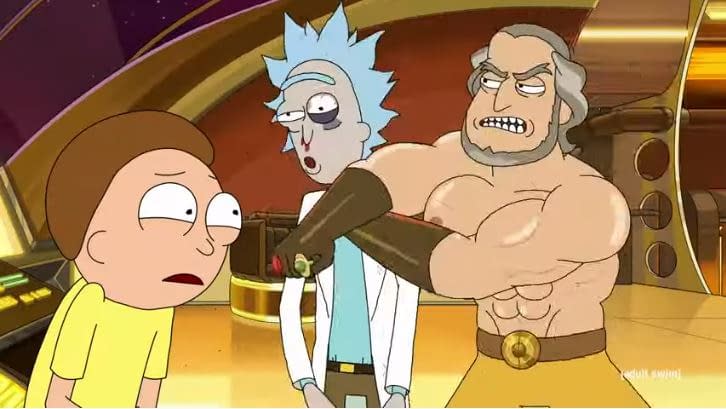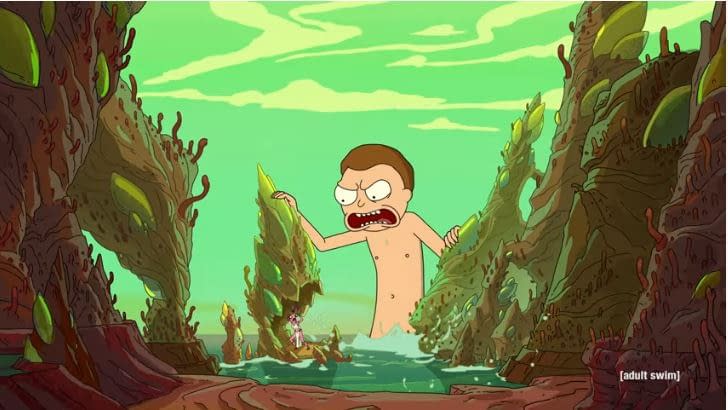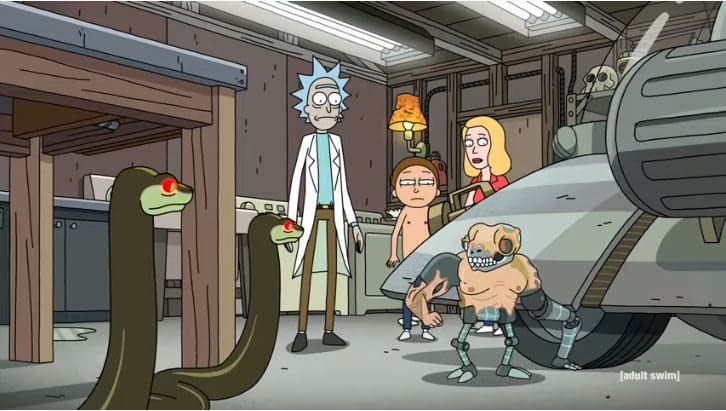 Last month, fans learned the titles of the season's first five episodes last week via Adult Swim's reveal video.
Fair warning: Harmon and Roiland's Rick/Morty "Pun Fu" is strong this season… let the speculation begin!
"Edge of Tomorty: Rick Die Rickpeat"

"The Old Man and the Seat"

"One Crew Over the Crewcoo's Morty"

"Claw and Hoarder: Special Ricktim's Morty"

"Rattlestar Ricklactica"

From the Upfronts earlier in the summer, there was the announcement of season 4 with an accompanying video (see below), and red carpet interviews with Harmon and Roiland that teased (jokingly?) a Rick and Morty future with Daniel Radcliffe and Kanye West in it. In late June, Adult Swim announced a second addition of its two-day festival in Los Angeles – which will be of particular interest to fans (more below).
But now? Things are getting serious: it's the season 4 trailer!
https://www.youtube.com/watch?v=Rw6BrzB1drs

To coincide with the show's Comic-Con International: San Diego (SDCC) appearance during the summer's ultimate "geekfest" (and only days after two images from the upcoming season were released and the creators discussed the new season), Rick and Morty fans were given their first look at the upcoming 10-episode season – and it involves apps, matching jumpsuits, what looks like a bad start-up, and a ton of slapping around:

Fans of Rick and Morty who plan on being in the Los Angeles area in mid-November have a chance at a very cool opportunity. The Adult Swim Festival (Friday, November 15 and Saturday, November 16 at Banc Of California Stadium in Los Angeles, California) will feature an exclusive, premiere screening of Rick and Morty's fourth season (though no word yet on if Dan Harmon and/or Justin Roiland will make an appearance).