Rihanna Pregnancy Confirmed Following Super Bowl LVII Halftime Show
Following the award-winning singer's Apple Music Super Bowl LVII Halftime Show performance, a rep for Rihanna confirmed that she's pregnant.
---
While we weren't surprised by just how amazing of a performance Rihanna rolled out during Apple Music's Super Bowl LVII Halftime Show, we were surprised by what appeared to be a signal that the award-winning singer was sending when she patted her belly. And then there was the matter of the tease Rihanna dropped that someone would join her for the halftime show. But we didn't see anyone on stage with her… right? Well, it turns out Rihanna wasn't alone on the stage, with a representative for the singer confirming that she is pregnant. The news came after Rhianna burned through a number of her biggest hits, including "We Found Love," "Diamonds," "Work," and "All of the Lights" (minus Kanye). Rihanna and rapper A$AP Rocky are the proud parents of a 9-month-old boy.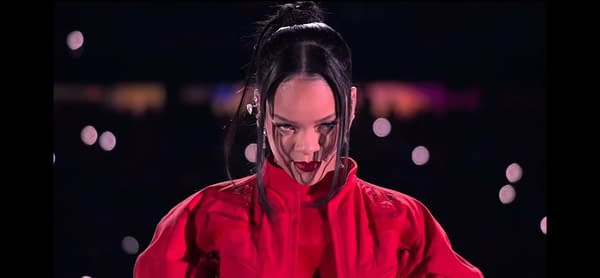 On Friday, Rihanna met the press at the Phoenix Convention Center for an interview with Apple Music's Nadeska Alexis. The musical artist explained how becoming a mother factored into her decision to take on the global spotlight and what the biggest challenge has been in preparing for her performance. Though readily admitting she questioned the opportunity when it was first presented, it was Rihanna becoming a mother and the idea of her having her child be there that helped her make the decision. "When you become a mom, there's something that just happens where you feel like you could take on the world — you can do anything. And the Super Bowl is one of the biggest stages in the world, so as scary as that was … there's something exhilarating about the challenge of it all. It's important for my son to see that."
As for what the biggest challenge has been so far, it's all a matter of time. As in, how do you celebrate & consolidate a nearly two-decade career into just minutes? "The setlist was the biggest challenge. That was the hardest part — deciding how to maximize 13 minutes but also celebrate. That's what the show's going to be — it's going to be a celebration of my catalog in the best way. I think we did a pretty good job at narrowing it down," Rihanna reassured her fans.