HBO series Westworld certainly has taken some interesting turns this season, perhaps none so exciting and promising as introducing Shogun World host Akane, played by Rinko Kikuchi.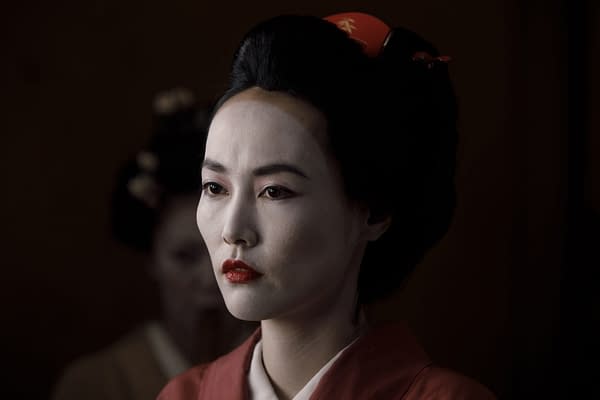 The majority of American audiences will no doubt recognize Rinko Kikuchi from her role as Mako Mori in Guillermo del Toro's Pacific Rim film, where she held her own against Charlie Hunnam and helped cancel the apocalypse. In Westworld, Kikuchi plays Akane, a geisha madam from the neighboring Delos park area called Shogun World. Obviously, this themed-area is devoted to all things Japanese and Edo Period, complete with ninjas, samurai and Ronin.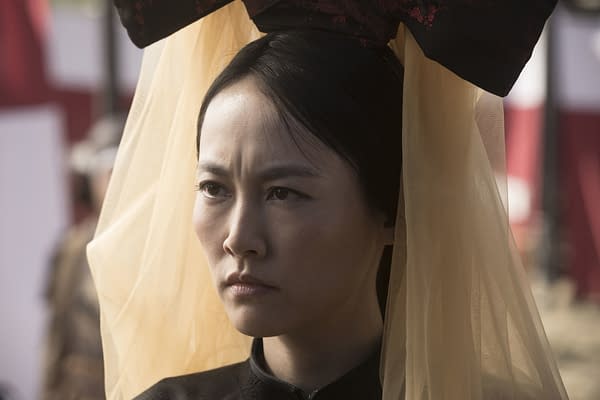 SYFY Wire recently got to chat with Kikuchi (with the aid of translator Lena-Grace Suda) about her experience on the episode, including which kill was her favorite. If you haven't caught up on Westworld, now is your chance!
The outlet first asked Kikuchi what it was like to film the episode in Japanese, and how she thought the production team did building the set and costumes.
Kikuchi: [Laughs] It was great! It was amazing. Japanese is something I'm comfortable with, but it was really tough for Thandie Newton, because Japanese isn't her first language. Whenever it's an English-language movie or show, other people would help me with my English, so in the same way, I helped the non-Japanese cast members here. It wasn't particular words or phrases that would trip them up, but the inflections, or the tone, when speaking or saying a line, because if you make one slight mistake with the inflection, a statement could become a question, or vice versa. The inflection was very important.

It was really fun! The Japanese set was perfect. I felt like there were more influences from Akira Kurosawa movies, more so than chanbara. But there were some specific references that everyone discussed along with Akira Kurosawa movies, and it was fun and unique.
When asked how "awake" Akane is, and how she reacted to the realization that Maeve is her counterpart, she said:
Kikuchi: I thought it was pretty interesting. It doesn't matter what era or place you're from – Akane's able to feel the surprise, the human element that the hosts have, and to discover that she has the same spirit as Maeve, through the words and the behavior that both of the characters have. They both carry a motherly instinct. But it was more of a slow, gradual connection between Akane and Maeve. They started to recognize each other in a slow, but good, way.

I don't know exactly, but Akane thinks she's human. Akane thinks she's one hundred percent human, in her own mind. Meeting Maeve doesn't make Akane realize she's a robot. But more than having a realization that she's a robot, Akane thinks what links them together is the motherly instinct, or the need to protect their children. That's what really brought them together. But of course she's surprised at the uncanny connections, and also feels a little spooked. But she doesn't yet understand that the things happening around her are programmed, or created by humans. She thinks it's real, in a sense.
When asked about filming the dance/revenge sequence she said:
Kikuchi: The choreography, that was something I excelled at, because I've had experience with swordplay. And the combination of dance mixed with action was really interesting! I'd like to do more of that. This was a traditional Japanese dance, so that was really fun. I haven't watched the episode yet, but I got to hear some of the music when we were rehearsing the dance, and it was a really interesting mixture of modern music and Japanese music, and it was easy for me to translate my feelings in that scene thanks to the music.
Surprising no one, Kikuchi's favorite kill answer centered on blood-splatter.
Kikuchi: [Laughs] Killing the shogun. It was fun to take on a role of a samurai as the dancing progressed. I feel lucky to be able to do a brutal scene like that, because there's more blood splatter, so it's more impactful. It leaves a really strong impression on the viewer. Yes, it's shocking, but it's also beautiful, in a way.
It also sounds like maybe we'll be seeing Akane for a while, at least in this season. I am totally serious about needing a Maeve-Akane spin off though, I would watch the hell out of that.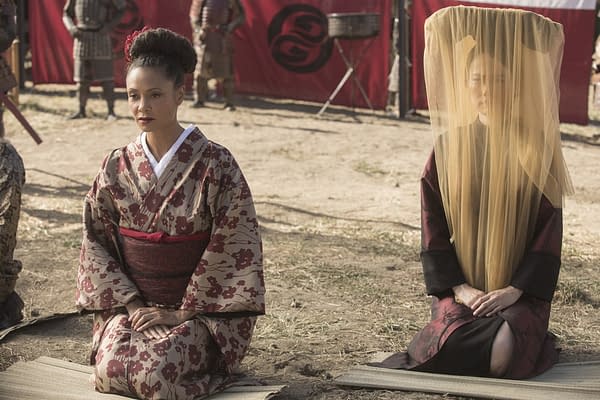 Westworld airs on HBO on Sunday nights.
Enjoyed this article? Share it!