Riverdale Season 4 Review: Lynchian Not Quite Blue Velvet-ish Enough
Welcome back to the sleepy little town of Riverdale, friends! Now, before you tab back over to watching "non-sexual" fully clothed tickle videos, let's chat about this week's episode, shall we? In case you're more than a little confused by the tickle-video thing, you should probably catch up on the 'Dale. And if you refuse? Well, don't say I didn't warn you about spoilers.
There were of course nods to filmmaker David Lynch in tonight's episode, with the title being used to describe things "both incredibly macabre and incredibly mundane." Aah, finally, something Riverdale does a tribute to that actually fits the town, characters, and story. Blue Velvet (aside from being a great Lynch film) is the name of a pivotal video store in town with a stash of illegal adult tapes in the back. Is anybody really concerned about snuff films and a sex tape of Betty and Jughead being bought and sold without knowledge or consent?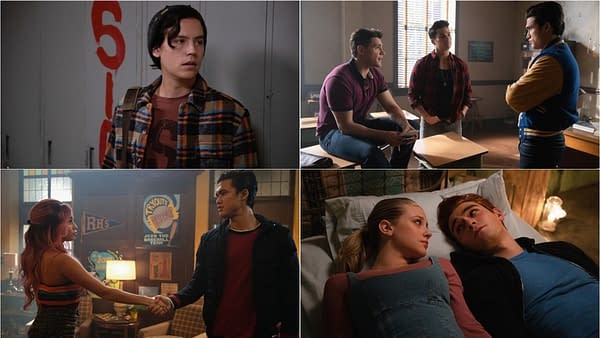 Not particularly, which I suppose is a testament to how weird "The Law According to Riverdale" is. Regardless, the real question on my mind is: what year is this supposed to take place? I mean, they have internet paywall videos and smartphones and mention they're the class of 2020, and yet? Everybody has a VCR and they even rent VHS tapes. Excuse me, what? The majority of 17 year-olds don't even remember watching a VHS tape if they ever even did. So you expect me to believe there's a large market for a store that solely rents VHS tapes like a Blockbuster, in the year 2020? Okay, we'll pretend that's a thing, Riverdale.
Riverdale Gets "Normal" Weird, Not So Much "Lynchian" Weird
Speaking of questionably weird videos, apparently in Riverdale's greater world, there is a market for videos of high schoolers tickling each other – particularly high school boys. Yes, apparently Riverdale is a town in which they have something even weirder than an organ harvesting cult for their tertiary characters to get involved in this season. This whole "erotic tickle video" storyline has been confusing and appropriately weird; I hope this week's episode was the last of it, but knowing the show's history of never giving Kevin a break, I'm sure consequences from this will crop back up soon. I mean, for real, it would be less weird if they were involved in actual porn!
Aside from that, things were business as usual (ish) with the rum wars between Veronica and her father, Hiram. Archie and Betty were probably the high-points of this episode: we almost got an Archie/Betty pairing, but in classic fashion, they killed it before anything even started and went back to their respective partners, who they both are in love with. Boring! Though, I suppose we should be grateful for at least a tease of any kind of romance between them – maybe that's part of what made this episode feel like early seasons of Riverdale. I am super glad to see more of Jughead being a super sleuth this time around instead of Betty.
We do get the return of Ethel Muggs, after basically a whole season of not being seen, she's now somehow the prime suspect as "the voyeur". Maybe it's just me, but the return of the creepy videotape mystery is something I am sort of interested in. It could be that it's a call back to the first time they introduced the tapes, but this finally feels like how Riverdale used to be before it got all convoluted and annoying. The "Dead Jughead" season mystery was a complete rip-off and it felt like we were led on for the majority of a season with a cop-out of a pay off at the end. If they had introduced the videotapes earlier in the season, it may have helped keep the interest in this season alive, but we finally have a halfway interesting mystery now.
I know, we get it just before everything ends early. A bummer, but it is what it is. At least we have one more episode to look forward to. Despite what vicious rumors you may have seen on the internet, The CW isn't ready to let Riverdale's season 4 finish up just yet. It was heavily speculated that tonight's episode, "Chapter Seventy-Five: Lynchian," was set to serve as the de-facto season finale with COVID-19 cutting the production short, but I knew that wasn't the case. Next week's episode "Killing Mr. Honey" will act as our season 4 finale, which only puts us three episodes short of a normal full season. Speaking of killing, we knew months ago that Skeet Ulrich and Marisol Nichols were both set to leave the show at the end of this season. I wonder if we'll see that in the finale or it will be pushed to next season, or even a supplemental special somewhere in between the two.
When we get a fifth season is still an unknown (along with just about everything else in the world right now), but here's hoping that next week's episode can pull some miracle and give us at least a little bit of closure on this masked mystery – though we should be prepared to not get answers until next season. Only time will tell.