Samuel Jackson Joins David Tennant and Michael Sheen in BBC's Staged
Staged is the new BBC TV comedy filmed in lockdown about the two actors David Tennant and Michael Sheen (playing themselves) starting rehearsing a new production of the classic play Six Characters In Search Of An Author. It doesn't go that well.
The show also has David's partner Georgia Moffett playing herself as well, and a producer Staged, Michael's partner Anna Lundberg playing herself, with Simon Evans as the director Simon – who is also the writer and director of Staged. But there's a secret that is being kept from Michael Sheen that he was not the original choice for the role. That it was originally cast to a major American movie star who wanted to work on the London stage. And in the third episode we get to meet them, one Samuel Jackson, who gets caught between David and Michael's machinations dealing with each other. And is not best pleased.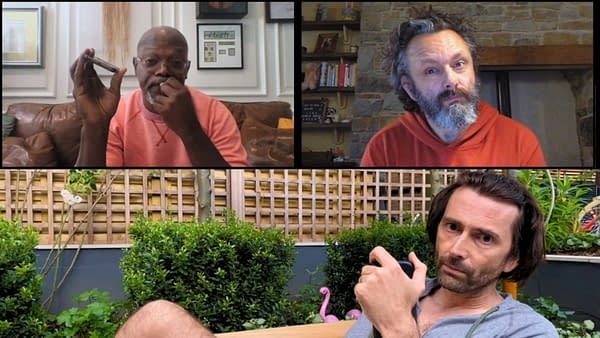 Getting this pretty hilarious production together was one hell of a job. Getting Samuel Jackson to play a version of himself as well, was stellar. As the revelation just makes the relationship between David and Michael even worse, as Michael wants everyone to know he was never the second choice in anything before, and David is caught lying to both about how he feels about the other.
For those who have missed these two together, since Good Omens, this is one where they really let fly against each other. No one is an angel here, and there are lots and lots of demons to be released. The entirety of Staged can be streamed now on the BBC iPlayer. Do watch for David's blink-and-you-miss-it Sean Connery impersonation which had me on the floor. As did Michael's "Well we all love Neil Gaiman." And the repeatedly changing nature and order of the credits has never been funnier. Oh and wait till you see what legend of British theatre they have lined up for the final episode. Here's the blurb.
David Tennant and Michael Sheen (playing themselves) were due to star in a production of Six Characters in Search of an Author in the West End. The pandemic has put paid to that, but their director (Simon Evans – also playing himself) is determined not to let the opportunity pass him by. He knows how big a chance this is for him and turns his attention to cajoling his stars into rehearsing over the internet. All they need to do is read the first scene, but throughout the series they come up against a multitude of oppositional forces: distraction, boredom, home-schooling and their own egos.