Shawn Michaels Remembers the Chaos of In Your House: Beware of Dog
Shawn Michaels appeared on WWE's The Bump livestream ahead of NXT Takeover: In Your House on Sunday. Michaels looked back at the enormous number of classic matches he had at In Your House PPVs over the years, but one In Your House PPV was best remembered not for what went well, but for what went wrong. HBK talked about In Your House 8: Beware of Dog in 1996, an event famous for taking place during a severe Thunderstorm that interrupted the broadcast.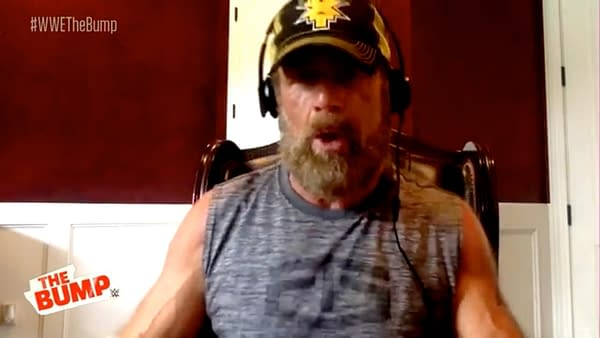 Michaels' match with the British Bulldog was one of only two matches to air, with WWE rescheduling the rest of the show for the following Tuesday. "That was the absolute worst day in the entire world," Michaels said of the fateful night. "It's going off and on as far as whether we're gonna be on, whether we're not gonna be on. Whether it's gonna make the air or it's not gonna make the air. Whether the lights are gonna be on or whether the lights are gonna be off. We had to sort of set up different scenarios for every different situation. There was about three different wrestling matches going on in my head that I was trying to convey to Bulldog. If this happens, this is what we're gonna do. If this happens, this is what we're gonna do. But, if everything goes well, this will be our original plan. It was just constantly changing the entire time. It was chaotic. And then, of course, heck, the only thing I can remember is that we painstakingly got through it but I can remember this one person, this lady, I was in a chinlock I think, and you can just hear this one person like RAAAH, her voice was just piercing the air. And I just pulled Davey Boy's arm and I used some pretty brutal language to tell that person to pipe down and it was said a little more colorfully than that."