I don't know how you are planing to spend our Friday evening, but if it's not watching the latest episode of Marvel's Agents of SHIELD, then I have three words that might change your mind: "release the ferrets." This wasn't part of the original trailer for this week's previews, but there's a moment when the words "THEY'LL UNLEASH THE ULTIMATE WEAPON," are displayed in all caps, just like that. And then there is a scene with Lance Hunter (Nick Blood) and Leo Fitz (Iain De Caestecker) dressed in military uniforms and Hunter says, in all seriousness, "release the ferrets," and they do just that. I don't know about you, but I really want to know what those ferrets are going to do.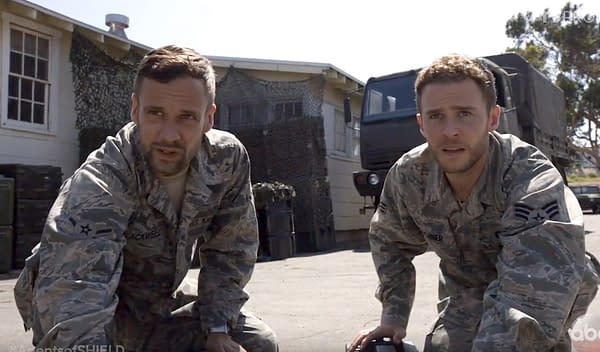 With the surprise reveal last week of Fitz being in the future, this week we get to see how he got there. It also includes the return of Hunter, who we haven't seen since he and Bobby Morse were disavowed in season three. The episode is focused on Fitz and Hunter, which makes the actors very happy — Blood and De Caestecker are good friends in real life, but have had little screen time together over the years.
Marvel's Agents of SHIELD airs tonight at 9 p.m. ET on ABC.
Enjoyed this article? Share it!