Showtime has released the first full-length trailer four Our Cartoon President. The 10-episode parody series spins out of the animated caricatures of Donald Trump that appeared on the Late Show with Stephen Colbert. The series is said to follow the 'tru-ish misadventures' of the 45th president and his most trusted allies including his sons Eric and Donald Jr., his vice president Mike Pence, his attorney general Jeff Sessions and even an appearance by Ted Cruz.
The two-minute preview has Trump retelling his election night victory story to anyone who'll listen, calling everything "fake news" and making a dive for the nuclear football. They obviously didn't get a copy of Fire and Fury before filming as they have a scene with Donald and wife Melania sleeping in the same bed… the book claims they have separate bedrooms. There are also jokes about his love of big trucks, his State of the Union address and an animated version of Fox & Friends.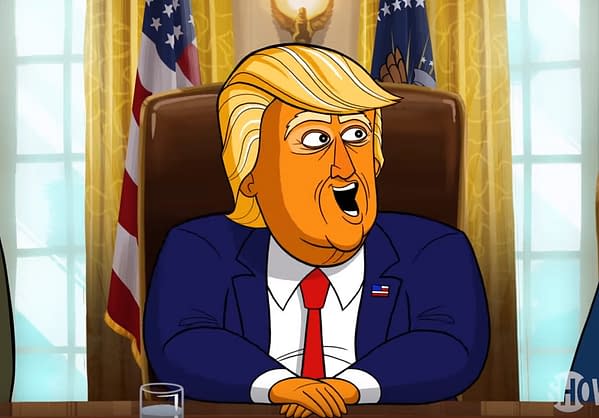 Stephen Colbert and Chris Licht are on board as executive producers while R.J. Fried (Late Show with David Letterman) is the series showrunner. You can see the first episode on-line or On Demand starting on Sunday January 28th. Our Cartoon President will then premiere on February 11th at 8 PM.
Enjoyed this article? Share it!