Siren Season 1, Episode 4 Preview: The Military Has a Mermaid Problem; Ryn's on the Run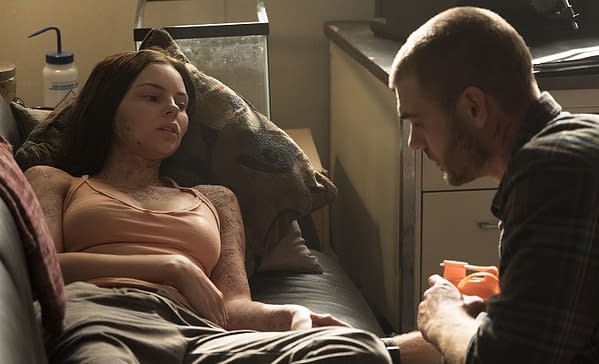 One thing you definitely can't accuse Freeform's Siren – Eric Wald and Dean White's mermaid fantasy-action drama – of being is slow and drawn out. By the third episode, a number of the storylines have already started coming together – though not necessarily in a good way for our heroes (and maybe not for the bad guys, either). By the end of 'Interview with a Mermaid,' we learn that Admiral Harrison (Anthony Harrison) and "The Powers That Be" are on to Ben (Alex Roe) and his "sudden" fascination with mermaids – but from the looks of the trailer for this week's episode 'On The Road,' that's the last of Harrison's…and Decker's (Ron Yuan)…concerns right now:
Siren s01e04 'On The Road': When the military facility goes on high alert, Chris manages to escape, but he's not the only one who gets out.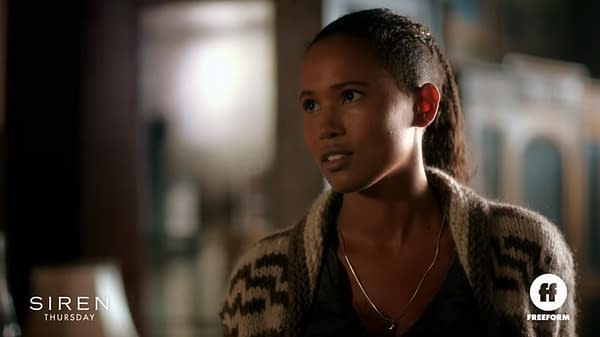 Here's a look back at Bleeding Cool's thoughts on Siren's first two episodes:
Here's the series overview for Freeform's Siren:
https://youtu.be/NLpvHsPOUN0
"Siren" takes us inside Bristol Cove—a coastal town known for its legend of once being home to mermaids. When the arrival of a mysterious girl proves this folklore all too true, the battle between man and sea takes a very vicious turn as these predatory beings return to reclaim their right to the ocean.

The series stars Alex Roe ("The 5th Wave") as Ben, a bright marine biologist who finds himself drawn to a mysterious new girl in town, Ryn, played by Eline Powell ("Game of Thrones"), who is a strange young woman with a deep dark secret. Fola Evans-Akingbola ("An American Exorcism") stars as Maddie, also a marine biologist who works with Ben, and is highly suspicious of Ryn. Ian Verdun ("Life's a Drag") stars as Xander, a deep sea fisherman on a quest to uncover the truth; and Rena Owen ("Star Wars" Episodes II and III) as Helen, the town eccentric who seems to know more about the mermaids than she lets on.

"Siren" is based on a story by Eric Wald and Dean White who both serve as executive producers. Emily Whitesell ("Finding Carter") serves as showrunner and executive producer. Brad Luff, Nate Hopper and RD Robb also serve as executive producers.