HBO Chooses the Cleveland Browns for the New Season of Hard Knocks
The Cleveland Browns are, unfortunately, a very bad football team. They've gone 4-44 over the last three seasons, and if you think that's bad, three of those wins were in 2015… meaning they have won one game since December 14th, 2015. One win since before we got the first Deadpool movie.
In that time they've drafted three quarterbacks: Cody Kessler, Deshone Kizer, and now Baker Mayfield. Kizer is now a back-up in Green Bay while Kessler is a back-up in Jacksonville. They also signed Tyrod Taylor from the Buffalo to compete for the starting job. Whoever starts will be the eighth starting quarterback in just over three years.
They also fired Sashi Brown as general manager, a guy who was expected to bring Baseball's concept of 'Money Ball' to the NFL, and replaced him with John Dorsey. And making Mayfield the top pick in the draft not only puts a ton of pressure on a kid who was not considered the best QB prospect, but it already puts the the front office staff under a magnifying glass immediately. So how do they go about easing some of the pressure? They've signed up to star in the HBO series Hard Knocks, meaning that that their entire training camp will be filmed and aired for a national audience.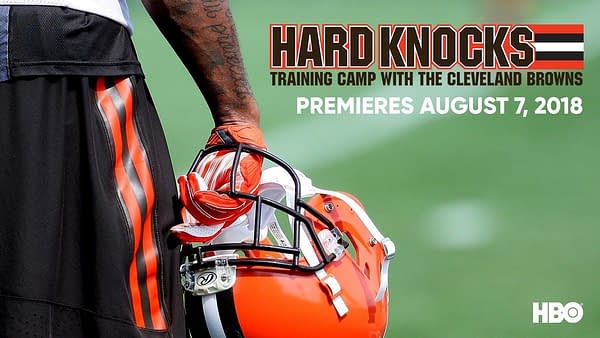 There is a renewed optimism in Cleveland, with some experts talking about a playoff run and citing the trade for Taylor giving Mayfield a chance to learn behind him for a while. The team is filled with a lot of young players who aren't very well known outside of the city, and the attention will be good for them. But the cameras also pick up the bad things that happen. The series followed the St Louis/Los Angeles Rams not long ago and caught the moment when head coach Jeff Fisher was fired and had to tell the team. The focus can be a double-edged sword.
The battle between Taylor and Mayfield and the team's quest to improve after the 0-16 season last year could make for some compelling television.
This will be the 13th season of Hard Knocks. The series began in 2001 and followed the Baltimore Ravens. Last year they were with the Tampa Bay Buccaneers. Cleveland had been offered a chance to be on the series in the past but turned it down each time. As for the effect of HBO being there on how well the spotlight team does, it's pretty mixed, with half of the previous teams ending the season with a winning record and half with a losing record. The best results came from the 2010 New York Jets, who went 11-5, and reached the playoffs and the AFC Championship game before their season ended.