NFL Draft Preview – NFC West
My favorite weekend of the year is coming up, and it's not because my first day is part of it. The NFL draft kicks off on Thursday night with first round selections, then Friday rounds two and three with four through seven taking place on Saturday. To put it in Comic terms, its like the weekend when the X-Men editors get together and decided which mutants are on the Blue team, which go Gold and which are Red. Making a selection in the draft is not easy. Experts study all the players coming out of college, trying to find their strengths and weaknesses both on and off the field and trying to predict how they'll project as a professional and rank them based on all the other players available. From there a team makes their decision based on those rankings and their particular needs. Just because someone is the best player available doesn't mean they're right for the team choosing at that point. And need can make a team reach on a player not as good as some of the ones available. Need is why quarterbacks are always taken higher than their ranked. So going into the weekend, knowing what your team needs may help you figure out who they'll take. Here are the basic needs for the NFC West: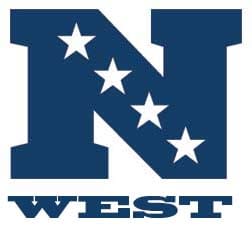 ARIZONA CARDINALS – Even with the signing of Sam Bradford, the Cardinals need their quarterback of the future now that Carson Palmer has retired. Bradford and Mike Glennon are a stop gap at best, both have been given the reins of a franchise and lost them multiple times. But they're good enough to allow the team to draft a raw talent and coach them up for a year or so before they have to play. The team has some other holes to address as well, needing to bring in some fresh talent at offensive tackle and center, some more depth in the secondary and with Larry Fitzgerald getting older, some young wide receiving talent is a must.
LOS ANGELES RAMS – Rams fan are another group that can ignore the draft until late on Friday as the team doesn't pick until the second half of round three. And when the do pick, they maybe focusing on defensive line, which is amazing as that was their strength not long ago and they've brought in Ndamukong Suh and Aaron Donald as tackles, but the team just doesn't have any constant edge rushers to play outside of the two big men. They should also address their offensive line with needs at guard and center. But one of the places that might top all the others is inside linebacker with the departure of Alex Ogletree. Those are pretty big orders for not having a lot of picks.
SAN FRANCISCO 49ERS – For the first time in a while the 49ers go into the season with the quarterback position settled thanks to the trade for Jimmy Garoppolo. Certainty at that position lets them figure out the weapons they need for his style of play. An upgrade at guard would go along way to keeping him healthy and adding a big wide receiver and a sure handed tight end could make this dangerous offense. On the defensive side of the ball, they need to improve their rush dramatically as they were in the bottom third of the NFL in stats there and some help at corner, even with the addition of Richard Sherman, would make a lot of sense.
SEATTLE SEAHAWKS – The Seahawks have so many needs that they might as well take the best player on the board as long as it's not a QB, RB or S. With the departure of Richard Sherman, the team needs corners badly. And not just one, they need depth at the position that used to be their strength. They also need to address their offensive line, needing upgrades at both guard and tackle. Their top two tight ends have left in free agency and they're going to need to find some new edge rushers to replace Michael Bennett. There's enough holes in this team that it may end up being a rebuilding year.