Shane Taylor is an intimidating guy. At 6'1 and 356 pounds, this American-bred wrestler isn't afraid of any opponent who steps into the squared circle. At this weekend's State of the Art PPV, Taylor will be teaming up with Bully Ray and Punishment Martinez to go against Shane "Hurricane" Helms, Cheeseburger, and Delirious. This six-way tag team is going to be intense — and a real treat for anyone watching. I got to talk to Taylor for a few moments this week, and he gave me some insight on his life, wrestling, and of course, food.
I started with something all of us wrestling fans have dreamed of: a dream match with any living or dead wrestler. Taylor paused for a moment — a fatal four-way with Raymond Rowe, Vader, and Stan Hanson. At the Tokyo Dome.
"It would be epic."
Can you even argue with that? It absolutely would be! As far as any moves he wished he had in his arsenal, that was easy. Taylor is a gifted wrestler who can do almost anything. Any aerial, but if people saw what he was really capable of, their eyes my explode.
Growing up, Taylor admired wrestlers such as Vader, Ron Simmons, and of course The Undertaker.
"They didn't look like bodybuilders; they look like they can beat you up."
This is — in all fairness — a cosmetic industry. Most wrestlers look perfect. Taylor's heroes certainly didn't fit the mold, but they got the job done. It's what I think I admire most about Taylor: his honesty and his ability to call things as they are. For his six-man match this weekend, his plan is to beat the opponents down. I have no doubt Taylor and his team will accomplish just that.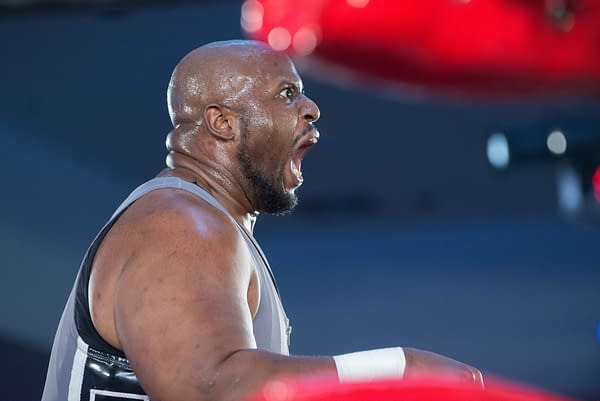 And of course, what is his favorite food?
"Deviled eggs. Always had them as a kid."
They remind him of family gatherings, BBQs — a better time. It's simple, it's delicious, and it works. Plus they're good. And: does pineapple go on pizza?
"No. I don't think it does. But to each their own! Can't it be on the side?"
Taylor was an absolute joy to talk to. I even feel bad about his football team being stolen by Baltimore (sorry, man). Here's hoping he comes out victorious this Friday at State of the Art!
Enjoyed this article? Share it!