'Star Trek: Discovery' Review – "Point Of Light" A True "Mother" Lode [SPOILERS]
After two weeks of a single-minded search for the source of the mysterious red lights, this week's Season 2 episode of CBS All Access' Star Trek: Discovery "Point Of Light" took viewers on a much more emotional ride. Unlike Star Wars, Star Trek has always held the "found family" to be more important than the biological family.
Throughout various seasons and iterations of the show, when we do interact with the the Enterprise crew's family members, they are often plot foils or comic relief – or both. However in this week's Discovery, we are treated to a much more nuanced and complicated view of family, and treated to the knowledge that motherhood in the 23rd century is a lot like motherhood in the 20th. As your own mother would say, mind the spoilers ahead.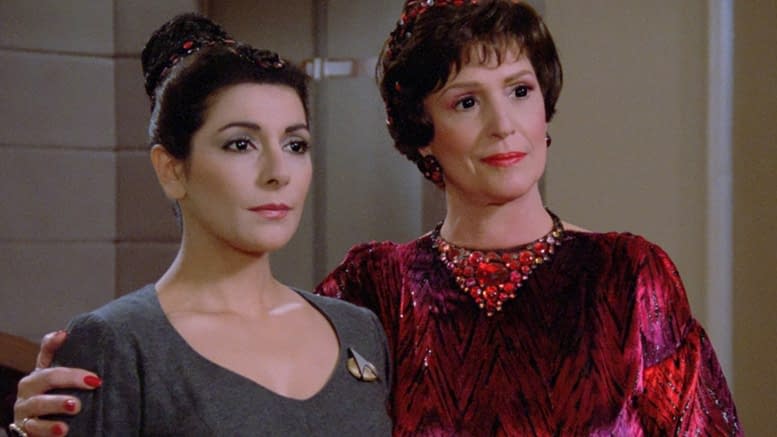 Throughout the years, there have been many examples of the "Star Trek Parent." Arguably, the most famous is Lwaxana Troi, mother to Counselor Deanna Troi in Star Trek: The Next Generation – played to perfection by Majel Barrett. Lwaxana is a smothering, loving, self-centered society matron who is aware of her own power and unafraid to use it – often to the embarrassment and plot difficulty of her long-suffering daughter. Her ability to waltz in and out of Counselor Troi's live – wreaking havoc and gaining laughs – is emblematic of parents and their adult children throughout the iterations of the show.
However, the two parents that seem to show up most often in Star Trek are Spock's parents, Sarek and Amanda Grayson. The Vulcan ambassador and his human wife have been played by various actors and have appeared on screen in multiple series, as well as in film and novels. Sarek (James Frain) and Amanda (Mia Kirshner) have a more nuanced role in Star Trek:Discovery as they are also Michael Burnham's (Sonequa Martin-Green) foster parents. The complicated family dynamics between Michael, Sarek, Amanda, and the still-missing Spock (Ethan Peck) were alluded to in the first season of Discovery but are woven through the very fabric of Season Two.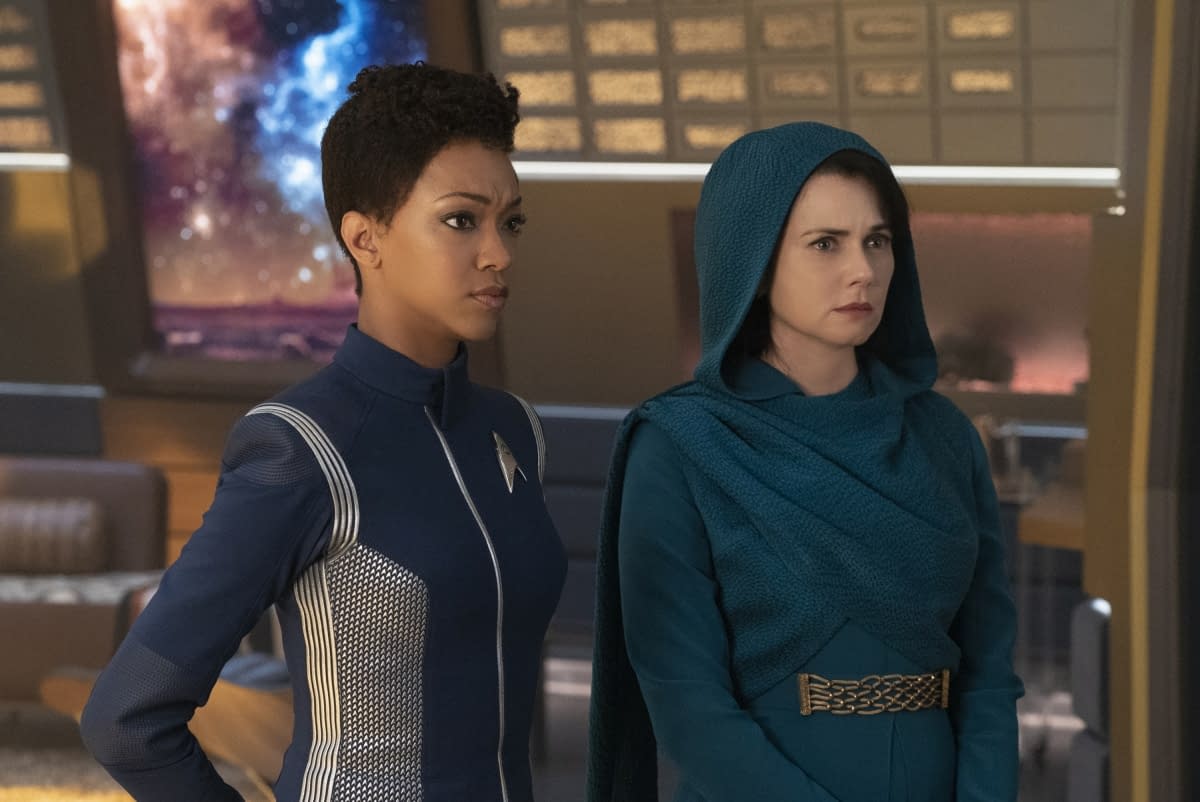 In "Points Of Light," the relationship between Burnham and Amanda finally took center stage. When Amanda appears in just a simple hooded dress, without notice or fanfare, her inner torment is palpable – seemingly radiating out from her in waves. As she turns to Burnham – the only person she knows of who loves Spock enough to risk everything to help him – Amanda bares her soul and her guilt. Just like any mother would, Amanda blames herself for Spock's mental illness. She believes allowing Spock to be brought up too much as a Vulcan and ignoring his human feelings led to Spock's current lack of empathy.
Amanda's guilt is layered and complicated (and as Burnham shares more about her issues with Spock, likely unwarranted) – but while her experiences of a cross-species relationship are pure sci-fi, her doubts about her parenting abilities are universal. While all parents face constant doubt about their child-rearing, mother's face the most scrutiny (both internal and external) for their choices. As a mother, I understood Amanda's guilt, the fear that decisions she made a dozen years ago caused her child's current pain. Despite her love of Burnham, Amanda even feels guilt for how much joy and energy she gave to her young foster daughter – resources that she now believes would have been better served with her son.
Even Amanda's farewell with Burnham was complicated, with Michael confessing that she purposely sabotaged her relationship with Spock in order to keep him safe. Despite knowing that Michael was also hurting, Amanda chose to walk away and find Spock herself – possibly an act of penance for her perceived failures years ago.
Contrasting Amanda's softspoken grief, we were treated to a very different – yet also very real – view of motherhood. We learned that while Voq (Shazad Latif) was going undercover as Ash Tyler, L'Rell (Mary Chieffo) was pregnant with Voq's child. In an effort both supervise Voq/Tyler's activities and keep the small piece of Voq as he was, L'Rell had the child incubated outside of her – but from the very moment of her son's conception, L'Rell was faced with choosing between her child and her very survival (as well as that of the fledgling Klingon Empire).
In the end, it was actually Emperor Georgiou (Michelle Yeoh) who drove home the truth to L'Rell, that she could be a mother, she could love Voq/Tyler, and she could be Klingon High Chancellor – but she could never be all three at once. To be female and a leader, L'Rell had to remove all doubt that her attentions were divided – any doubt that she was not fully dedicated to the cause.
One can't help but think how the story would be different if L'Rell were a male leader with a complicated partner and a baby.
Would anyone have even thought twice?
It appears, even in the 23rd century, working mothers can't win.
L'Rell chose being the mother of the Klingon Empire over being a mother to her own child, saving her son and his father in the process. While her choice was dramatic and the stakes life-or-death, working mothers the world over are forced to make choices like that every day – sometimes as small as whether or not to stay home with a sick child, sometimes as large as giving up a child for adoption. L'Rell may be a Klingon leader who carries the weight of many worlds, but she also carries the universal load of a mother.
Accurately depicting family relationships on television – especially in genre television – is fraught with potential pitfalls. The safest road is the one that Star Trek usually takes: showing quick superficial glimpses into much larger relationships, neatly solving the problem in one episode, or maybe two. This week, Discovery chose the harder road by showing complicated, messy, multi-layered parental relationships where there is no "ideal" or "perfect" outcome. As a working mother and a lover of science fiction, I relish the disarray of these relationships – the lack of clean breaks and defined lines. Parenting is messy, it is hard, and you go through it with a constant worry that you are screwing it up with every choice you make. It is a load that you pick up and can never again set down.
I like it when my Star Trek makes me think, makes me feel – as it did this week. I hope it continues.

New episodes of Star Trek: Discovery are available for streaming every Thursday at 8:30pm EST on CBS All Access.