'Star Trek: Discovery' Preview – The Number One Reason To Watch "An Obol for Charon"
Last week's episode of CBS All Access' Star Trek: Discovery was a character study into L'Rell (Mary Chieffo), Tyler (Shazad Latif), Burnham (Sonequa Martin-Green), and her foster mother Amanda (Mia Kirshner). In addition to L'Rell's fight to keep power, Tilly's (Mary Wiseman) creepy fungus infection got out of control and we learned that Spock (Ethan Peck) escaped from the psychiatric ward and is wanted for murder.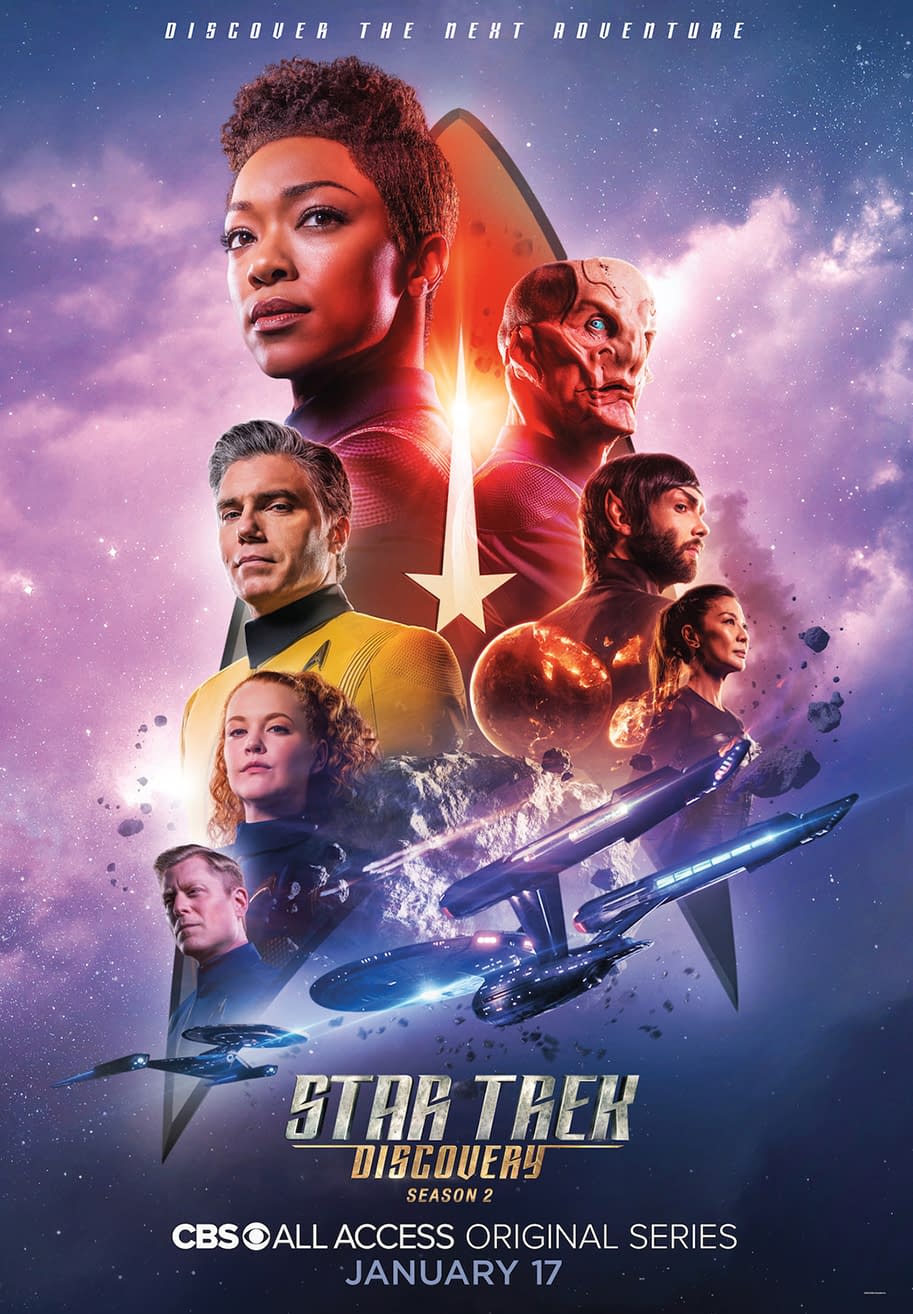 While the episode felt more like exposition than action, when you lay it out, you see that a lot more actually did happen than first realized. From everything released so far about this week's episode "An Obol for Charon," it seems like things are about to get much worse for the crew of Discovery – especially for Tilly and Saru (Doug Jones).
So put on your rain jackets… a light sprinkling of mild spoilers ahead! Here's a look at the streaming service's official preview and synopsis for "An Obol for Charon":
Star Trek: Discovery s02e04 "An Obol for Charon": A mysterious sphere threatens the U.S.S. Discovery even as May – in her original form – implements a plan that puts Tilly's life in danger. Saru and Burnham's bond grows when Saru is forced to acknowledge a deeply unsettling Kelpien truth. Pike receives new intel on Spock from a loyal friend.
The title of this week's Discovery episode "An Obol for Charon" is a literary reference to placing a coin called an "obol" – or any money really – into the mouth of a recently-deceased person in order to pay a toll to Charon, the Greek mythical figure who offers the souls of the newly deceased safe passage to the afterlife – for a price. Also referred to as "the price of passage," the reference is usually only used in the context of death – which would seem to indicate that things are going to go very, very badly for someone.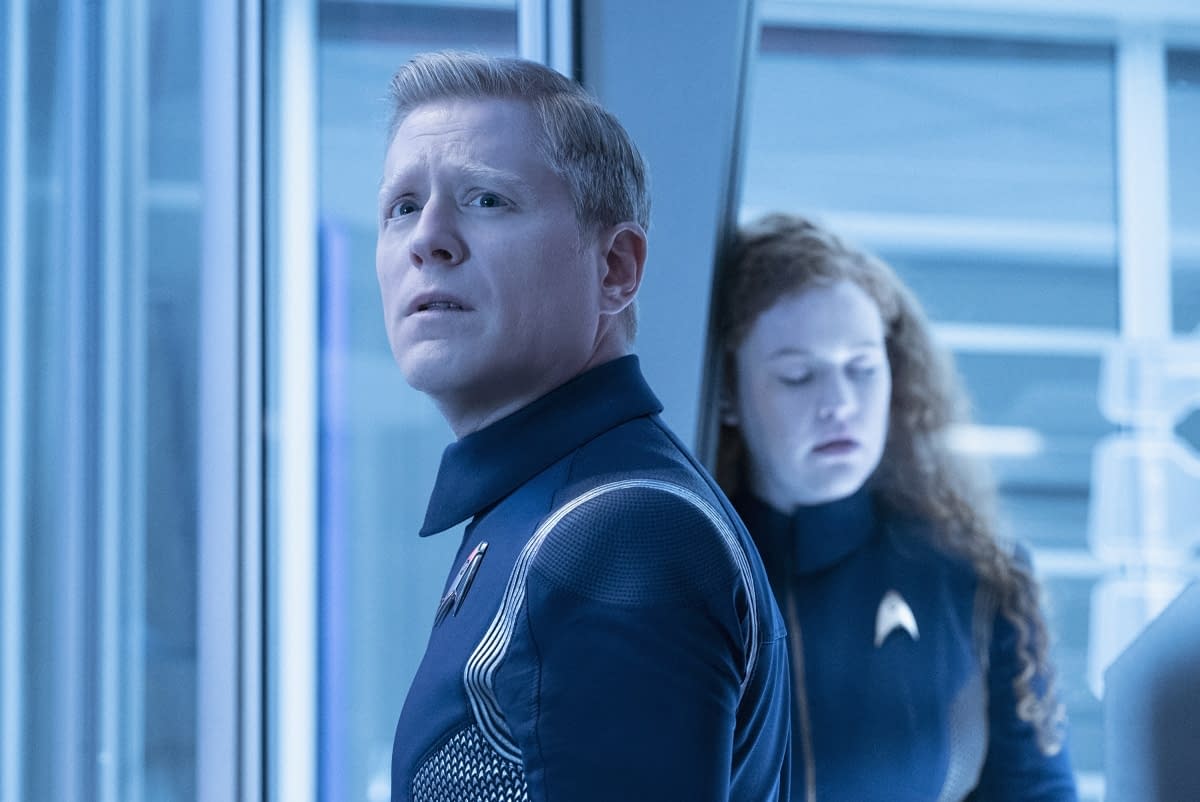 However, when we think about all of the time that the Discovery has spent zipping through the mycelial network, it is possible that Tilly's issue with the creepy May (Bahia Watson)-fungus could be seen as a "price of passage" for the use of the spore drive. It also makes me wonder if Saru's sudden onset of illness is also a result of the Discovery's unique mode of transportation. I guess we will just have to wait to find out – but I would prefer the option that leaves Saru and Tilly among the living.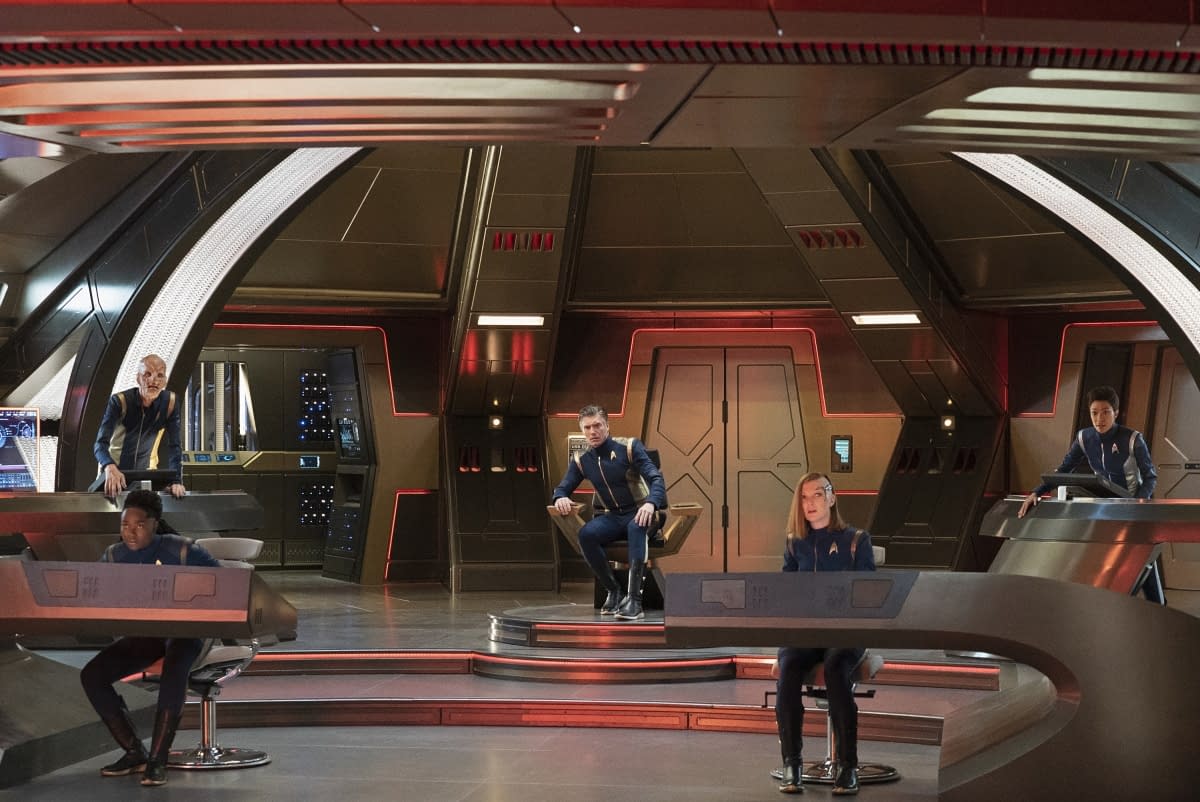 From the official description, it appears that the "fly in a web" sphere that is trapping the Discovery in place for the main plot of the episode is a problem separate from Tilly's fungal possession and Saru's illness. If this is the case, maybe the Discovery is chasing after another one of the the red signals? It makes sense that the ship and crew would need to get back on mission. In some scenes from the episode, the sphere looks to be hollow, or filled with some sort of glowing magma-like substance – in others, the sphere almost looks alive.
Some new space phenomena? A new kind of life form? Space whale booger?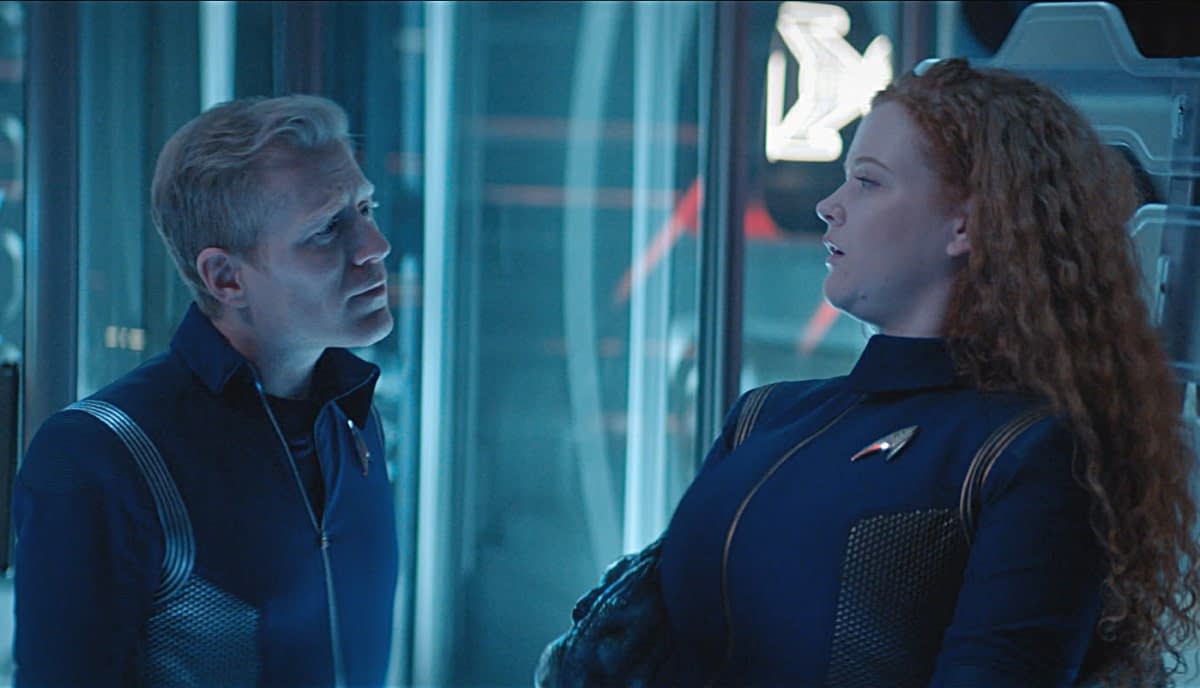 After getting my hopes up for every episode of Star Trek: Discovery Season 2 so far, I am going into this episode with absolutely no expectations of seeing Spock. The preview doesn't discuss Spock (or even the red lights) at all, and I really can't take another disappointment. However, it looks like we are finally going to meet Captain Pike's first officer from the Enterprise, Number One. While Majel Barrett portrayed Number One in the never-aired Star Trek: The Original Series pilot "The Cage," Rebecca Romijn will be taking over the role on Discovery.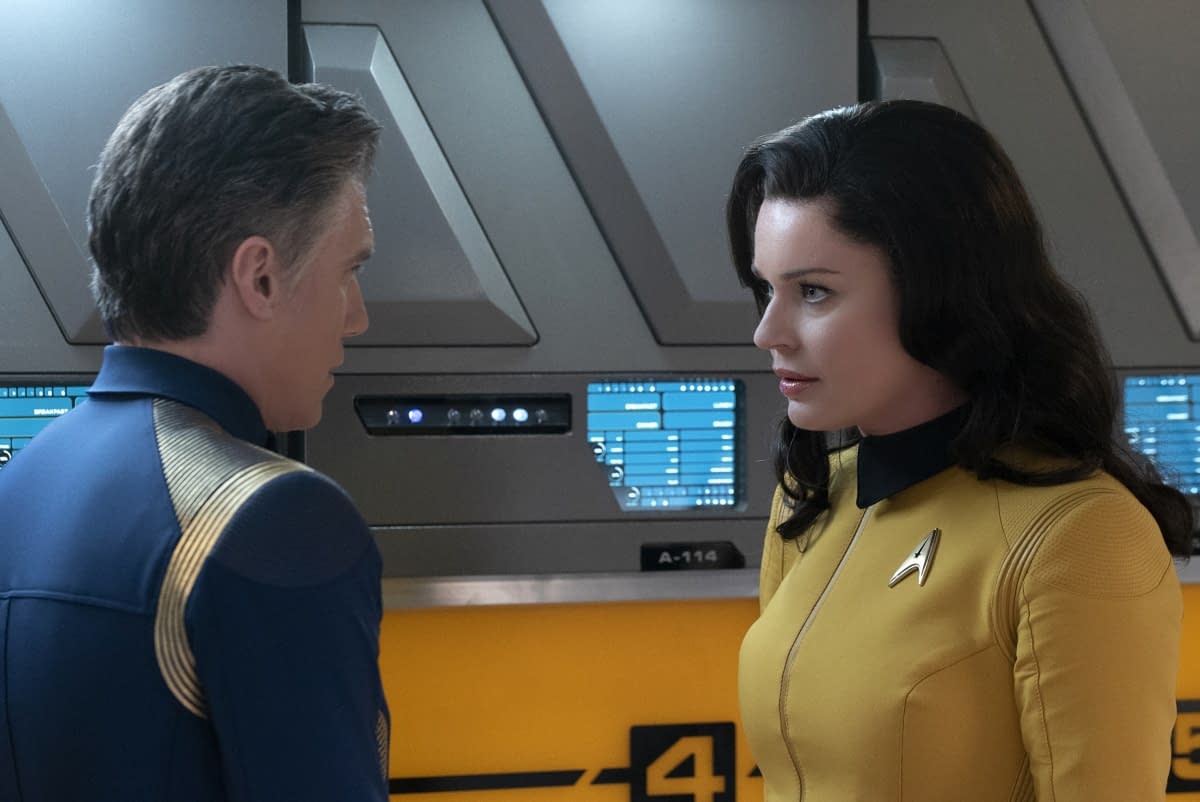 Recently, Romijn answered questions from StarTrek.com staff about the role. In the interview, the actress and long-time Trek fan talks about the strong emotions she felt stepping on set to portray an iconic role in a franchise that Romijn grew up watching. While the character Number One appears in "The Cage," not much else about the character is shared – so Romijn felt pressure to not let fans down though there wasn't much material to work off from. Romijn did share that one of the biggest takeaways from the character is that she "knows her shit," and she went on to describe Number One as uber competent and having a large skill set. Personally, I am incredibly excited to see this character onscreen and fleshed out a bit.
In addition to the first glimpses of Romijn as Number One, "An Obol for Charon" will also be the triumphant return of Tig Notaro as scene-stealing engineer Jett Reno. I have been eagerly anticipating the meeting of Reno's dry humor with Ensign Tilly's effusive positivity. There is the potential for some really entertaining dialogue between those two!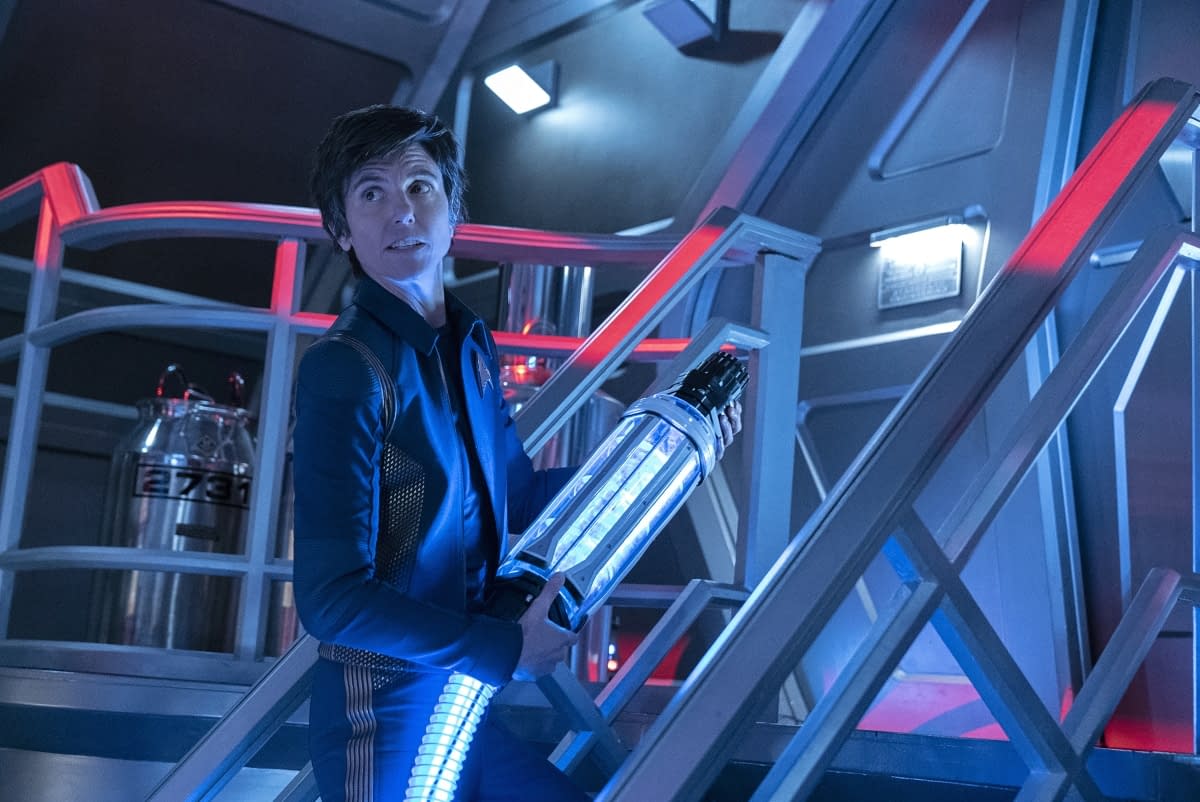 I am still loving Season 2 of Discovery and digging the different storytelling techniques the directors and showrunners are using. That said, I am looking forward to this week's seemingly more "traditional" Trek episode. While we are fully engaged in the search for Spock, I am doubtful that we will see him anytime soon. But all is not lost, as we still have Jett Reno and Number One to look forward to – and a strange, sticky, blobby thing (or two?) to fight! See you back here after the show airs for our weekly review.
Star Trek: Discovery s02e04 "An Obol for Charon" will be available via CBS All Access beginning Thursday, Februray 7, 2019 at 8:30pm EST.