Star Wars Resistance: Meet The Aces!
Star Wars Resistance is taking fans to the skies. Focusing more on the young pilots of the Resistance, we have a new look at some of the pilots we will be following in the series. Dubbed "The Aces", the show will take its cues from films like The Right Stuff and Top Gun.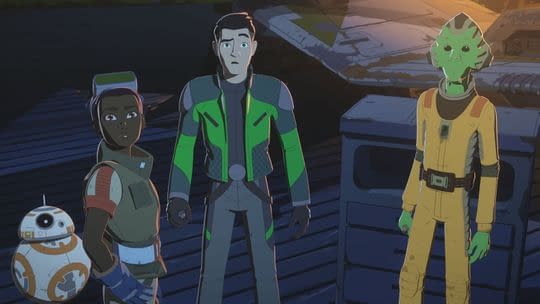 Five pilots make up The Aces: Griff Halloran, an ex-TIE pilot (voiced by Steven Stanton), Freya Fenris (Mary Elizabeth McGlynn), Bo Keevil, the wild card, Hype Fazon, a Rodian (Donald Faison), and Torra Doza (Myrna Velasco). Our hero Kazuda Xiono (Christopher Sean), is recruited by Poe Dameron (Oscar Issac) to go undercover on the Colossus. The Colossus is a re-fueling station on a water planet. Poe wants him to keep an eye on any and all First Order business (this show takes place before Force Awakens if you didn't know). Once there, Kaz mets The Aces, who participate in races and other shenanigans at the station. A Star Wars show is only as good as its villain, and on this show we already know Captain Phasma will make her presence felt. However, a First Order TIE pilot in all-red armor named Major Vonreg (Lex Lang) will be the main foil for the young pilots. Here is a new look at the pilots of Star Wars Resistance themselves:
A lot of inspiration for the show comes from producer Dave Filoni and his personal history to pilots. His grandfather and uncle were pilots, and his uncle restored World War II planes and took them to airshows, taking along Filoni.
"When you see movies like 'The Right Stuff,' it really connects with you because you know people like that in your life, these pilots who have a really unique sense of confidence," says Filoni.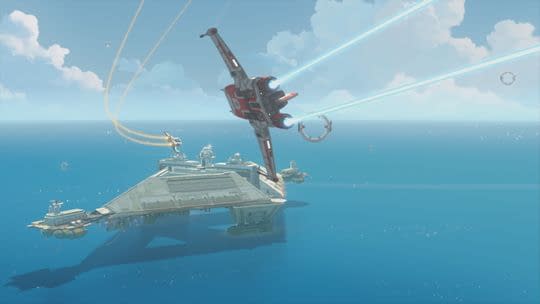 Speaking about Kaz, Filoni says he is just trying to find his place, like the others on The Colossus:
"He is a fish out of water somewhat in this extreme environment of the Colossus where people are trying to figure out what is their life now in the years after the Empire fell,"
This is one of the best looks we have gotten of this new show, and it has me way more amped for it than even the trailer did. Star Wars animation fans enjoy immersing themselves in the world of these shows, and now with a closer look at these main characters, I feel way more confident that there will be a ton to like about this series.
Star Wars Resistance premieres October 7th at 10 PM on Disney XD.