Supergirl Season 3: Brainiac 5 Introduces Himself to Kara
Supergirl returns tonight after its mid-season hiatus, and things pick up in the aftermath of the battle between Supergirl (Melissa Benoist) and Reign (Odette Annable). Kara is in a coma, being kept alive by the Legion of Superheroes technology, and Mon-El (Chris Wood) awakens another of the Legion to help her. Querl Dax (Jesse Rath), also known as Brainiac 5, goes into Kara's mind to help bring her back to the surface.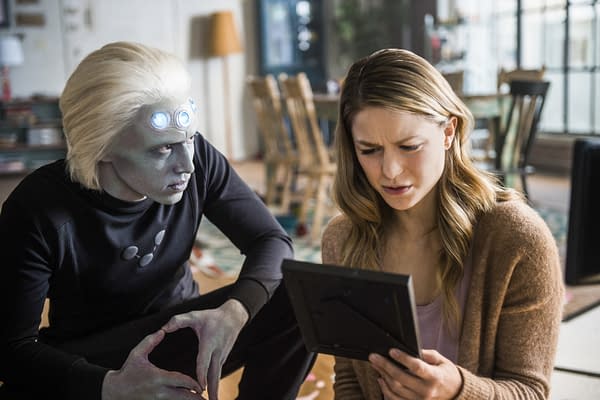 There has been some skeptical responses to the initial look of Brainiac 5, being that the character here appears very different than the green skinned, blond haired version in the comics. But Rath told fans that he gets better looking as the episode goes on. Also, this clip gives us a bit of his personality, which is interesting. He has almost a Sherlock Holmes vibe going where he speaks rather bluntly and is very aware of his abilities with neither arrogance nor modesty. The character plays better in the video than he has in the still shots that have been released so far.
Supergirl airs tonight at 8 p.m. ET on the CW.
https://youtu.be/I0gWqHyuKdo